Why and how to adopt an online 3D product configurator for eCommerce that will increase your sales?
By Yahong Zhang |
A 3D product configurator offers an interactive and engaging online shopping experience that converts
3D product configurators are interactive digital marketing tools powered by live 3D models to allow customers to visualize and personalize products as they want, enabling users to watch their adjustments and receive estimates of the costs based on the customizations, which in the end leads to a more engaging client relationship.
Ready to use 3D configuration technology for higher conversion rates like Guerlain, Baume, Kenzo and more? Contact Hapticmedia to get a free quote!
There are several benefits that 3D product configurators bring, including providing a complete product understanding through interaction, enabling co-design to match specific or high end needs, allowing clients to monitor the costs and helping brands understand consumer demands and be responsive to market trends.
All in all, such marketing tools contribute to raising the bar for digital shopping experiences, apart from having the advantages that customers enjoy in a brick-and-mortar shop, which simplifies the decision-making process and increases conversion rates.
Moreover, such an emerging eCommerce technology enables brands to showcase an innovative approach to clients in a realistic manner that makes use of visual detailing.
A 3D e-commerce configurator also efficientizes costs while driving sales
3D configuration technology saves costs in stock and marketing
This solution also redefines and shorten the sales cycle since real-time feedbacks can help you create better outcomes. You can make product updates and track customer behaviors extensively in real-time.
In addition, you can reduce stock since you will create products per request. Areas like expenses incurred in producing stocks, logistics, and storage will be reduced.
Such solutions work with all kinds of websites and can be personalized to become as responsive as the rest of your website. You can also achieve high-quality pictures for marketing or printing.
Get rid of a ton of images to offer a better UX faster
As a marketer, you know that product shootings involve significant efforts, logistical resources, and time and money. This is exactly the reason why Vogue Italia recently replaced all of their glossy photos from its January 2020 issues with illustrations.
Of course, this was not the end of marketing campaigns. Experts found an alternative in 3D configuration.
Computer generated imagery can be modified as product features change and can be easily turned into simulations at a large volume, which meant that different versions of products could be added, removed or updated through software without taking another serious of photos.
Moreover, cloud solutions improve security and page speed.
When done correctly, 3D configurators supported by 3D visualizers and 3D product customisers are a significantly lighter compared to standard images, as they are only based a few lines of codes, without images, without plugins.
What can a 3D product configurator do for consumers?
1. 3D product configurators for visualization: offer interactive product presentation in a lighter, faster and safer way
According to scientists, the human brain processes visuals about 60,000 times faster than texts and in fact, 80% of all information that our brain processes is visual.
Ready to use 3D configuration technology for higher conversion rates like Guerlain, Baume, Kenzo and more? Contact Hapticmedia to get a free quote!
Moreover, in their book e-Learning and the Science of Instruction, Ruth Colvin Clark and Richard E. Mayer conclude that, when text-based instructions were accompanied by graphics, students' test performances were improved by a median amount of 89%.
Marketers are supposed to, thus, understand the importance of visuals in attracting, engaging, persuading and, of course, converting the target and employ 3D visualization technology in their marketing strategy.
With this 3D technology consumers can interact with the item, look at the product from a 360° angle, while rotating, zooming in, zooming out and analyzing each detail. Once everything is done and the customer is pleased, they can order and pay in just a few clicks.
2. 3D product configurators for customization to provide a personalized, upgraded and unique customer experience
The growing trends of purchasing a custom-made product can be reflected by increasing shopping demands towards it. Reality is, 25-30% of them showing high levels of interests in buying such products, making it a huge market for potential entrants.
Ready to use 3D configuration technology for higher conversion rates like Guerlain, Baume, Kenzo and more? Contact Hapticmedia to get a free quote!
Consumers are also willing to pay premium for such personalized products. This is confirmed by another report from Deloitte, 57.2% of worldwide millennials interviewed replied "Yes, definitely!" to the question "Would you be willing to pay more for a high-end fashion or luxury item that was personalised to you?", while 35.2% answered "Maybe".
Similarly, research shows that 26% of Americans have customized a product, with apparel and footwear (29%) and food and beverages (29%) being the categories with the highest sales of customized products.
Main reasons for customization are "designing something for fun" and "showing creativity", while "standing out from other people" was a reason associated only with consumers who decided to add a twist to their apparel and footwear.
Shoppers have now developed a stronger need to feel appreciated by brands they choose and confess that they take such factors into account when making a purchase. Personalization leads to better customer experiences and has thus become a crucial differentiator in the market.
3. 3D product configurators for engraving to simplify customization, boost engagement and drive content
Research shows that the global personalised gifts market size is expected to reach $31.63 billion by 2021. Consumers don't settle for standard products anymore, they want gifts to say something unique. This is why engraving keeps evolving and new technologies are added constantly to ensure high precision and quick results.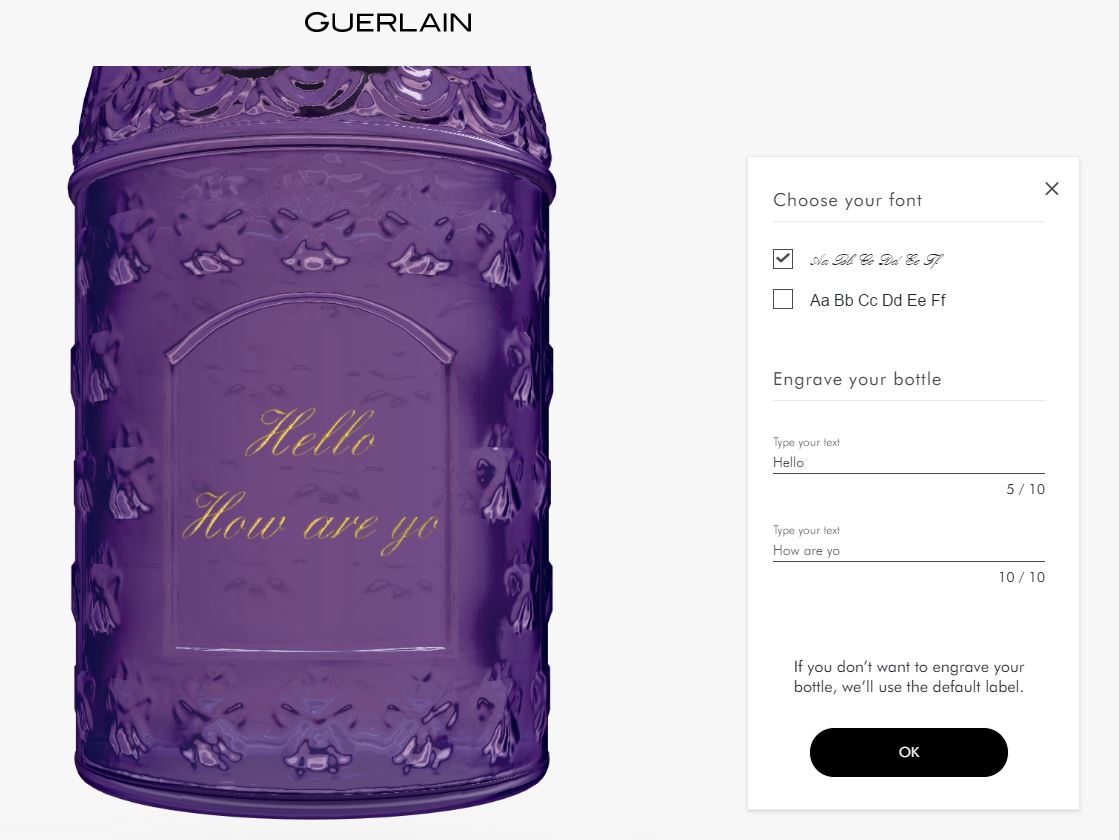 Ready to use 3D configuration technology for higher conversion rates like Guerlain, Baume, Kenzo and more? Contact Hapticmedia to get a free quote!
Engraving is the world's oldest and most popular technique to offer customized products, as it is a technique that is easy to demonstrate and works well for all kinds of materials including metal, leather, glass, crystal, paper and so on. This technique offers great versatility and personalization without too much effort.
Brands that want to capitalize on this need have already started offering engraving services and, this technique works even better if supported by 3D visualization and configuration technology, as it helps to showcase in real-time how products are amended by customers, to see the product from different angles, zoom in and out on it, as well as to add their texts or initials, while playing with different fonts styles and sizes.
4. 3D product configurators for quoting transparency to shorten the decision making process and reduce cart abandonment
This technology also enables shoppers to understand how each feature contributes to the final price and therefore to choose options that make the most sense financially.
Sales professionals used to spend a significant amount of time on drafting quotes to showcase various configurations and explain consumers from where the price differences come, especially for complex products and services.
With the help of a 3D product configurator, this is done instantly. A dedicated configuration solution reduces the delivery time and issues a beautiful and standardized presentation for clients, with respect to the company' branding and marketing strategy.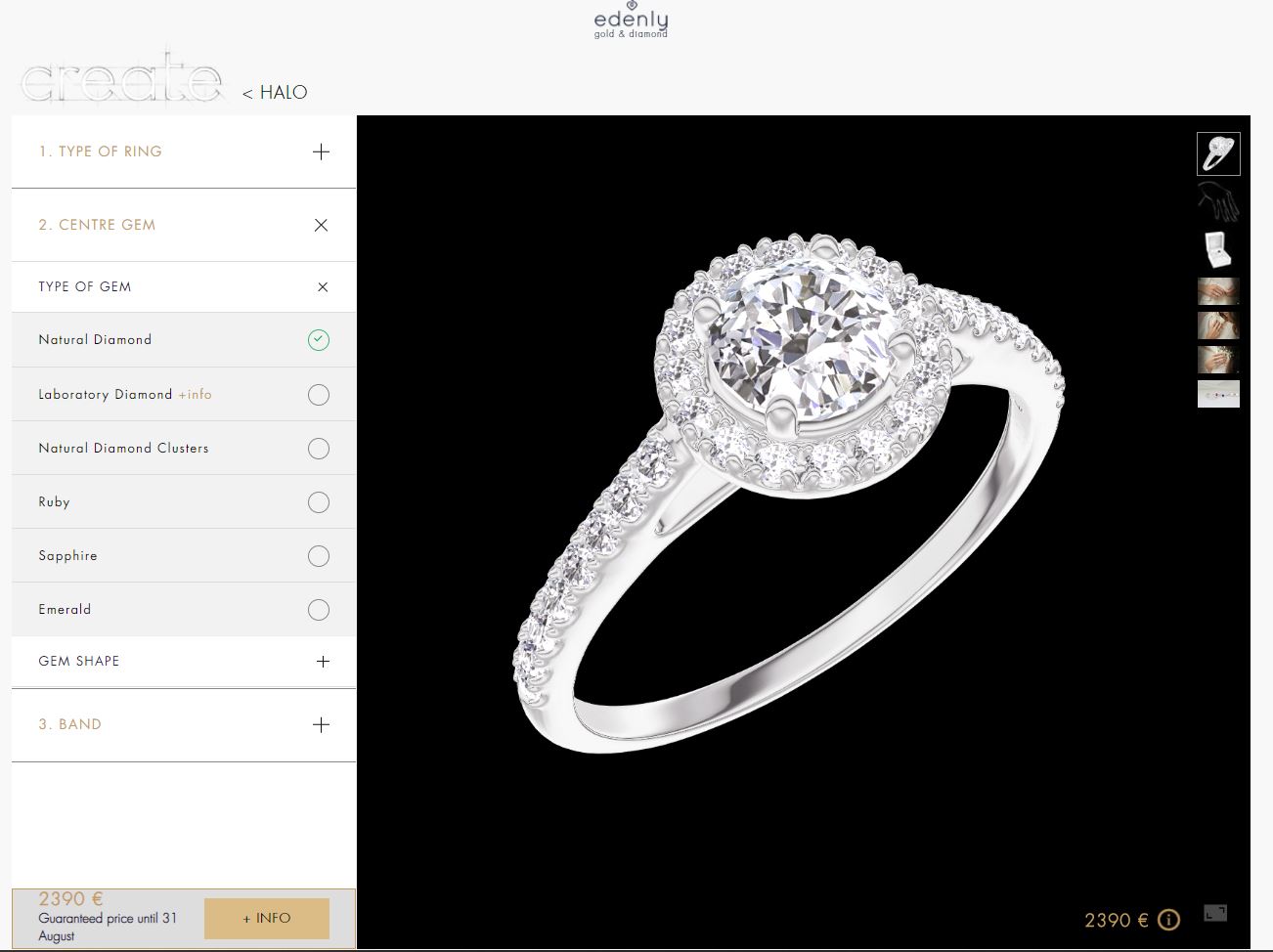 Hapticmedia developed such a 3D configurator for jewelry brand Edenly. This digital tool enables worldwide consumers to create their own product by choosing from various designs, materials, cuts, weight, colors and so on.
Thanks to this configurator, shoppers are able to get an instant and accurate quote of their personalized item, while also enabling them to play with configurations and see how budgets vary.
The project is extremely appreciated by the client and their customers, as it led to an increase in sales and generated word-of-mouth, which further helps to attract audiences who are less familiar with the brand.
What are the technical requirement to implement a 3D product configurator?
A well trusted brand of Hapticmedia, Apviz offer an online 3D SaaS product configurator targeted at e-commerce clients. With this digital marketing tool, product information are securely stored in the Cloud, which means that they are easily accessible and very importantly safe.
This software is compatible with any device from smartphone to tablet to desktop, any operating system, including Windows, Mac, Linux and any browser including Chrome, Internet Explorer, Firefox, Safari. It can also be embedded on major e-commerce platforms including Magento, Prestashop, Salesforce, Sitecore and Aprimo.
3D WebGL product configurator is only based a few lines of codes, without images, without plugins.
How can Hapticmedia help to turn your project into a success?
When it comes to 3D visualization, customization and configuration projects, clients come to Hapticmedia to understand their options and identify the best way to offer a high-end and personalized customer experience.
What we do is foster a conversation with the client about how to identify the brand's strongest asset and develop a digital strategy to communicate, engage and convert. This involves using our creativity and 15 years of expertise in this industry to design the smoothest user experience which converts.
Ready to use 3D configuration technology for higher conversion rates like Guerlain, Baume, Kenzo and more? Contact Hapticmedia to get a free quote!
Guerlain continues the adventure of online personalization with Hapticmedia
For nearly a year now, Guerlain has been giving women who love its "Rouge G" collection the opportunity to compose their ideal lipsticks online. They can thus choose different packages and shades from more than 450 possible combinations. And all this without even going to the store!
The 3D technical solution proposed by Hapticmedia allows us to showcase our iconic products. It offers different combinations to more and more demanding customers who are looking for digital experiences that reflect those of our Boutiques. In addition, thanks to this online personalization option, our customers can now offer a tailor-made gift to their loved ones, said Jean-Denis Mariani, Chief Digital Officer of Guerlain.
Our 3D configuration and personalization tool offers them the quality and fluidity expected from a successful shopping experience. In the end, the rendering on the screen is identical in every way to the physical product that customers receive at home.
Internet users appreciate this service, which makes this page achieve the 2nd highest conversion rate on the whole Guerlain site. This plebiscite is thus directly reflected in the results, with an increase in sales on this range of around 30 to 50%.
Contact Hapticmedia to get a technological boost to your sales
Here Hapticmedia is a leader in 3D configuration industry with over 15 years of experiences, combined with Augmented Reality technology we are able to offer a upgraded and engaging online shopping experience for your consumers, like what we did with Guerlain and Kenzo, enabling clients to config and personalize products on your e-commerce website.
Contact us and ask for an estimate of your tailor made 3D product configurator and see with your own eyes the true results it brings.
Read also:
3D Configurator: How did we increase clients' conversion rates using this technology?
How can you use 3D visualization for marketing purposes and is it worth it?
Mass Customization: The new path for luxury industry?
How to adopt engraving for eCommerce: a simple way to offer customized products
Contact us
Contact Hapticmedia now to see our successful user cases and the visible improvement we have brought to our clients. You will be amazed.