How can you use 3D visualization for marketing purposes and is it worth it?
By Yahong Zhang |
3D visualization definition and its estimated market size
If you have been reading our blog, you might already have an interest in 3D visualization, an area about which we, at Hapticmedia, are very passionate.
3D visualization combines a series of technologies such as computer-generated imagery, 3D modelling, rendering and graphics to create three-dimensional imagery which resembles reality so closely that it might be hard to differentiate from a real photo or video.
Kenzo is using 3D visualization and configuration technology to better present the product and offer online customization to clients. Solution created by Hapticmedia.
At its finest, 3D visualization provides an accurate, detailed and interactive presentation of products, as it carefully includes all elements necessary to offer am immerse experience like lighting effects, angles, textures, shades of colors and so on. This means that a high-end and well-executed 3D model may be viewed from different angles and provide a 360° perspective.
3D visualization is used in industries like media and advertising, design and architecture, e-commerce, gaming as well as 3D animation and printing.
With such an extensive portfolio, the global 3D visualization and rendering software market was valued at $747 million in 2016, and is projected to reach $2,904 million by 2023.
An increasing number of companies are investing in 3D visualization technology to create a better digital shopping experience for their clients, making up for this lack of "touch and feel", which is a major disadvantage of e-commerce that hinders buyers from making online purchases.
3D visualization for marketing purposes
According to scientists, the human brain processes visuals about 60,000 times faster than texts and in fact, 80% of all information that our brain processes is visual.
Moreover, in their book e-Learning and the Science of Instruction, Ruth Colvin Clark and Richard E. Mayer conclude that, when text-based instructions were accompanied by graphics, students' test performances were improved by a median amount of 89%.
Marketers are supposed to, thus, understand the importance of visuals in attracting, engaging, persuading and, of course, converting the target and employ 3D visualization technology in their marketing strategy. Here is why and how:
Offer interactive product presentation in a lighter, faster and safer way
Interactive and immerse product presentation in 3D
3D visualization provides a complete product understanding through interaction. This technology now solves all of the problems and limitations. Customers can view in real-time while the website owner receives an analysis on customer behaviors. There's also no need for 3rd party plugins also to enable this service.
A simplified 3D visualization demonstration provided by luxury brand Lolo Chatenay and tech startup Hapticmedia.
Ready to use 3D configuration technology for higher conversion rates like Guerlain, Baume, Kenzo and more? Contact Hapticmedia to get a free quote!
This high end brand wanted to offer clients an appealing user experience that helps bag aficionados to co-create items, which would fit their own unique lifestyle. To achieve this goal, Lolo Chatenay cooperated with Hapticmedia and launched a 3D bag configurator with 3D visualization.
With this advanced tool, bag lovers can now start their digital shopping journey by choosing preferred sizes and styles and then focus on colors, fabrics and adorning elements. With each change, the price adjusts, enabling users to see how each choice affects the overall quote and to decide accordingly.
During this process, with 3D technology consumers can also interact with the item, look at the product from a 360° angle, while rotating, zooming in, zooming out and analyzing each detail. Once everything is done and the customer is pleased, they can order and pay in just a few clicks.
Get rid of a ton of images to offer a better UX faster
As a marketer, you know that product shootings involve significant efforts, logistical resources, and time and money. This is exactly the reason why Vogue Italia recently replaced all of their glossy photos from its January 2020 issues with illustrations.
"One hundred and fifty people involved. About twenty flights and a dozen or so train journeys. Forty cars on standby. Sixty international deliveries. Lights switched on for at least ten hours non-stop, partly powered by gasoline-fuelled generators. Food waste from the catering services. Plastic to wrap the garments. Electricity to recharge phones, cameras…" Said Emanuele Farneti, Editor-in-Chief of Vogue Italia in a statement explaining the resources that went into the fashion editorials in the magazine.
Of course, this was not the end of marketing campaigns. Experts found an alternative in 3D visualization.
Computer generated imagery can be modified as product features change and can be easily turned into simulations at a large volume, which meant that different versions of products could be added, removed or updated through software without taking another serious of photos.
Guerlain 3D perfume visualization tool allowing users to create their signature item, choosing sizes, colors, accessories, engraving their initials and so on. Solution created by Hapticmedia.
Ready to use 3D configuration technology for higher conversion rates like Guerlain, Baume, Kenzo and more? Contact Hapticmedia to get a free quote!
This is very much what we did with Guerlain. With 3D visualization software, whenever the brand wants to launch a new color or a new collection, it can be done digitally in much less time than it would take for a team of photographers to organize a real-life shooting.
Moreover, cloud solutions improve security and page speed.
When done correctly, 3D visualizers are a significantly lighter compared to standard images, as they are only based a few lines of codes, without images, without plugins.
Foster online mass customization and customer engagement
Mass customization is a technique that makes manufacturing processes flexible enough to produce products according to precisely what the customer wants. It involves combing personalization and mass production, leading to a cost-efficient manufacturing system.
This way higher level of customer satisfaction can be achieved since individual clients are delivered with products that match their needs of possessing unique and distinct bags, shoes, clothes or even cars.
Consumers do like the idea of mass customization
The growing trends of purchasing a custom-made product can be reflected by increasing shopping demands towards it. Reality is, 25-30% of them showing high levels of interests in buying such products, making it a huge market for potential entrants.
3D visualization empowers consumers and offers them a proactive role in co-designing products that better fit their lifestyles and demands, which means that, potentials buyers can now choose their preferred designs, colors, materials, accessories, engraving and personal messages, to create anything from luxury leather goods, watches, cars to chandeliers and furniture.
In addition, this technology enables customers to preview the item from a 360° angle, interact with it, rotating, zooming in, zooming out and analyzing each detail so that they could immediately make changes where necessary. Once everything is done and the customer is pleased, they can order and pay in just a few clicks.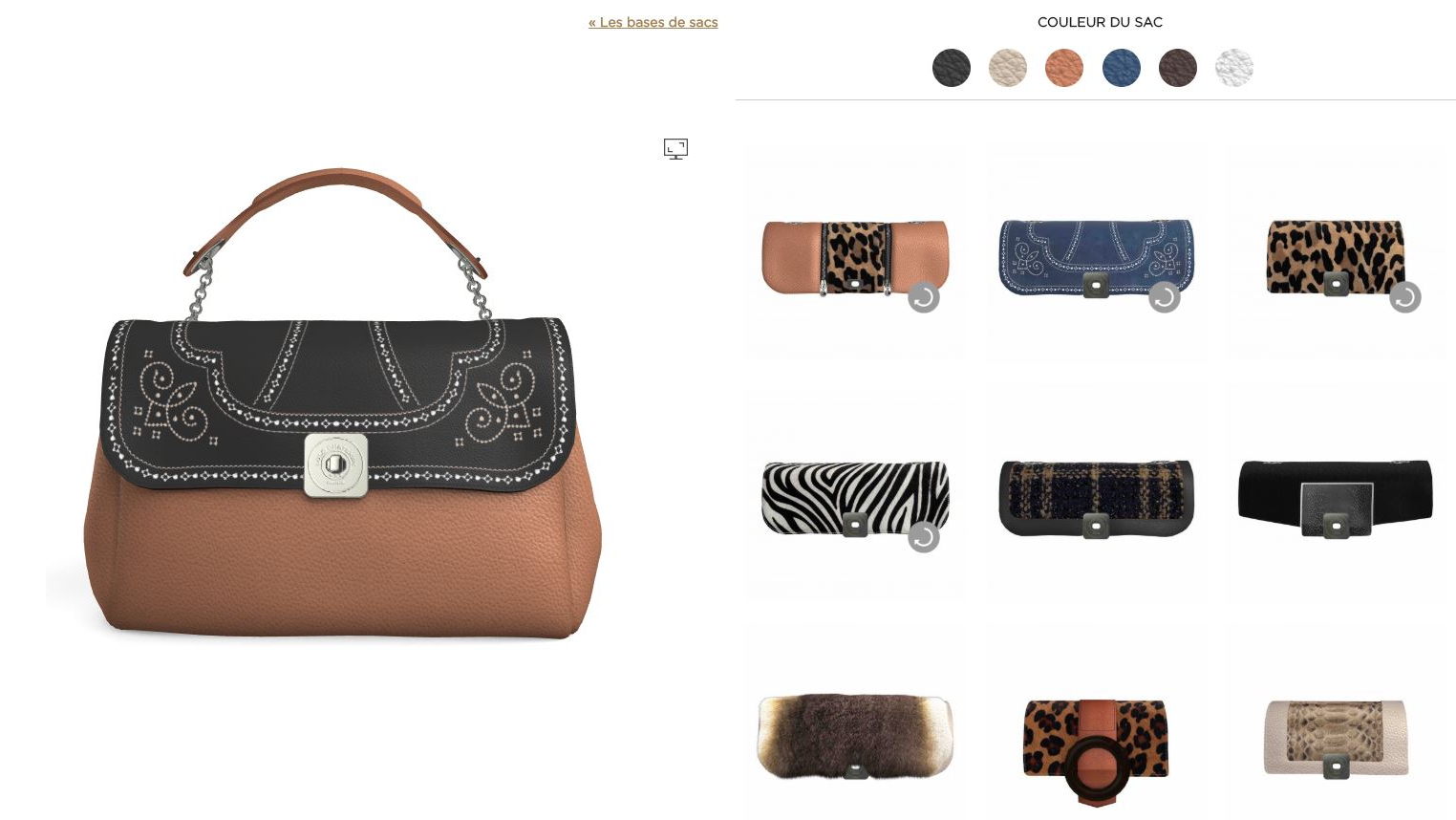 As mentioned above, this 3D bag configurator by Lolo Chatenay and Hapticmedia allows online mass customization.
A good example, as mentioned above, is the project that Hapticmedia delivered for Lolo-Chatenay, a bag manufacturer which encourages customers to use imagination and create items that showcase their unique sense of fashion.
To conclude, the tool increases conversion rates and decreases cart abandonment rates.
Allow consumers to enjoy the benefits of virtual try-on technology
The inability to thoroughly understand and try products is very much responsible for a large number of abandoned carts, high level of returns and associated transportation and restocking costs. That being said, 3D visualizers have set the premise for a new tool, which brings together 3D visualization and Augmented Reality technology: Virtual try-on.
This solution enables customers to try on products using their camera equipped devices such as mobile phones and thus, find the ones that have a better chance of matching their styles and demands.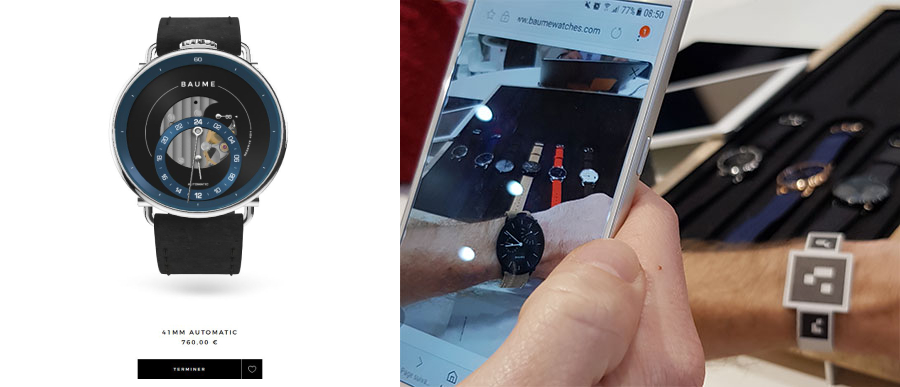 Ready to use 3D configuration technology for higher conversion rates like Guerlain, Baume, Kenzo and more? Contact Hapticmedia to get a free quote!
For example, Hapticmedia implemented a virtual try-on system for high end watch brand Baume from Swiss. The company wanted to convert visiters by encouraging them to co-design a watch from over 2,000 possible combinations from different models, colors, textures, engraving and so on.
After designing the watch, shoppers are also encouraged to try it on their own wrists using Augmented Reality. This solution has greatly improved the digital shopping experiences for clients and increased conversion rates.
Enable selling through gamification
For decades, gamification has been an excellent marketing technique to lure consumers in a different universe, where they could engage and play with products of choice.
High end brands especially caught quickly on this technique, as gamification contributes to building a fun and interactive shopping experience that may be enjoyed by all potential users. It drives engagement while promoting products or services, which eventually increases the number of purchases and overall order values.
Gamification is associated with winning and rewards and thus offers consumers a consistent sense of gratification.
Still, in order to make the most of gamification and to please the digital generation, brands are expected to understand the importance of 3D visualization, which needs to be of an extremely high quality and employ the best 3D techniques.
Ready to use 3D configuration technology for higher conversion rates like Guerlain, Baume, Kenzo and more? Contact Hapticmedia to get a free quote!
Conclusion
3D visualization is a versatile technology that can be used for product presentation, mass customization, virtual try on and gamification and more. When done correctly, 3D visualizers serve as a significantly lighter and safer alternative to traditional 2D images, as they only work on a few lines of codes.
This means that they are fast, require little technological resources and are easy to implement and control.
3D visualization especially when supported by 3D configuration technology is now an attractive option for websites and apps that want to increase engagement and conversions without too much trouble.
It is also safe and flexible as most of them are cloud-based solutions, which may be accessed at any time.
Due to these advantages mentioned above, 3D visualization especially when supported by 3D configuration can be used in a variety of projects. If you want to know more about how this technology can bring added values to your marketing strategy, subscribe to our newsletter or drop us a note.
Sources
https://www.gurufocus.com/news/960751/visualization–3d-rendering-software-market-statistics-2019-record-high-markets-ahead-of-demand-for-3d-content
Global Animation and VFX Industry Strategies, Trends, & Opportunities Report 2019
https://hapticmedia.com/blog/3d-visualization-definition-benefits-software/
https://go.galegroup.com/ps/i.do?p=AONE&u=googlescholar&id=GALE%7CA303642825&v=2.1&it=r&sid=AONE&asid=7c026e82
Psychology of the Digital Age: Humans Become Electric By John R. Suler
Contact us
Contact Hapticmedia now to see our successful user cases and the visible improvement we have brought to our clients. You will be amazed.