Live streaming 101: What is it and why should marketers care?
By Yahong Zhang |
A huge market potential and accelerated adoption
Live content has been appealing to audiences even since the age of television, as it creates the fear of missing out. Unsurprisingly, the live streaming market hit as high as $545 billion in 2018, according to Deloitte.
As the online business has grown significantly in recent years with an increasing audience, live streaming is becoming one of the most sought after tools, especially in regions where e-commerce is a common practice.
In China alone, the online live streaming industry was assessed at $14.3 billion in 2019,  and is expected to reach $17.9 billion during 2020, according to Statista. In addition, these figures might turn out even much higher, as the COVID 19 pandemic is acting like a catalyst that enables faster technological adoption and more time spent online.
More over, with social media consumption growing by 7% compared to the same period of 2019 and 47% of global users saying that they spent more time shopping online as of April 2020, it is understandable that live streaming has become the go-to tool for luxury brands who want to engage with their audiences and make the most of the digital ecosystem.
How China is turning live streaming into live commerce
In China, netizens appreciate live video content so much that video-based social networks like Douyu, Huya, YY, Douyin and Taobao Live have become part of their daily lives. The short video app that took the world by storm, TikTok is actually a global version of the Chinese social network Douyin. This passion for live video content has definitely paved the way for live commerce.
Secondly, regarding eCommerce, thanks to a series of best practices set by players in this industry, for example, online payment and consumer protection facilitated by Alibaba and Wechat, the supply chain by Jingdong, KOLs, advertisement and content marketing by Weibo, Xiaohongshu and Wechat, China has a high e-commerce adoption rate of 78%, mobile e-commerce adoption rate 64%.
E-shoppers in this country enjoy browsing content on the Internet for inspirations, seeing other users especially KOLs share their shopping experiences and favorite products. This act went even further and finally gave birth to a practice which allows brands to combine live streaming and eCommerce and immediately capitalize on this strategy, i.e. live commerce. Marketers, especially those in the luxury business, are now trying to take advantage of this tool.
Examples of live commerce include live streaming campaigns that helped Sunning sell over 30,000 high end air conditioners in just a few seconds and Starbucks, too, over 3,000 branded products in a blink of an eye.
L'Oreal, the best selling beauty brand on Tmall, took full advantage of live commerce last year. The brand did a Single's Day pre-sale, where they asked a top influencer to stream on Taobao Live for 17 hours per day, 392 hours in total, which led to over 10.34 million orders. This was a record.
That same day, American influencer Kim Kardashian West used the network to live stream alongside Viya, one of Taobao's most popular hosts, and managed to sell 15,000 perfume bottles in just a few minutes.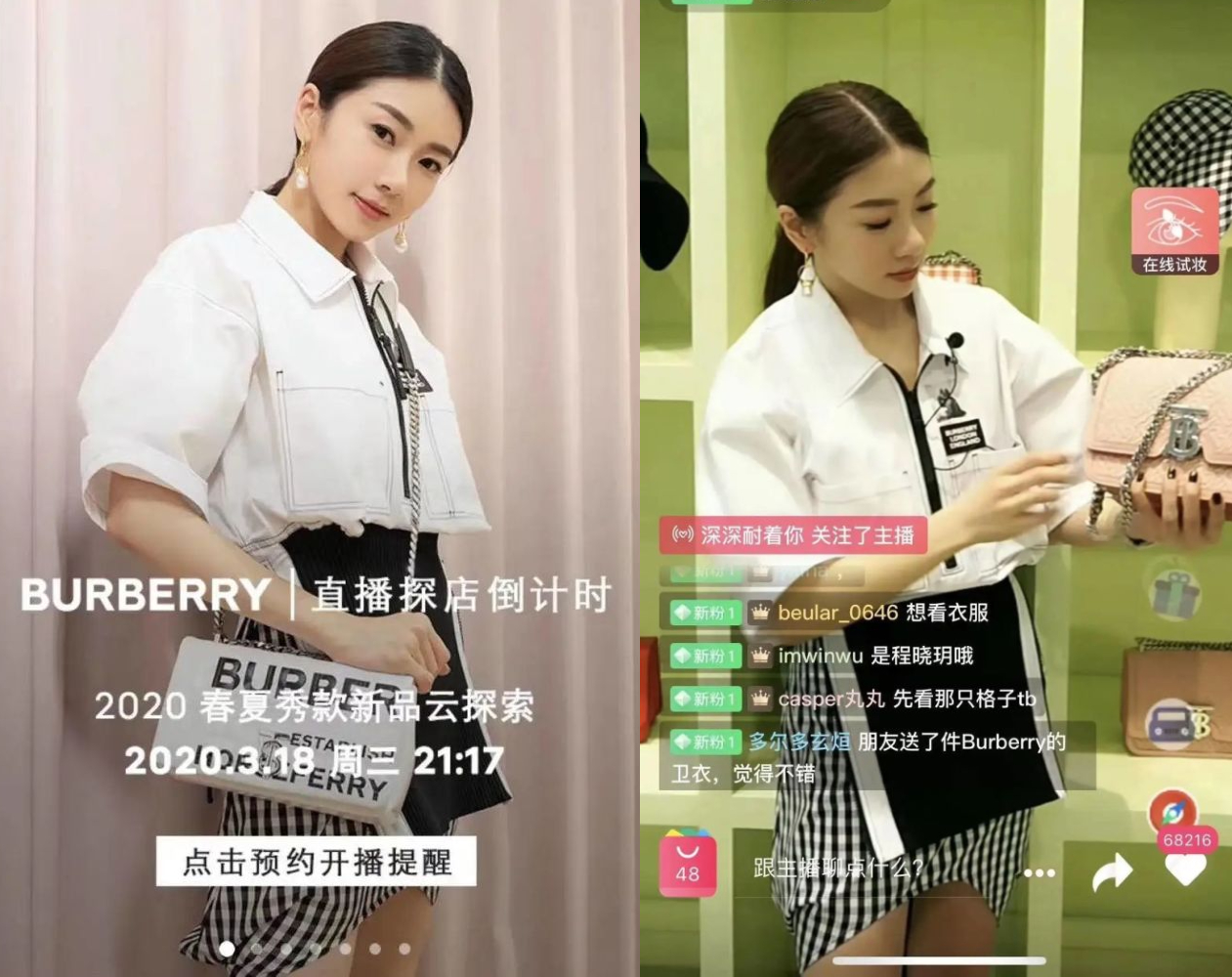 It works for luxury as well. For example, Burberry invited KOL Xiaoyue Cheng to live stream on Taobao Live her shopping experience at Shanghai store. This practice enjoyed 1.4 million viewers and had all their featured products sold out.
There is also a recent live streaming by Louis Vuitton on Xiaohongshu. In March 2020, the brand launched its new collection through the live stream service of Xiaohongshu, asked fashion blogger Yvonne Ching and celebrity influencer Zhong Chuxi to present the items, offer tips and tricks on how to style the bags, as well as direct the viewers towards the LV shopping channels. This one-hour live streaming generated 152,000 page views for the brand.
Live streaming and KOLs go hand in hand
Results of a live streaming campaign depend very much on the host or hostess, as it is an engaging marketing game where instant interaction is required. The host or hostess is required to share experiences and experts as an authority in the domain, as well as to amuse the audience and keep them focused.
To de detailed, KOLs qualified to host live streams are knowledgeable, have a certain number of fans and authority in the sector, outgoing, easy to communicate, versatile with a wide range of talents to please the audience, and great at marketing.
This makes successful live streamers very rare and expensive. While other influencers were making thousands of US dollars, KOLs like Viya, China's live streaming sweetheart, cashed over $4.2 million in as early as 2017. You can imagine what would be the number today.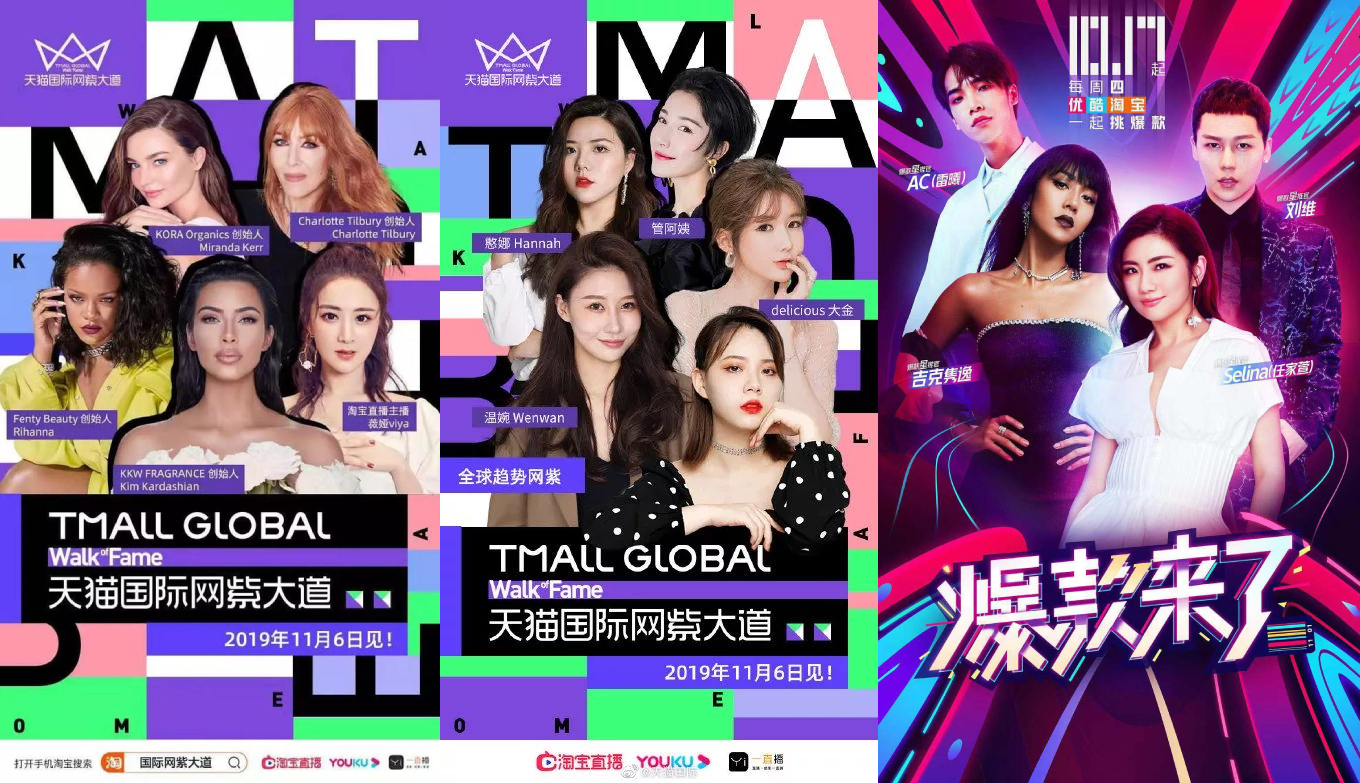 Live streaming campaigns on Taobao Live, an inbuilt feature of eCommerce platform Taobao including Tmall.
Apart from flat collaboration fees and commissions from brands, live stream hosts also receive gifts from their fans. Social networks like Yingke, for example, enable viewers to offer digital presents such as yachts, Porsche cars and fireworks, which can later be converted into money. Say, a virtual car is worth $100.
Benefits of live streaming
A versatile tool that enables huge and instant sales with clear KIPs
Live streaming is an extremely versatile tool that may be used by brands to offer a series of opportunities. Apart from instant sales or sell goods through time-limited offers, brands can also present products, showcase manufacturing processes, take consumers on tours of upscale shops, compare and review items, launch collections and so on.
The technique is also be easily quantified in clear KPIs, taking into account the following measures: views, sales, comments, engagement, generated incomes etc.
Precise targeting with KOLs and fast feedback
Live streaming creates strong associations between brands and KOLs, helping the former contaminate themselves and capitalize on the influencers' e-reputation. A relevant benefit is that live streaming helps brands to target consumers precisely, with the help of influencers, based on customer preferences and shopping behaviors as well as location, age, sex, interests, making strategies and budgets more efficient.
This marketing technique especially compensates for the lack of interaction in the new social distancing landscape, allowing audiences to ask questions, discover tips and tricks and receive in-depth information on their favorite products and services, as well as to offer real-time feedback.
Exciting and engaging content
Live streaming is also a source of exciting and engaging content that consumers appreciate. When applied for social commerce, it creates a FOMO effect, generating a "buy-now-or-regret-later" feeling, which speeds up the decision making process.
The best social networks for luxury brands to live stream in China
China has a wide array of dedicated live streaming platforms as well as social media and e-commerce apps which provide inbuilt services.
The most popular networks among luxury marketers are Taobao Live including Tmall and Xiaohongshu, as they are excellent for live sales supported by their own ecosystems including influencers, community, content and eCommerce;
Short video apps like Douyin/ TikTok and Kuaishou, which have an average number of 300 million daily active users, and live streaming platforms Douyu, Huya and Yizhibo, are popular channels too to attract attention and then redirect interested viewers to eCommerce websites.
Live streaming platforms in the west
With COVID-19 impacting the luxury landscape, brands all over the world are rethinking their digital strategy and trying to make the most of eCommerce.
As of May 2020, Instagram informed the community that it is progressing to become a main digital platform to host fashion shows, especially since offline events seem unrealistic in early 2020.
Facebook, which is no stranger to live streaming, announced that they are rolling out new shopping features in an attempt to optimize live commerce and help both brands and influencers to capitalize on their network presence.
What to consider when planning your live streaming strategy?
Live streaming can be unpredictable
Like any other marketing events, live streams need to be strictly rehearsed and even scripted before carrying it out live in front of the audience. Otherwise accidents might take place. For example, when host Jiaqi Li, known as "the lipstick king", were promoting a high end non-stick pan in his live stream only to find out that it totally sticks.
Another example of Jiaqi. At the request of followers Jiaqi tested the new lipstick collection by Hermès and it turned out to be a disaster. He then brutally criticized Rouge Hermès during his Taobao livestreaming channel, which attract over 12 million views. Audiences immediately responded with "no longer interested" "pass" "he looks sick". Therefore, live streaming may prove dangerous and unpredictable for a brand.
KOLs versus celebrities
While celebrities might have more followers, KOLs build names by delivering interesting content and engaging with their audiences. This means that influencers might be more used to product presentations and reviews especially in their own domains and have more time to spend on live streaming sessions, which makes them better candidates for such campaigns.
Of course, an even better mix if you can afford is to have both KOLs and celebrities as co-hosts, asking them to discuss their favorite products and showcase the items they chose from a brand's newest collection.
You may build your own KOLs
Working with already acknowledged influencers is extremely helpful, but sometimes it is beneficial too to develop your own key opinion leaders.
Salespeople and brand ambassadors, for example, are an excellent starting point for live streaming, as they already know the brand vision, products, new launches and key differentiators that can be used to engage and convert users.
Moreover, CEO live streaming is gaining popularity in China. Yanhong Li, CEO of Baidu, introduced to consumers the brand's new live streaming platform and the presentation was so successful that the company's market value surged to $12 billion.
What is extremely important in this context is that the CEO of Baidu is known to Chinese consumers. Therefore be careful when you choose the right person, and of course, he or she should also be charismatic, voluble and be able to connect with viewers.
Ensure sufficient stocks and be ready to fulfill orders
Developing and deploying a marketing campaign is great, yet an important feature of live commerce is that consumers make fast purchase and they want fast delivery. Therefore, it is essential that we ensure all orders can be fulfilled in due time and delivered with care to their buyers.
A tip is to choose to live stream products based on stocks and make sure that the logistics chain is reliable and functions perfectly.
Live streaming isn't only for products, but also for services and events
Just some time ago Gucci live streamed the spring 2020 show on Weibo, which until now attracted 22 million views including playback. During the session, 179,000 viewers posted a comment and likes totaled 421,000. Such online content might just be the solution to this global travel ban.
Additional technology brings added value to your live streams
Brands use live streaming to draw attention to their products and services, but this tactic should be part of a more sustainable user experience. For example, 3D configuration technology can be integrated into the sessions and serves as necessary tools to convert audiences.
Guerlain 3D lipstick configurator in cooperation with Hapticmedia.
3D products configurators enable shoppers to create their own unique and personalized product and thus help companies to charm and loyalize customers, while positioning themselves as a creative brand that offer superb shopping experiences.
References
Live thrives in an online world by Deloitte
https://www.statista.com/statistics/874591/china-online-live-streaming-market-size/
https://wearesocial.com/blog/2020/04/digital-around-the-world-in-april-2020
https://www.voguebusiness.com/consumers/live-streaming-china-shopping-kim-kardashian
https://jingdaily.com/will-ceo-livestreaming-work-for-luxury-brands/
https://fashionista.com/2020/05/instagram-global-hub-digital-fashion-shows
https://jingdaily.com/the-live-stream-incident-that-rocked-chinas-kol-market/
https://jingdaily.com/what-brands-need-to-know-before-livestreaming-in-china/
https://hapticmedia.com/blog/virtual-try-on/
https://www.statista.com/statistics/1106498/home-media-consumption-coronavirus-worldwide-by-country/
Contact us
Contact Hapticmedia now to see our successful user cases and the visible improvement we have brought to our clients. You will be amazed.