What Is 3D visualization?
3D visualization refers to the process where graphical content is created using 3D software. Similar terms include 3D rendering, excellent computer-generated imagery (CGI), 3D graphics and so on.
Over recent years 3d visualization has gained great popularity and evolved into one of the most essential methods to producing high-quality digital content. Numerous industries ranging from films, games, engineering, architecture, hospitals and manufacture are taking advantages of such a technology. In this article let's know more about the definition, applications, benefits, selected software and the future of 3D visualization.
Kenzo is using 3D visualization and configuration technology to better present the product and offer online customization to clients. Solution created by Hapticmedia.
Where is 3D visualization used?
As mentioned earlier, 3D visualization technology is implemented in many industries to create excellent graphic content including images, diagrams and animations that contribute to better communication or a more real-life digital experience. Here are the top three industries that embrace 3D visualization techniques.
1. Product design, manufacture and presentation
3d visualization is a great tool to demonstrate either a prototype or a finished product to stakeholders. Engineering wise it helps developers to visualize the to-be product in a real environment and gather data about potential flaws and risks so that they could improve the developing process by coming up with new designs and and head for innovations.
Marketing wise, 3D product presentation has the potential to make the product stand out. Comparatively, it is much easier to create demonstration of actual products & items from a 3-dimensional format than shooting a ton of photos.
Apart from that, we also gain advantages from being capable to observe the product from every angle and mark all the product benefits.
Guerlain 3D lipstick visualization tool allowing users to create their signature lipstick, choosing sizes, colors, cases, accessories, engraving their initials and so on. Solution created by Hapticmedia.
Ready to use 3D visualization and configuration technology for higher conversion rates like Guerlain, Baume, Kenzo and more? Contact Hapticmedia to get a free quote!
2. Architecture and interior design
3D visualization software plays a significant role in architecture and interior design by making the working process in this sector more rapid and effective.
Collaborative and digital engineering, fast manufacture of constructing elements, diminishing the errors during the entire process, presentation and maintenance of projects – everything will be conceivable with 3D visualization technology.
Nowadays, clients show eagerness in having a glimpse at the design of their project even before the work starts. In this case, 3D visualization provides an opportunity for customers to see the layout of the building, interior and exterior designs, lighting, texture and geographic situations even before completion of the development process.
3. Media and entertainment
3D visualization technology provides the ability to create stunning digital content in fields such as games, movies, advertisements and music videos. Thanks to this tool artists are capable of creating realistic characters using imagination.
Apart from these sectors, this technology is even used in electronics, education institutions, printing and publishing industry, medical applications and diagnostic planning and so on.
3D Visualization for marketing purposes
According to scientists, the human brain processes visuals about 60,000 times faster than texts and in fact, 80% of all information that our brain processes is visual.
Moreover, in their book e-Learning and the Science of Instruction, Ruth Colvin Clark and Richard E. Mayer conclude that, when text-based instructions were accompanied by graphics, students' test performances were improved by a median amount of 89%.
Marketers are supposed to, thus, understand the importance of visuals in attracting, engaging, persuading and, of course, converting the target and employ 3D visualization technology in their marketing strategy. Here is why and how:
3D visualization offers better product presentation in a lighter, faster and safer way
Interactive and immerse product presentation in 3D
It is usually more productive to showcase your designs using visuals that are as interactive as possible. This is the best way to convey your ideas than photo realistic renderings, which requires much more inputs and is much less flexible.
More effective in presentations and communications
3D visualization provides a complete product understanding through interaction. This technology now solves all of the problems and limitations. Customers can view in real-time while the website owner receives an analysis on customer behaviors. There's also no need for 3rd party plugins also to enable this service.
A simplified 3D visualization demonstration provided by luxury brand Lolo Chateney and tech startup Hapticmedia.
Ready to use 3D visualization and configuration technology for higher conversion rates like Guerlain, Baume, Kenzo and more? Contact Hapticmedia to get a free quote!
This high end brand wanted to offer clients an appealing user experience that helps bag aficionados to co-create items, which would fit their own unique lifestyle. To achieve this goal, Lolo Chateney cooperated with Hapticmedia and launched a 3D bag configurator with 3D visualization.
With this advanced tool, bag lovers can now start their digital shopping journey by choosing preferred sizes and styles and then focus on colors, fabrics and adorning elements. With each change, the price adjusts, enabling users to see how each choice affects the overall quote and to decide accordingly.
During this process, with 3D technology consumers can also interact with the item, look at the product from a 360° angle, while rotating, zooming in, zooming out and analyzing each detail. Once everything is done and the customer is pleased, they can order and pay in just a few clicks.
Get rid of a ton of images to offer a better UX faster
As a marketer, you know that product shootings involve significant efforts, logistical resources, and time and money. This is exactly the reason why Vogue Italia recently replaced all of their glossy photos from its January 2020 issues with illustrations.
"One hundred and fifty people involved. About twenty flights and a dozen or so train journeys. Forty cars on standby. Sixty international deliveries. Lights switched on for at least ten hours non-stop, partly powered by gasoline-fuelled generators. Food waste from the catering services. Plastic to wrap the garments. Electricity to recharge phones, cameras…" Said Emanuele Farneti, Editor-in-Chief of Vogue Italia in a statement explaining the resources that went into the fashion editorials in the magazine.
Of course, this was not the end of marketing campaigns. Experts found an alternative in 3D visualization.
Low costs and sustainable compared to tons of photos
With the improvement in technology, 3D visualization has now become easily accessible to most companies willing to offer a seamless shopping experience to customers. Instead of multiple pictures that take a long time to load and only cover several angles of the item, 3d visuals are able to offer a 360 degree view of the product, and are easy to modify along the way due to its nature.
Computer generated imagery can be modified as product features change and can be easily turned into simulations at a large volume, which meant that different versions of products could be added, removed or updated through software without taking another serious of photos.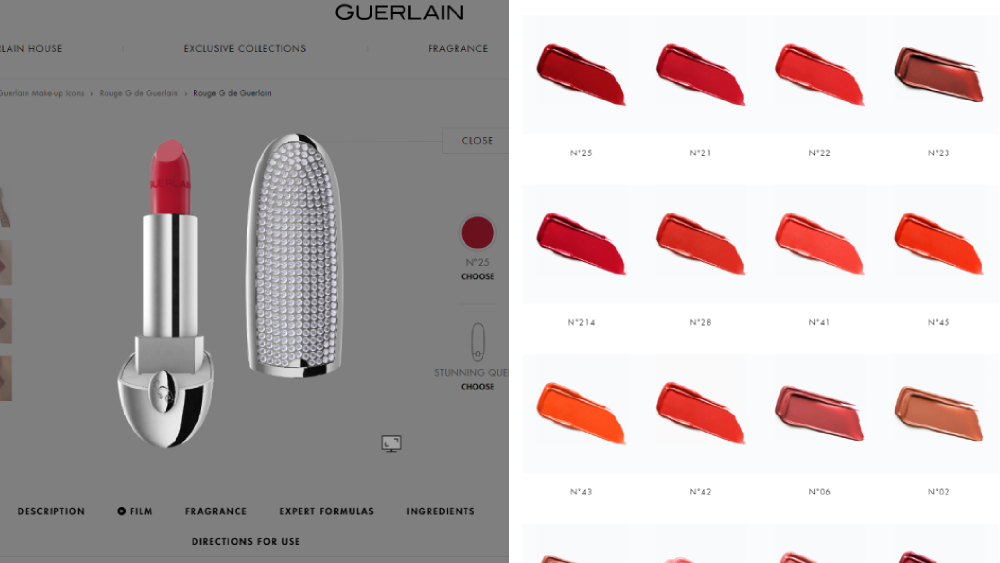 Guerlain launched a 3D lipstick configurator with 3D visualization, which greatly improves the conversion rates of their direct to consumer platform. Solution created by Hapticmedia.
Ready to use 3D visualization and configuration technology for higher conversion rates like Guerlain, Baume, Kenzo and more? Contact Hapticmedia to get a free quote!
This is very much what we did with Guerlain Rouge G. Using 3D visualization software, Hapticmedia manage to switch shades on each lipstick, while remaining faithful to the actual colors.
This means that, whenever the brand wants to launch a new color or a new collection, it can be done digitally in much less time than it would take for a team of photographers to organize a real-life shooting.
Moreover, cloud solutions improve security and page speed.
When done correctly, 3D visualizers are a significantly lighter compared to standard images, as they are only based a few lines of codes, without images, without plugins.
Smooth and agile working flows for engineers, developers and marketers
For example, with 3D architectural visualisation, customers are able to detect any problems or flaws from the early stages. If the client does not like the layout or design of a particular project, developers can make changes easily at the visualisation stage before the construction.
Future of 3D visualization: a huge global market
For a decade now, 3D visualization has been working as a catalyst in many domains, especially architecture, manufacturing, product design& modeling and media & entertainment.
These industries are constantly growing, so are their demands. People want to make sure their imagination takes the perfect shape in reality and customers demand to see the final result at the early stages of a project.
In the coming years, 3D visualization is going to be more involved in the interior and architectural industry. It will change the way houses are built today, make the whole process of designing and manufacturing more transparent, help the architects spot the plausible errors, assist in predictive maintenance and trigger collaborative digital and faster engineering. Also, it improves customer satisfaction with a 3D virtual model of the end result.
A huge global market for 3D visualization technology
In the year 2015, the 3D visualisation market was evaluated at nearly USD 4.9 billion while now it is expected that by 2020, the market will reach the mark of USD 16.6 billion, which is an increase of nearly 239%.
Geographically, when you look on the basis of regions, North America and Europe are leading in this particular sector, followed by Asia-Pacific, Middle East, Africa and Latin America.
Future use cases of 3D visualization technology
As mentioned above, there are already a good number of use cases of 3D visualisation. Here are a few more which are likely to dominate in different industries in the foreseeable future.
Media & Advertising
Expectations are evolving with technology. In the advertising industry, people want to have a glimpse of the product even before it is launched. That's when 3D visualisation comes into the space.
This technology has been constantly influencing the media and advertising industry with its interactive 3D models and virtual images of the products. Moreover, it gives a more immersive feel to audience and catalysts the product sales. The expected spending in the digital ad industry by 2023 will be USD 518 billion.
Ready to use 3D visualization and configuration technology for higher conversion rates like Guerlain, Baume, Kenzo and more? Contact Hapticmedia to get a free quote!
3D Animation
Animation and 3D visualisation work in harmony. We all love animation and some of our favourite characters are created by 3D visualisation. In the coming years, 3D visualisation will be extensively used as it quickens the process and saves a lot of pennies for the producers.
It is expected that by the year 2020 global animation industry will reach the mark of USD 270 billion and the year on year(YoY) growth will be around 2.1%, which paves the way for 3D visualisation growth.
3D Printing
Although this particular sector is nascent, it is one of the fastest growing ones under the purview of 3D visualisation, which plays a major role in the prosthetic design and manufacturing industry.
In the development process, the concepts are designed with 3D visualisation tools and then 3D printed. Apart from that, 3D visualisation is used to design other products like in the automobile industry, pharmaceutical & medical sector, eco-engineering & architecture.
Architecture
3D visualisation techniques are helping the real estate sector to modernise in a big way. It shortens the overall product development life cycle and quickens the marketing process, by allowing the builders to market better to their target audience as the buyers want to know the feel and look of the upcoming projects.
Solutions like rapid prototyping, AR & VR software, mixed reality and VR animation are revolutionizing the architectural industry. In fact, a recent research shows that 3D visualisation will play a major role in pulling up the real estate industry to USD 70 trillion by 2030.
Conclusion
3D visualisation technology is definitely in the fast track of growth and is in a continuous state of flux. New innovations are being implemented and the technology is increasingly finding usage in different industrial sectors.
It will be interesting to note how 3D visualisation will take over in the next couple of years and improve the efficiency of many a business.
Sources
https://www.gurufocus.com/news/960751/visualization–3d-rendering-software-market-statistics-2019-record-high-markets-ahead-of-demand-for-3d-content
https://archicgi.com/future-of-3d-visualization-top-5-advanced-technologies-for-architects/
https://www.easyrender.com/architectural-visualization/is-3d-rendering-and-architectural-visualization-the-future-of-architectural-design
https://www.cadcrowd.com/blog/3d-visualization-innovations-for-companies/
https://vrender.com/3d-visualization-technology/
https://www.prnewswire.com/news-releases/global-animation-and-vfx-industry-strategies-trends–opportunities-report-2019-market-was-valued-at-us-259-billion-in-2018-and-is-projected-to-reach-us-270-billion-by-2020-300816938.html
https://www.emarketer.com/content/global-digital-ad-spending-2019
https://www.statista.com/statistics/237974/online-advertising-spending-worldwide/ https://www.3delight.com/ https://hapticmedia.com/blog/3d-visualization-for-marketing-purposes/
Contact us
Contact Hapticmedia now to see our successful user cases and the visible improvement we have brought to our clients. You will be amazed.