How to adopt engraving for eCommerce: a simple way to offer customized products
By Yahong Zhang |
Engraving is the world's oldest and most popular technique to offer customized products. To take advantage of this technique as well as the trend of personalization, brands are now thinking about adopting engraving for eCommerce, supported by 3D Visualization or Augmented Reality technology to increase conversions and thus revenues.
Consumers appreciate customized products
The growing trends of purchasing a custom-made product can be reflected by increasing shopping demands towards it. Reality is, 25-30% of them showing high levels of interests in buying such products, making it a huge market for potential entrants.
Consumers are also willing to pay premium for such personalized products. This is confirmed by another report from Deloitte, 57.2% of worldwide millennials interviewed replied "Yes, definitely!" to the question "Would you be willing to pay more for a high-end fashion or luxury item that was personalised to you?", while 35.2% answered "Maybe".
Similarly, research shows that 26% of Americans have customized a product, with apparel and footwear (29%) and food and beverages (29%) being the categories with the highest sales of customized products.
Ready to use 3D configuration technology for higher conversion rates like Guerlain, Baume, Kenzo and more? Contact Hapticmedia to get a free quote!
Main reasons for customization are "designing something for fun" and "showing creativity", while "standing out from other people" was a reason associated only with consumers who decided to add a twist to their apparel and footwear.
Moreover, an important case for customization is made by the personalized gifts market, which is expected to reach $31,63 billion, by 2021.
Shoppers have now developed a stronger need to feel appreciated by brands they choose and confess that they take such factors into account when making a purchase. Personalization leads to better customer experiences and has thus become a crucial differentiator in the market.
Brands too have witnessed the advantages of personalization
According to Forbes Insights, 40% of marketing executives report that personalization has a direct impact on maximizing sales, basket size and profits in direct-to-consumer channels, such as e-commerce, while another 37% point to increased sales and customer lifetime value through product or content recommendations. More than one-third of respondents have seen increases in their transaction frequency as a result of personalization strategies.
This is why an increasing number of luxury brands are now joining this game, allowing buyers to transform iconic products into unique signature pieces. We, at Hapticmedia, work with luxury brands to offer product customization technology that enables users to co-design products and leave their unique marks on the item.
One of the most successful projects for example, is the one we did with Guerlain, which encourages beauty fans to personalize perfume bottles, customizing shapes, colors, accessories and even adding their initials or messages to the item.
Engraving is the world's oldest and most popular technique to offer customized products
One of the most popular customization techniques is engraving, the process of incising designs to surfaces by cutting grooves into them with a burin.
This is one of the oldest and simplest technique in printmaking and it is still gaining popularity with the increasing demands of personalization. That is why the practice keeps evolving and new technologies are added constantly to ensure high precision and quick results.
Engraving simplifies customization
Engraving is one of the most popular and easiest ways to customize products, as it is a technique that is easy to demonstrate and works well for all kinds of materials including metal, leather, glass, crystal, paper and so on. This technique offers great versatility and personalization without too much effort.
Engraving increases the willingness to pay
In fact, research shows that 57.2% of millennial respondents said that they would pay more for personalized luxury goods, while only 7.6% said they would not.
Indeed, customers know that creating a signature product based on their own input implies higher costs, but they are willing to do so if the final result respects their tastes and quality standards.
Engraving boosts engagement and drives content
Consumers enjoy interacting with products to get a better understanding as well as to have some fun. Moreover, when the product is beautifully visualized through digital tools, they become social media worthy, which makes an excellent means to stimulate user-generated content that contributes to increasing brand reputation and likability.
Guerlain encourages consumers to fully explore the items with interactive 3D technology as well as online engraving.
Ready to use 3D configuration technology for higher conversion rates like Guerlain, Baume, Kenzo and more? Contact Hapticmedia to get a free quote!
Engraving humanizes the brand
Apart from providing a personalized shopping experience that would increase customer satisfaction, engraving also contributes to creating emotions and associations to a certain product, thus increasing consumers' attachment towards the brand and strengthening the bond. In the long term, such an act generates word-of-mouth.
A versatile technique that eventually converts the audience
The opportunity to engrave and personalize a product generates a sort of "must-have" feeling, which in the end motivates consumers to make a purchase. This is partially because nowadays shoppers especially Millennials and Generation Z have a strong desire to express uniqueness through belongings and personal styles.
Engraving for eCommerce converts even better if supported by 3D Visualization technology
Since in most cases engraved products can not be returned, consumers have an acute need for visualization, to make sure that items look beautiful and match their unique style.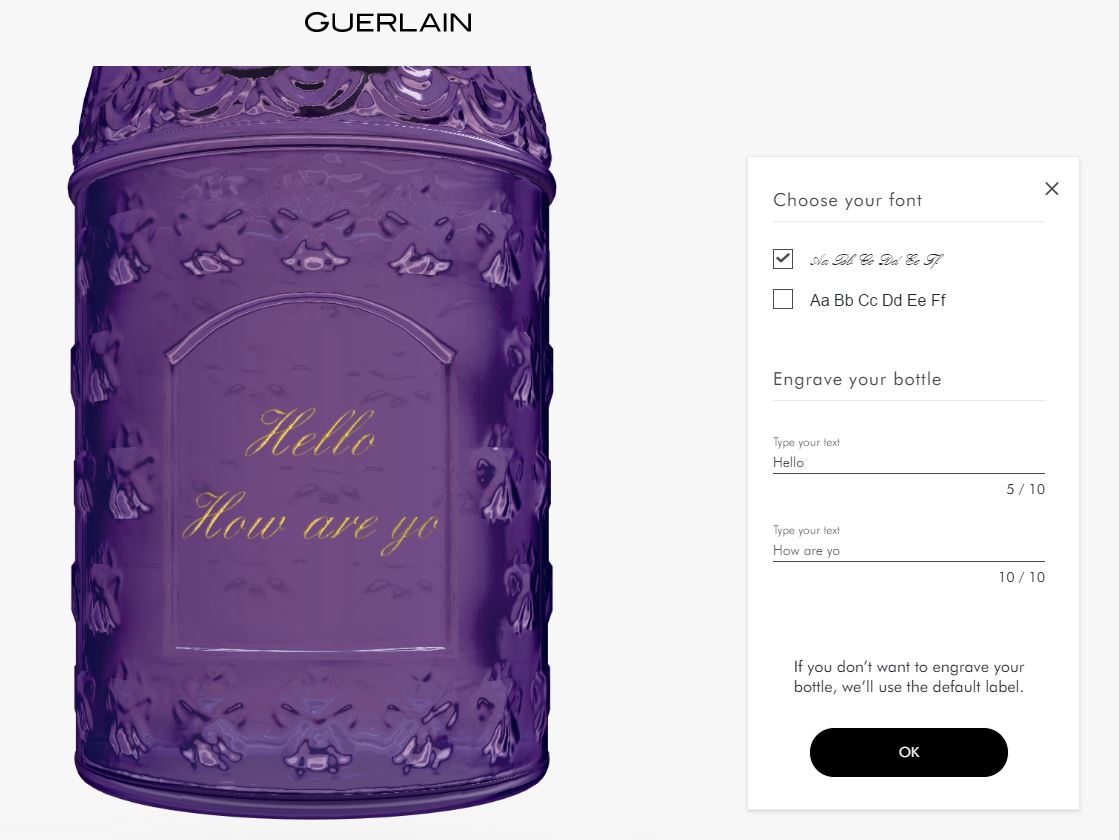 3D visualization and configuration technology helps to showcase in real-time how products are amended by customers, to see the product from different angles, zoom in and out on it, as well as to add their texts or initials, while playing with different fonts styles and sizes.
Real world examples that adopt engraving for eCommerce
Understanding the power of customization, luxury brands have reached out to Hapticmedia to identify and implement the best engraving solutions for their products; therefore, we put together a few examples below to showcase exactly what and how we did.
Guerlain Rouge G lipstick and Flacon aux Abeilles perfume
As you have seen above, for our first Guerlain project, Hapticmedia created a 3D configurator that enables e-shoppers to customize the iconic Rouge G Lipstick available on Guerlain's D2C platform.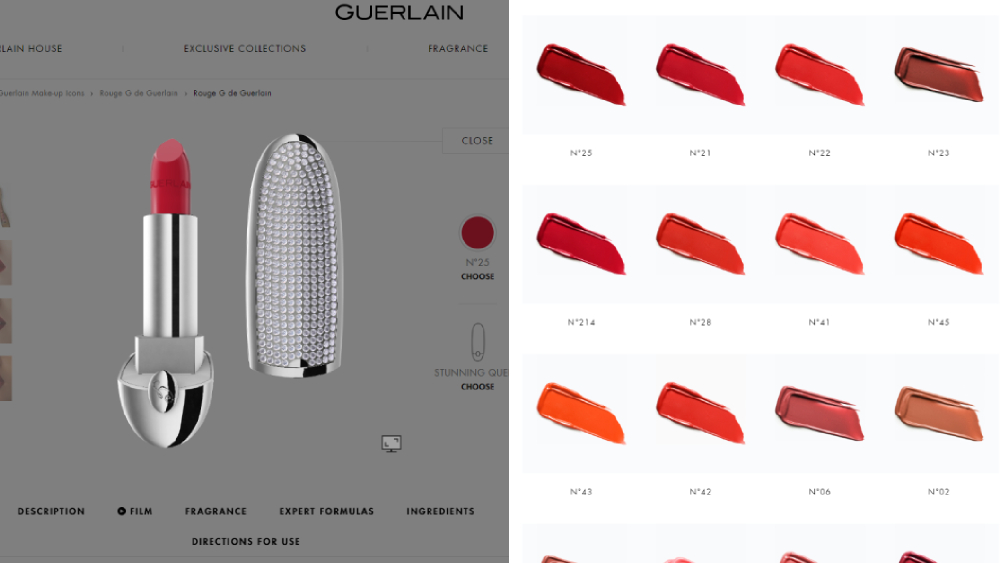 In order to achieve expected results, we implemented a visualization tool that enabled consumers to choose shades and metal cases from a variety of options, while also adding personalized messages which would later be engraved.
This initiative was so popular that it hugely increased conversions and determined Guerlain management to adopt this technology too to their signature perfume, "Flacon aux Abeilles", a series of beautiful items which could be customized by personalization and engraving.
Baume highly customizable luxury watches
When Richemont, which includes big names like Cartier, Mont Blanc, Van Cleef & Arpels, launched this digitally native brand Baume that offers highly customizable luxury watches, a 3D configurator enabling engraving was seen as a must.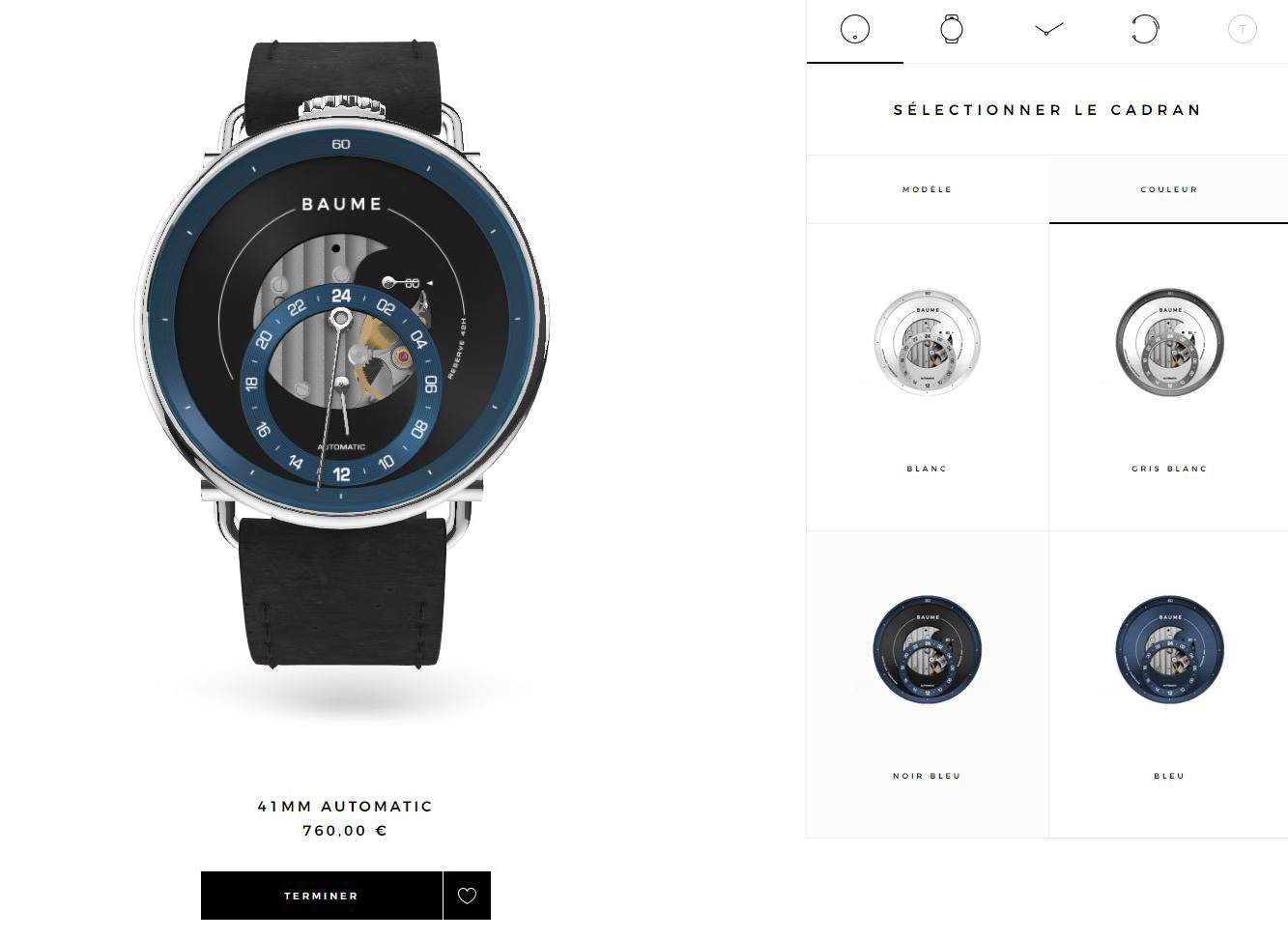 To help deliver a clear view of products both on the Internet and on the wrist, Hapticmedia created the 3D configurator that offers shoppers a series of options to customize the item, choosing hands, straps, dial, casing, engraving, with over 2,000 possible combinations.
After the customization process was done and clients can see the final result on their own wrists by using a NFC bracelet with the help of Augmented Reality technology.
Resources
https://www.businesswire.com/news/home/20170216005435/en/Global-Personalized-Gifts-Market-Size-Reach-USD
https://www.statista.com/statistics/781698/luxury-goods-personalized/
https://en.wikipedia.org/wiki/Engraving#Applications_today
https://today.yougov.com/topics/resources/articles-reports/2018/06/07/made-order-analysis-us-consumer-perception-towards
Contact us
Contact Hapticmedia now to see our successful user cases and the visible improvement we have brought to our clients. You will be amazed.