3D Configurator: How did we increase Guerlain's conversion rates using this technology?
By Yahong Zhang |
This article is about 3D configurator, its mechanism, benefits, applications and successful users cases with testimonials. Click here to jump to the case studies of Guerlain, Baume and Schmidt.
3D is transforming the view of a wide range of fields globally. Interactive 3D is offering better ways to answer the key question every customer has: "Is this product going to be exactly what I want?"
The ability to interact gives so much more. It is now widely acknowledged that online reviews and influencer trends are no longer enough. Customers want to feel products on several levels instead.
According to Econsultancy, they want to see the product, hold it in their hands, feel it, and get rid of all doubts before making their purchase.
In most cases, this isn't feasible because the ideal products can be thousands of miles away. High-quality images can only go so far. Even when rendered there are possibilities of gaps between reality and the picture in view.
Introduction of Luxury 4.0
Characterized by advanced technologies such as big data, smart factories, 3D technology, Artificial Intelligence, the internet of things, robots, advanced algorithms and machine learning, the 4th industrial revolution is happening as we speak and is triggering changes in industries and reshaping the way that companies manufacture products and the way that customers search for, engage with and shop for products.
Shift from mass production to mass customization: One key achievement of Industry 4.0
The smart factory is a key feature of Industry 4.0. They are designed to be highly efficient, secure and cost-effective, with the help of advanced robotics, big data processing, cloud computing, strong cybersecurity, smart sensors and other advanced features.
With this approach, companies can optimize their production for mass customization, while making the workplace safer and less reliant on actual human labor and saving costs.
3D Technology is the 2nd key feature: fast, unique and customized at low costs.
3D technologies such as 3D printing, 3D visualization and 3D configuration are currently creating waves in the ecommerce industry.
Among all of them, 3D configuration technology is so effective that companies who use it achieve 40 % higher conversion rates and average a 30 % sales increase when they replace 2D product displays with 3D ones. Essentially, integrating 3D configuration technology can result in a massive sales and profit increase for ecommerce businesses that sell products online.
Digitalization in Luxury 4.0: 3D technology, flexible manufacturing, mass customization
Luxury 4.0 is primarily associated with the technological shifts of Industry 4.0, especially the disruption sparked by what is considered to be the most valuable resource we have nowadays: digitalization.
On one hand, digitization enabling big data and advanced analytics allow brands to collect information from multiple touch points on market trends and consumers behavior in order to offer more precise and personalized services.
3D configuration technology: 3D combined with flexible manufacturing to enable customization
On the other hand, data make it possible for companies to connect each phase along the value chain and transfer information from downstream to upstream or vice versa. This enables flexible manufacturing and mass customization, which is now a great added value for luxury brands due to huge demands of customizing items and of course, feeling special, as they already want.
What is a 3D Configurator?
Source: A simplified 3D bag configurator provided by luxury brand Lolo Chatenay and Hapticmedia. Check client projects here.
3d configurators are defined as an interactive tool powered by live 3D models to allow customers to personalize products as they want, enabling users to watch their adjustments and receive estimates of the costs based on the customizations, which in the end leads to a more engaging client relationship.
With this service customers can experience the product from all angles and customize product attributes such as texture, color, and all other components. Customers can watch your product transform in real-time from any device without using plugins.
They can also configure custom designs even if you don't have those specifics available. Once such a service is implemented, you can boost your eCommerce platform through the power of immersive visualization.
How Does It Work?
Whatever the nature of your online 3D product configurator, it usually fulfills these two functions: a detailed exploration of a product and the ability to customize an existing product to match specific needs.
So, for example, a customer wants to buy a shoe but has no idea what kind of footwear will best endure their intended hiking experience. Once they visit your website, they will check the inspiring stories and shoes you manufacture. They will also consider how much thought and experience you put into the product.
Now, they might have an idea of what they want but haven't necessarily concluded. Here is where your configurator comes in to display different kinds of shoes and inspire them to check out variations of those footwear. Hence, providing them with more product engagement.
Clients can check the product inside out from 360 degree, interact with it and customize!
Source: Edenly 3D diamond ring configurator in cooperation with Hapticmedia. Check the client project here.
Ready to use 3D configuration technology for higher conversion rates like Guerlain, Baume, Kenzo and more? Contact Hapticmedia to get a free quote!
So using your configurator, they can check out shoe styles, colors, materials, and combine them in different ways until they create a personalized pair they prefer. While mixing and aligning their specifications, your real-time viewer will allow them to see their shoe combinations in a 360 degree real-time view mode.
All these give them precise control over the product they want and encourage them to make a purchase as soon as possible.
Limitations of Traditional Image-Based Product Configurators
There exist two main kinds of traditional product configurators: image-based configurators and non-web based 3D solutions. Each has specific limitations:
The image-based configurator doesn't allow customers to explore products from any angle profoundly, causing a huge gap between reality and expectations.
For non-web based 3D solutions customers need 3rd party plugins to view like Flash (or other platforms) which limits the number of customers who can see your products. There's also the problem of achieving deep analytics of your customer's needs alongside integration with 3rd party data.
Benefits of 3D Product Configurators for the Customer
1. Provide a complete product understanding through interaction
Online 3d configuration solutions now solve all of the problems and limitations. Customers can view in real-time while the website owner receives an analysis on customer behaviors. There's also no need for 3rd party plugins also to enable this service. Customers can view 3D solutions on mobiles and tablets without plugins.
2. Enable co- design to match specific or high end needs
Customers personalize products to their precise demands without interventions from your business, thereby placing the decision in their hands. In this case, they will get exactly what they want in the end by engaging themselves in the design process.
a. Fun and engaging
Source: Guerlain Rouge G 3D lipstick configurator in cooperation with Hapticmedia.
Ready to use 3D configuration technology for higher conversion rates like Guerlain, Baume, Kenzo and more? Contact Hapticmedia to get a free quote!
Customers won't get bored by endless pictures. With 3D configuration services, they can have lots of fun matching through products before reaching out to you for more advice. Brands can also offer more value by generating an offer in a variety of formats from the preset rules and formulas. With this heightened sense of interaction, customers can become involved in the process which overcomes the hurdles of the first contact.
b. Saves time and avoids Errors
Customers will be ecstatic if they don't have to worry about buying a product that is too small. No one wants to pass through the hassles of returning goods and waiting for the right thing to be shipped again. With a real time 3D model, customers will receive a 360-view of the product in the right dimensions to ease the stress and worry of getting it wrong the first time.
c. Able to send special requests easily
Customers will enjoy product configurators because it provides avenues for them to get the exact product that matches their needs. Therefore, they can feel as though they have an active part in the decisions towards the making of their products. They can also send special requests about products that they need rather than stick to generic mass productions.
3. Allow clients to monitor the costs
Customers can also control what they pay for the product as they customize, since different available options will reflect differently on the price of the product and they are able to see the change timely as every choice is made.
Benefits of 3D Configurators for Your Company
1. Understand consumer demands and be responsive to market trends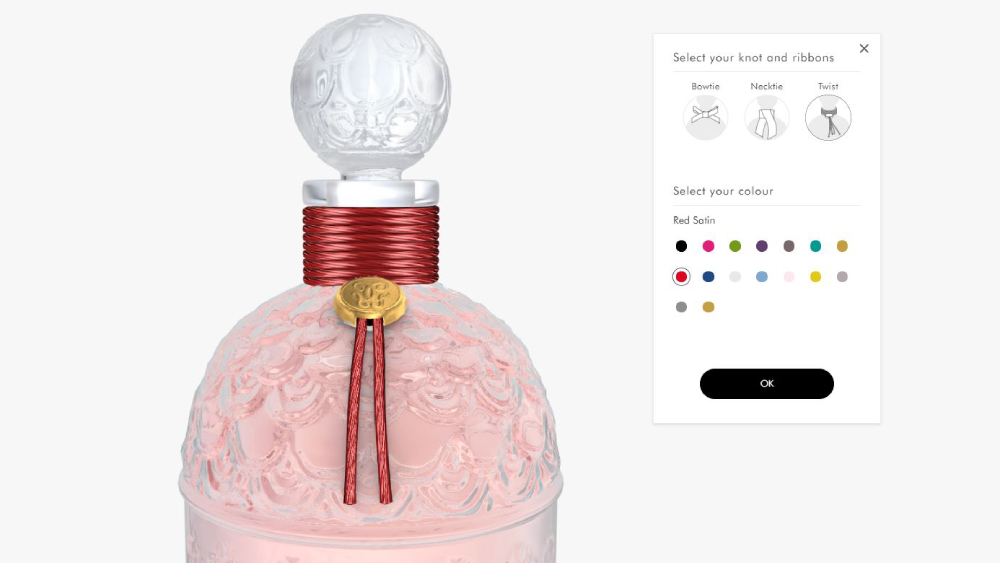 Source: Guerlain 3D perfume configurator in cooperation with Hapticmedia. Check the client project here.
Ready to use 3D configuration technology for higher conversion rates like Guerlain, Baume, Kenzo and more? Contact Hapticmedia to get a free quote!
With 3D configuration solutions, you can minimize mistakes, errors, and misunderstandings between you and your client thanks to the fact that they have proactive control of what they buy.
It also reduces barriers to the market, as you will know what clients want when releasing options during the first stages of product development through 3D configuration solutions.
2. Save costs in stock and marketing
This technology will also redefine and shorten the sales cycle since real-time feedbacks can help you create better outcomes. You can make product updates and track customer behaviors extensively in real-time.
In addition, you can reduce stock since you will create products per request. Areas like expenses incurred in producing stocks, logistics, and storage will be reduced.
Such solutions work with all kinds of websites and can be personalized to become as responsive as the rest of your website. You can also achieve high-quality pictures for marketing or printing.
3. Enable a consumer- centric omni-channel experience
Online 3D configuration systems can also work offline on salesmen's screens, which can be formatted for events or used in interactive stores. Through interaction and engagement, customers can participate in your productions, making sure you know their needs, budget, and taste.
4. Increase conversion rates and revenues
Ultimately, this solution help boost sales. Customers can make informed decisions rapidly as they have real-time control of their needs, price display, direct contact with the sales rep, in-depth descriptions, and a strong call-to-action.
In addition, through increased engagement, you can generate leads and drive customers to buy your products immediately since they have a complete overview of your products.
We are now able to offer an interactive experience with our 3D demo and to bring life to our products on the digital platforms with 3D configuration. We also use their solution internally to simplify the way we work with our agencies.

Our partners have more autonomy to generate 3D assets which always meet our expectations. Hapticmedia is a strong digital partner for us.

Silvia Cordoni, Global Omni Channel Manager at Nestlé
5. Light, secure and cloud based
WebGL product configurators or 3D web configurators does not require 3rd party plugins to function like Flash (or other platforms) which limits the number of customers who can see your products. There's also the problem of achieving deep analytics of your customer's needs alongside integration with 3rd party data.
SaaS product configurators, i.e. Software as a Service, like the one offered by Apviz, are cloud-based solutions that are lightweight and secure, enabling the creation of fully customizable 3D product configurators embeddable on any commerce website.
3 Real World Case Studies
A good example is the case of Guerlain.
For more than 190 years, Guerlain has been innovating in beauty and perfumery. Today, Guerlain offers a new digital e-commerce experience to pay homage to the profession for which it is famous: the perfumery profession.
From now on, customers will be able to personalize their icon lipstick. They will decide on the shade and the case and can engrave a name or message. An art of giving, according to the House of Guerlain.
Source: Guerlain Rouge G 3D lipstick configurator in cooperation with Hapticmedia. Check Guerlain's 3D lipstick configurator here.
Ready to use 3D configuration technology for higher conversion rates like Guerlain, Baume, Kenzo and more? Contact Hapticmedia to get a free quote!
What we did
Their Rouge G range was transformed in conjunction with experts from Hapticmedia. The Rouge G product line is a collection of lipsticks of 15 hoods which can be modified to over 30 shades and 500 combinations.
Customers can pick a shade and customize lipsticks in a variety of colors and style in the best possible way that matches their unique needs.
Our 3D configuration and personalization tool offers them the quality and fluidity expected from a successful shopping experience. In the end, the rendering on the screen is identical in every way to the physical product that customers receive at home.
Simulation: Accurately visualize the shade, the case and its reflection and refraction. See the interactions between the two elements as well as the engraving.
Customization: It is possible to choose the color of the shade, as well as the case and the engraving that will go with it.
Engraving: Add and view a personalized engraved message.
E-commerce: Allow customers to accurately visualize their customized product before purchasing it.
Results and feedback: Increased sales by over 30%
Internet users appreciate this service, which makes this page achieve the 2nd highest conversion rate on the whole Guerlain site. This plebiscite is thus directly reflected in the results, with an increase in sales on this range of around 30 to 50%.
Hapticmedia's 3D technical solution has provided us with a superb showcase for our product Rouge G. It has also enabled us to present out customers with all available customization combinations directly on our site while avoiding us the high cost of a full range photo shoot. In addition to this, the solution was extremely easy for our technical teams to implement.

Romain Noyer, International Ecommerce Manager at Guerlain
Another example is a luxury watch brand Baume.
Baume is the latest-born luxury brand in the Richemont group, as an intent of the group to bring new perspectives to the watchmaking market. With its e-commerce and an eco-friendly approach, Baume offers highly customizable watches with the help of a very precise 3D product configurator supported by Augmented Reality Technology.
What we did
Source: Baume connected ecommerce enabled by VR/ AR technology in cooperation with Hapticmedia. Check the client project here.
In the first scenario, customers can personalize their watch using a online 3D configuration software in a large touch screen, which includes attributess like colors, frame types, materials of bracelets, hand types and needles leading to over 2,000 possible customizations. Results can be exported to the customer, which they can show others while waiting to receive the new watch.
Our 3D configuration software is completely embedded in the e-commerce site and enables each user to create their own fully customized watch design. The products are sold online and made to measure once the order is placed.
In the second scenario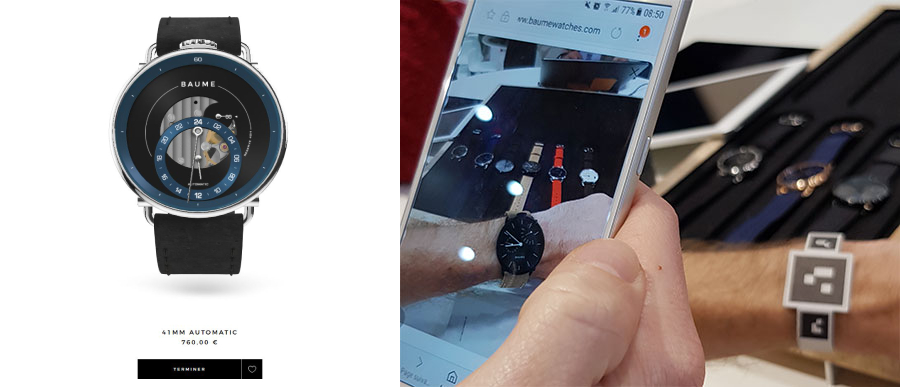 We developed an innovative customer experience that blends physical and digital interfaces with the help of Augmented Reality technology. Users can connect smartphones to a wristband to visualize the customized watch directly on their wrist. After that, they choose to bring further changes to the design or complete the purchase.
Another omni-channel solution would be to offer a touch screen terminal that provides the possibility to configure the watch at a pop-up shop. Users can then save their design on a connected paper wristband (NFC).
Photorealism: We have worked hand in hand with Baume experts to create the most realistic 3D models as possible.
Customization: Our configurator enables you to customize each part of the watch: hands, straps, and dial.
Engraving: Our solution is directly connected to the engraving device, enabling you to pre-visualize your chosen text on the 3D watch.
Virtual photo studio: All the watch design combinations are generated in HD. All these images are used on the Baume website.
Results and feedback from Baume
Baume has achieved this success through a unique blend of 3D and augmented reality. By doing this, Baume has greatly increased their conversions and sales.
BAUME has partnered with Hapticmedia to develop its configurator and implement its augmented reality solution. The results of these technological innovations are spectacular: 3D rendering that is virtually identical to the physical watch; perfect fluidity for increased configurator user-friendliness; and an augmented reality wristband that enables customers to try on their watch without physically handling it.

Hapticmedia understood our needs, both in terms of design and customer experience, and came up with very inventive ways to develop them!

Marie Chassot, Head of BAUME
The third case of Schmidt
Schmidt is the 1st manufacturer of custom-made furniture in France, established since 1959. With 5 factories and over 1,600 people, this high end brand is aimed to produce high quality sur mesure furniture with a French touch.
Source: Schmidt 3D kitchen configurator in cooperation with Hapticmedia. Check this client project here.
What we did
Hapticmedia assisted the brand Schmidt in building a digitized platform that allows customers to find inspirations and customize their own kitchens with the help of an in-store specialist.
With this user friendly technology clients can now browse all available materials in 3D and have fun designing their dream project. Online 3d product configurators assist them in their choices and plans. They can try out new colors and layouts before making an appointment with an in-store specialist.
User- friendly: The user-friendly interface guides users while leaving them with full freedom of choice.
Real time 3D: The 3D visualization tool enables customers to browse the thousands of configurations the brand has to offer.
I.S. connection: Our solution connects perfectly with Schmidt's marketing tools and information system (I.S.).
Results and feedback

And the project turned out great. After the launch, Schmidt witnessed amazing improvements in both their physical stores and official website as shown above.
We were looking for an innovative and unique experience to help clients visualize the full extent of our range before they come to visit our stores. Hapticmedia digitized our physical Créativ' Box into a variety of living spaces adjustable to the consumer's inspiration.

Frédéric Bengold, Consumer Connect project manager
Conclusion: technology as a win-win solution
Personalization, customer engagement, and interactive product visualizations are the new realities of the future. Such a shopping environment enabled by 3D configuration solutions provides a tangible in-store experience to online customers so to help them make decisions without hesitation and in record time, which drives higher sales and conversions. Therefore, more businesses are likely to embrace the power of interactive 3D, especially in regards to 3D configuration.
Contact Hapticmedia to get a technological boost to your sales
Here Hapticmedia is a leader in 3D configuration industry with over 10 years of experiences, combined with Augmented Reality technology we are able to offer a upgraded and engaging online shopping experience for your consumers, like what we did with Guerlain and Kenzo, enabling clients to config and personalize products on your e-commerce website. Contact us and ask for an estimate of your tailor made 3D product configurator and see with your own eyes the true results it brings.
Contact us
Contact Hapticmedia now to see our successful user cases and the visible improvement we have brought to our clients. You will be amazed.