Mass Customization: The new path for luxury industry?
By Yahong Zhang |
Mass customization is a technique that makes manufacturing processes flexible enough to produce products according to precisely what the customer wants while keeping costs at a low level. This concept makes the most of both personalization and mass production, which leads to a cost-efficient manufacturing system.
Introduction
From hammering nails into individual tools to a massive number of identical cars in a matter of minutes, the industrial revolution has brought us a long way.
There was a time when luxury goods manufacturers produced tailor-made products for customers who had their own distinct preferences, tastes and budget. This traditional system consumed a lot of time and involved huge numbers of face-to-face interactions among clients and skilled artisans.
With the introduction of the assembly line, mass production transformed this economic activity, with a negative effect of diminishing the power of voice of individual customers and removing the component: personalization.
It was Nike that first introduced the concept of mass customization, back in 1999 (Team, 2011). The company launched the industry's first successful platform with NikeiD, enabling its potential customers to purchase shoes through adding a personalized look and feel to it in terms of comfort, color and style.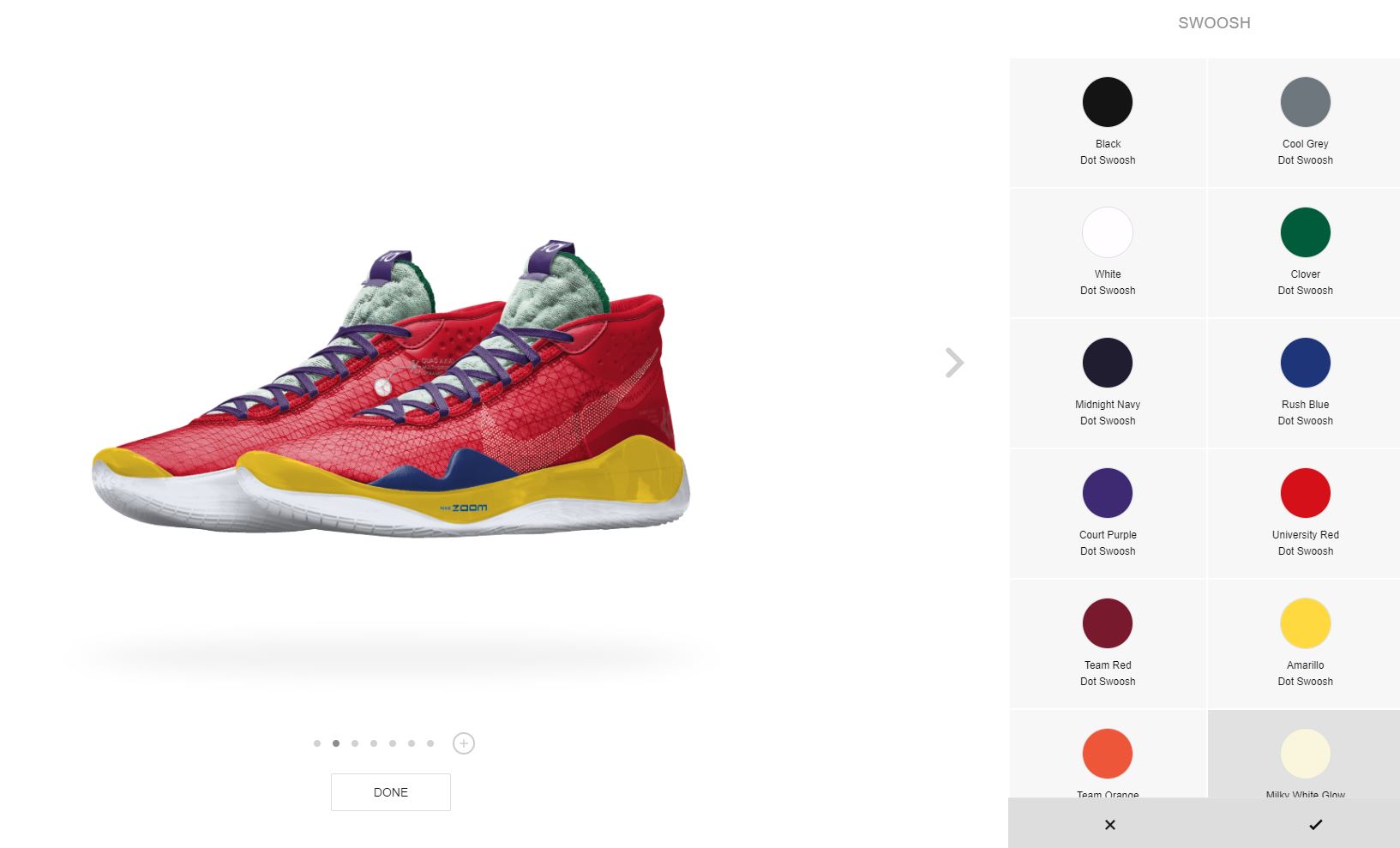 Source: Nike official website
Since then, this technique has been seen as a way to restore individuality to scalability, while still being cost-effective and thus affordable to customers.
Due to the transformation at this point, it is not surprising to imagine a personalized experience according to our preferences, for example, in a customized spaceship to Mars. Because before we know it, it'll happen!
What is mass customization?
It is a technique that makes manufacturing processes flexible enough to produce products according to precisely what the customer wants. It involves combing personalization and mass production, leading to a cost-efficient manufacturing system.
This way higher level of customer satisfaction can be achieved since individual clients are delivered with products that match their needs of possessing unique and distinct bags, shoes, clothes or even cars.
One of the greatest things about this concept is that it is not only meant for giant companies, but also most appropriate for small entrepreneurs to provide for customers a unique and personalized offer, which is often difficult to achieve by the former due to their rigid manufacturing operations.
Consumers do like the idea of mass customization
The growing trends of purchasing a custom-made product can be reflected by increasing shopping demands towards it. Reality is, 25-30% of them showing high levels of interests in buying such products, making it a huge market for potential entrants.
See also this report by the Consumer Barometer, led by KPMG and IFH Cologne (Muehlbauer, 2017), where approximately 500 consumers interested in personalized products were interviewed as a sample.
Out of every ten, three consumers have already prepared a design for the product they need based on their own preferences. It is also estimated by the institutions that even shoppers who haven't yet opted for custom-made products, are very likely to do so in the near future.
Out of these interviewees, 43% expect to see more customization offers and 55% of experienced buyers are willing and importantly are able to pay a higher price for those items (KPMG, 2017).
To conclude, companies are expected to start focusing on mass customization in order to change how customers perceive products, to satisfy customers' increasing expectations towards brands, as well as to make the most of the willingness to spend more on products of choice (Muehlbauer, 2017).
Take Ralph Lauren as an example, the brand enables consumers to customize online several products, ranging from baby clothes, bathrobes, pet clothes to their famous polo shirts (Garner, 2018).
This act "Create Your Own" gets really popular among consumers, as it provides customers the opportunity to create unique and one-of-a-kind items while reducing inventory and improving agility in meeting customer demands.
Increasing demands for customization from millennials
Research suggests that millennials are now a driving force for customized products: almost half of millennials see their upgrade frequency increasing.
Millennials today have a personal connection with brands. Bearing this in mind, it is important for companies to keep on innovating and offering personalized solutions to the ever-changing needs of this generation that has increasing purchasing powers.
By allowing them to be a part of the product cycle, from conception to manufacture, packaging and delivery, companies provide these millennials with unique products as well as create an ambassador of the brand.
Customer Engagement has taken over
Since it's true that now brands focus on building brand loyalty among their customer base and invest heavily in this area, engaging customers is an efficient way for brands to conquer the problem, by allowing clients to take part in creating personalized products for themselves.
This allows clients the freedom to customize products that are tailored to meet their specific needs and demands, thus skyrocketing customer engagement and brand loyalty. And even more importantly, brands can therefore add values to their brands and set higher prices for products.
As diversity goes a long way, an approach to better satisfy specific consumer demands is needed
The diversity in customer needs has greatly increased with the revolution in the internet and the technology. Consumers nowadays have access to information easily and expect companies to provide customer-specific solutions, which proves the concept proposed by Frank Piller that mass customization is essentially 'profiting from a heterogeneity of customer needs.'
Companies that allow clients to customize according to their needs tend to gain more profits and revenues by improving the ability to charge more and eventually move to a more high end market.
What happens after brands conquer the barriers?
This new approach is not only flourishing in the growing demands by customers but also has turned out be beneficial for brands delivering such a service.
For example, experts like Dr Frank Piller, who is known for his expertise in the department of innovation and technology at RWTH Aachen University, outlines the following reasons which have fuelled the successful integration of Mass Customization (Muehlbauer, 2017).
A more cost-effective system enabled by advanced technologies
Emerging technologies such as 3D printers and 3D configurators has massively reduced the time and costs to create individualistic products, both for manufacturers and clients.
Brands that embrace such technologies are gaining a competitive advantage in their industry-specific market, by bringing clients personalized products based on unique demands and preferences.
For examples, companies in the luxury business that are trying to innovate and specialize products with the help of mass customization include Louis Vuitton (Jackson, 2017).
The brand has enabled customers to do online customization for products made of the famous monogram canvas or the Damier canvas. After configuration those luxurious items would be crafted by hand in France and delivered within 8 weeks after ordering.
Louis Vuitton sees this approach as a great way to enhance customer interaction, through emotionally engaging them for a great shopping experience.
Another case study about the Swiss luxury watch brand Baume. The company offers to clients high-end custom-made watch, which is enabled by an online 3d configurator realized by the French tech startup Hapticmedia.
Buyers can personalize their watch based on more than 2000 options offered, including almost every minor specific detail of the watch from hands, matching cases, straps to engraving messages. (Johnson, 2019).
Source: Baume 3d watch configurator in cooperation with Hapticmedia
Ready to use 3D configuration technology for higher conversion rates like Guerlain, Baume, Kenzo and more? Contact Hapticmedia to get a free quote!
Increased Customer Value
Mass customization through 3D technologies allows customers to co-create products while helping brands to deliver an enhanced shopping experience. This further enables companies to add value to the brand and connect with clients on a personal level, which previously would have not been possible.
The core element smoothing the process is Emotional Attachment. If customers have been an integral part of the planning and implementation process, the end result would lead to emotional attachment. Subsequently, enabling clients to feel like they have achieved something will bring brand loyalty which compares to none.
An example of how it works is a Jewellery designer and manufacturer David Wilkinson, who uses 3D printing as a tool to allow his clients to design and get a preview of the final product. Customers can also make changes or add more features to the existing prototype, thus getting engaged and having a higher level of satisfaction.
Reduced production risks
To speak from another perspective, apart from the benefits mentioned above this new approach is also helping companies to mitigate risks by phasing out potentially unpopular products during the early stages of creation.
With the mass data, or first handed feedback gathered the customization process, brands are now able to implement any necessary amendments at the initial level according to real time market demands and therefore saves money and time.
How to apply this concept to your business? With real world case studies.
Mass customization is an excellent way to emphasize your brand's commitment towards offering exclusive and personalized experiences to consumers. To get the most out of it, marketers need to know the different versions of mass customization and the methodologies behind so to apply to their businesses:
1. Collaborative customization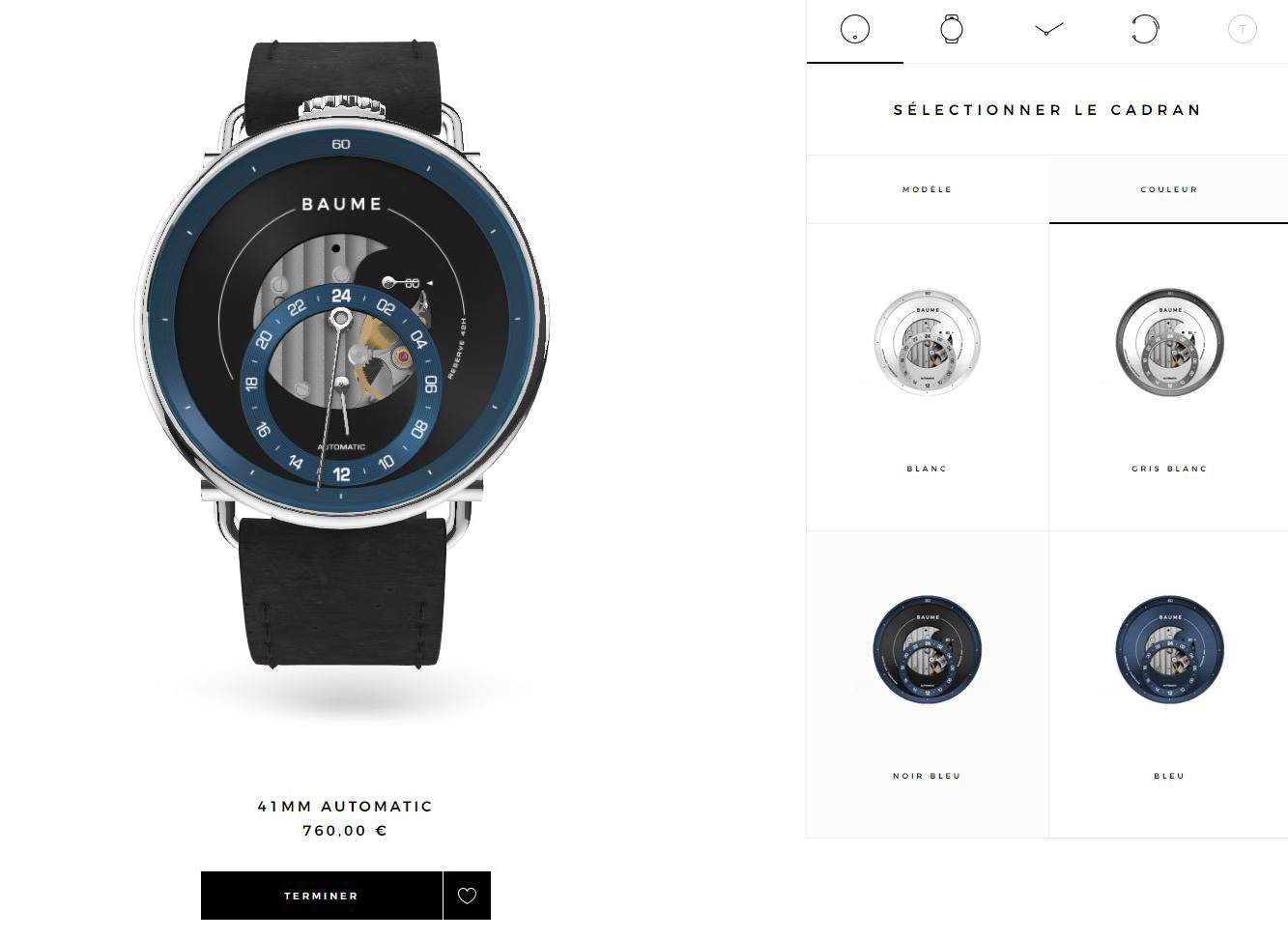 Source: Baume 3d watch configurator in cooperation with Hapticmedia
Ready to use 3D configuration technology for higher conversion rates like Guerlain, Baume, Kenzo and more? Contact Hapticmedia to get a free quote!
Consumers often have to compare different attributes of a product and make a choice according to the PRO-CON ratio. This is called "the sacrifice gap" and is something we go through every day, as mentioned by James H. Gilmore and B. Joseph Pine II in a 1997 issue of the Harvard Business Review.
In order to deal with this issue, specialists have developed "collaborative customization", a version of mass customization, which enables consumers to work with brands, co design products and be part of the creative process.
Examples include the 3D watch configurator by the luxury brand Baume, allowing consumers to use a 3D configurator to personalize every detail of their desired watch, as shown above.
We also see the Louis Vuitton Mon Monogram collection which enables buyers to add their initials as well as to choose the colors of the stripes painted on the bags and Nike's ID campaign. Those are only a few examples of collaborative customization that have delivered proven results.
2. Cosmetic customization
Source: Guerlain 3d perfume configurator in cooperation with Hapticmedia
Customization is not only about the product itself, but the identity and the message it passes to different audience segments.
Cosmetic customization means that an item is presented and packaged differently to adjust to consumer desires or to create a tailored and high-end experience that allows shoppers to leave their mark on the final results.
An excellent example of this category is the customizable parfum by Guerlain in cooperation with Hapticmedia. The brand has implemented a 3D product configurator which makes it possible for website users to design their own perfume bottles, to choose from a range of sizes, colors and accessories, as well as to add personalized texts to the labels.
Although it has only been launched for a few months, this new feature is already gaining huge popularity from media and customers, who enjoy having their favorite Guerlain fragrance packaged in a unique bottle that expresses their own personality and sense of style.
Ready to use 3D configuration technology for higher conversion rates like Guerlain, Baume, Kenzo and more? Contact Hapticmedia to get a free quote!
3. Adaptive customization
Adaptive customization offers consumers a series of standard products that can be utilized differently by end-users according to their own demands and occasions. This approach provides personalization and flexibility which are extremely popular with today's fast-paced consumers, who are always looking for something new.
An inspiring example of this method is Adidas Glitch, marketed as the world's first interchangeable boots that enabled consumers to customize both the interior and exterior of the shoes and therefore to wear them in various occasions.
4. Transparent customization
Transparent customization is a type of mass customization that does not actively involve consumers, as it relies solely on the brand's efforts to offer unique and appropriate products to certain consumers, after observing purchasing behaviors, analyzing demands and choices and predicting preferences.
A brand that implements such a tactic needs a basis, a standard package of services or products that might be specifically targeted at certain groups, and resources to monitor and extract data from their consumers.
A top-of-mind example of transparent customization is what Netflix does with its recommendation lists, where the company suggests movies and shows that might be interesting to certain users.
Ritz Carlton Hotel Group, too, manages to surprise its guests with their favorite drinks and food, each time they check-in.
Conclusion: the goal for mass customization
Mass customization is having a great impact on the productivity of industries. In the past 2 years alone, companies that adopted customization witnessed a 62% increase in performance, whereas the companies that did not, showed only 51% (Gaffney, 2019).
As for the contribution to luxury businesses, the relationship with mass customization is critical and called as a 'Learning Relationship' among the manufacturer and consumers, as described by Pine, Don Peppers and Martha Rogers in 1995.
This learning relationship explains how the producer and the customer manage to have a continuous connection with each other, which is strengthened through interaction and various forms of collaborations designed to meet the specific needs of consumers.
The goal of mass customization is to provide the possibility to create, anticipate and cater to specific consumer demands in a transparent, engaging and mutually beneficial relationship for both the company and the client.
Therefore, for industries or companies that aim to offer highly satisfying or even surprising products and services to clients, based on innovation and creativity, such as luxury, mass customization serves as a critical strategy in the long run.
References
Garner, S. (2018). Ralph Lauren Doubles Down on Customization Programs. MR. Retrieved from: https://mr-mag.com/ralph-lauren-doubles-down-on-customization-programs/
8Team, B. (2011). Finding the Luxury in Mass Customization. Business of Fashion. Retrieved from: https://www.businessoffashion.com/articles/fashion-tech/fashion-2-0-finding-the-luxury-in-mass-customisation
Muehlbauer, P. (2017). Mass Customization the Global Mega-Trend. Linked In. Retrieved from: https://www.linkedin.com/pulse/mass-customization-global-mega-trend-philipp-muehlbauer/
KPMG. (2017). Consumer Barometer. Retrieved from: https://assets.kpmg/content/dam/kpmg/de/pdf/Themen/2017/consumer-barometer-1-2017-KPMG.pdf
Jackson, L. (2017). Louis Vuitton's New Customization Service Will Set you Back Precisely $0. Retrieved from: https://www.crfashionbook.com/fashion/a9988638/louis-vuitton-customized-bags/
Gaffney, S. (2019). A Snapshot of Mass Customization Trends. Retrieved from: https://www.business2community.com/strategy/a-snapshot-of-mass-customization-trends-02244014
Contact us
Contact Hapticmedia now to see our successful user cases and the visible improvement we have brought to our clients. You will be amazed.