Luxury trends in 2020: 20 figures that you need to know
By Yahong Zhang |
The luxury marketing landscape has been changing consistently for the past decade and the evolution continues at a fast pace. As the average age of luxury consumers is decreasing, their shopping patterns are changing as well and, for the first time in decades, brands are finding it necessary to reexamine their strategies and adjust to what Millennials and Generation Z members expect from them.
At Hapticmedia, we are consistently writing about innovations and trends on our blog; however, in this piece, we decided to approach luxury marketing starting from the relevant figures.
No matter which sector it is, marketing is always based on data and we consider that the following 20 figures do an excellent job helping us get a better understanding of the luxury market:
The luxury industry
■ 1.3 trillion Euro is the value that the overall luxury market is expected to be in 2025. In 2018, the luxury market was evaluated at €920 billion, split between experiential luxury (€590 billion), more specifically, dining, travel, F&B, design furniture, cars, boats and smartphones and tablets, and personal luxury goods (€330 billion). Source: 2019 True - Luxury Global Consumer Insight 6th Edition.
Indeed, as figures show, consumers are willing to spend on luxury products and services, but in order to choose who gets a share of their wallet, consumers need to be stimulated and motivated.
This is why luxury brands have been heavily investing in new marketing tools and strategies with which consumers resonate, including influencer marketing, online and conversational retail, AI, 3D and Big Data, collaboration with high-street brands and building a more personal brand-consumer relationship.
Certain brands have even built long-term relationships with influencers and an excellent example to showcase this is the relationship between Balmain and Cara Delevingne, who has become a friend of the heritage house.
This collaboration extended on designing collections together and generating Instagram content that captures consumers and communicates in an engaging way the house's attributes: the glamour, the rebel spirit, the invigorating style.
The luxury consumer
Demographics
■ The luxury customer base will expand to 450 million by 2025, up from390 million in 2019, mainly thanks to the growing middle-class, especially from Asia. Source: Bain & Co.
■ 35% of luxury consumers are Chinese and their percentage is expected to grow to 40% by 2025. Source: McKinsey China Luxury Report 2019.
In such a context, knowing what Chinese consumers want is crucial and understanding their appreciation for social commerce, live streaming, and key opinion leaders is something that marketers can't miss.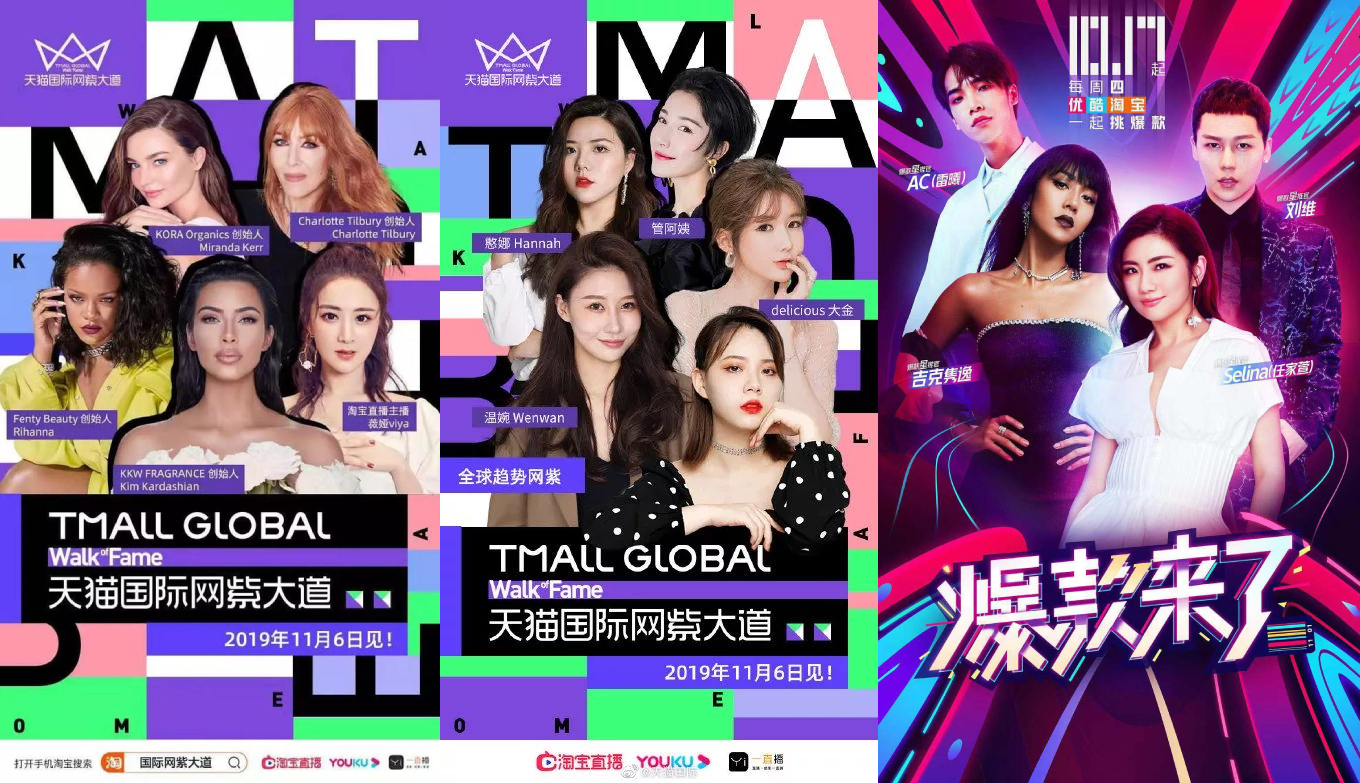 Above are a few examples of live streaming campaigns on Taobao Live, an inbuilt feature of eCommerce platform Taobao including Tmall. In China, netizens appreciate live content so much that video-based social networks like Douyu, Huya, YY, Douyin and Taobao Live have become part of their daily lives.
■ Chinese customers accounted for 90% of the global market growth in 2019, reaching 35% of the value of luxury goods sold in the world. Source: Bain & Co.
Indeed, a new generation of Chinese consumers, that are new to luxury brands, will be funding the market in the following years and this offers brands both opportunities and challenges.
On one hand, luxury brands have a high array of tactics that may enable them to address these newer segments and introduce them to their values and commitments.
On the other hand, this means heritage houses have to pay close attention to what is happening, keep up with the trends, remain competitive and relevant. In such a fast paced and digitalized world governed by data and AI, luxury marketing is about offering convenience, creating bonds, anticipating what consumers want and offering it to them before they even articulate it.
■ 50% of total luxury consumers will be Millennials by 2025. Nowadays, Millennials represent 32% of luxury consumers, but their percentage will increase in the next 5 years. Source: 2019 True - Luxury Global Consumer Insight 6th Edition.
■ 4% of luxury consumers are members of the Generation Z, but this demographic is expected to increase and reach 8% by 2025. Still, Gen Z remains a focus for all luxury marketing strategies, as this audience segment has a strong influence on society, as a whole. Their preferences and consuming patterns influence the luxury market. Source: Forbes.
One of the luxury brands that is capitalizing on Generation Z is Gucci, one of Kerig's fastest growing labels that delivers excellent conversions and sales, both online and in stores.
The HENRYs
■ 43 years old is the average age of a HENRY. HENRYs, i.e. High-Earners-Not–Rich-Yet, are a consumer class that has started to rise and which is going to be extremely relevant in the coming years.
With a current income of $100,000 to $250,0001, HENRYs are believed to soon become the world's wealthiest demographic group; therefore luxury brands have already started targeting them, cultivating their appreciation for authenticity, craftsmanship and heritage. Source: Deloitte Global Powers of Luxury Goods 2019.
HENRYs take advantage of technology. They pay online, using mobile devices, prefer credit cards with rewards and are not much into savings, as they are quite comfortable living in debt. When they shop online - which is a top activity for them - HENRYs opt for clothing and footwear, home furnishings, cosmetics, pet supplies, books, entertainment etc.
HENRYs need engaging shopping experiences, that run seamlessly across different channels and touch points. HENRYs don't just settle for basic functions of digital platforms and apps. Their favorite brands are now using emerging technologies to tell stories, stir emotions, make them part of the creation process and keep them close.
High end brands like Lolo Chatenay are now combining 3D technology and mass customization to provide tailor made products to clients. This is a simplified 3D bag configurator demo. Read more about our client projects here.
The luxury marketing
Channels
■ Online now accounts for 12% of the market and continues to gain share, with customers increasingly influenced and enabled by digital channels, including in their physical purchases. Globally, 75% of luxury transactions were influenced by the online channel, and 20% to 25% of purchases were digitally enabled. Source: Bain & Co.
Fact is, consumers have expressed increasing interests in digital experiences and online content. According to the report Digital 2020 by WeareSocial and Hootsuite, more than 4.54 billion people (around 60% of the Globe's population) are currently online, while 5.19 billion use mobile phones. Just in 2019, 298 million people mainly from developing economies, have joined the world wide web.
Social media and influencers
■ 76 percent of brands say their sales have increased rapidly, as a result of their influencer partnerships. Source: Ordre.
■ 79% of brands use Instagram for influencer campaigns, compared to Facebook (46%), YouTube (36%), Twitter (24%), and LinkedIn (12%). Source: Influencer Marketing Hub.
Some of the world's best paid Instagrammers are Kylie Jenner, Ariana Grande, Cristiano Ronaldo, Kim Kardashian West and Selena Gomez. According to Influencer Marketing hub, these celebrities make around $0.9-1 million per post.
■ 101,000 - 500,000 followers: this is the average size of the communities that luxury marketing professionals are searching, when it comes to choosing an influencer to recommend their brand.
Another option is going for the established key opinion leaders that have over 2 million followers. The objective, in either case, is to create high quality and authentic content, that delivers. Source: ORDRE.
Brand collaborations
■ 60% of Millennials reported buying luxury brand collaborations, compared with 40% Generation X and 20% Baby Boomers. Source: Forbes.
Worldwide, the most purchased and best-known collaboration is Louis Vuitton x Supreme, followed by Adidas & Yeezy, Chanel & Pharrell, Nike & Off-white, Fendi & Fila, Louis Vuitton & J. Koons. Source: 2019 True - Luxury Global Consumer Insight 6th Edition.
These collaboration between luxury brands and high-street brands have successfully helped heritage houses capitalize on the disruption.
Technology
■ $121.5bn could be the value of the overall martech market in 2019. Still, as digitization expands, marketers expect an average of 12% increase in budgets. Source: Martech: 2020 and beyond.
■ Adopting data analytics tool is the Number 1 focus for luxury brands to provide personalized and superior customer service in 2019. Brands such as Louis Vuitton, Burberry, Tommy Hilfiger, Dior and Estée Lauder, have already started to take advantage of big data and AI-powered technologies, like machine learning and analytics, to offer more personalized and timely customer services. Source: Deloitte Global Powers of Luxury Goods 2019.
■ $1790 million is the projected value of the global retail and marketing virtual reality market in 2022, of which 705 million in the Asia-Pacific area, compared to $455 million in North America and $450 in Western Europe. Eastern Europe and Latin American are expected to be worth $70 million in the following two years. Source: Statista.
■ 46% of retailers planned to deploy AR or VR solutions by 2020, to provide engaging, unified customer service experiences, that tell stories and convert; And 100 million consumers are expected to shop in Augmented Reality online and in-store by 2020. Source: Gartner.
Augmented Reality and Virtual Reality are extremely helpful at telling persuasive brand stories to which consumers feel attracted, as well as expand the brand's marketing efforts. Dior, for example, uses AR to create Facebook and Snapchat filters that enable fans to try on their products including hats, sunglasses and so on.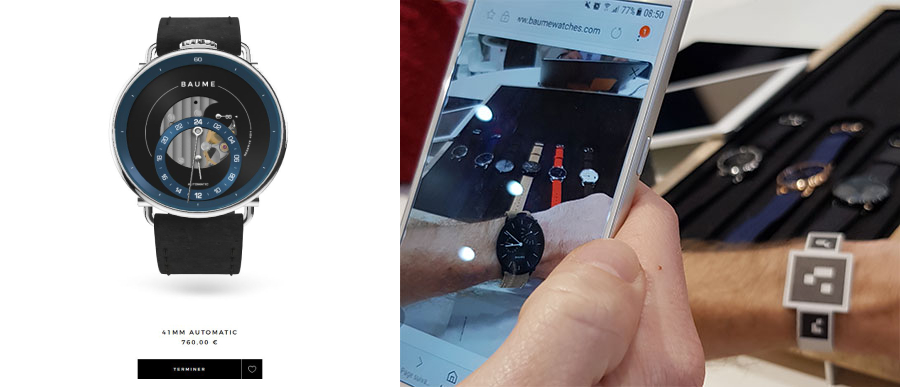 High end watch brand Baume & Mercier integrated a virtual try-on system into the multi channel marketing strategy. The company wanted to convert visiters by encouraging them to co-design a watch from over 2,000 possible combinations from different models, colors, textures, engraving and so on.
After designing the watch, shoppers are also encouraged to try it on their own wrists using Augmented Reality. This solution has greatly improved the digital shopping experiences for clients and increased conversion rates. Read more about this client project here.
■ 70% Percentage of Millennials reporting positive chatbot experiences and 57% Percentage of businesses that agree chatbots deliver large ROI with minimal effort. Source: Forbes, Accenture Dgital.
Personalization
■ 40% of marketing executives report that personalization has a direct impact on maximizing sales, basket size and profits in direct-to-consumer channels, such as e-commerce, while another 37% point to increased sales and customer lifetime value through product or content recommendations.
More than one-third of respondents have seen increases in their transaction frequency as a result of personalization strategies. Source: Forbes Insights.
Guerlain 3D lipstick configuration tool allowing users to create their signature lipstick, choosing sizes, colors, cases, accessories, engraving their initials and so on. Learn more about 3D visualization and configuration technology.
■ 29% of Americans have customized apparel and footwear and their top 4 reasons to do so were: to design something just for fun, to feel pride in creating and designing, to demonstrate creativity and to stand out from other people. Source: Made to Order.
■ 57.2% of worldwide millennials interviewed replied "Yes, definitely!" to the question "Would you be willing to pay more for a high-end fashion or luxury item that was personalised to you?", while 35.2% answered "Maybe". Source: Deloitte Bling it on 2017.
Moreover, the demands for customized have stabilized at high levels and the most desired features are product configuration, made to measure and bespoke items. Source: 2019 True - Luxury Global Consumer Insight 6th Edition.
Personalization supported by 3D and AR technology: Contact Hapticmedia
These mentioned figures above are confirming that luxury marketing is becoming increasingly innovative, as new generations consumers are pushing brands to go out of their confort zone and adopt new and exciting approaches.
It is now the time for 360 degrees campaigns that use advanced technologies such as 3D product configurators, Augmented Reality, Virtual Reality to offer transparency to tell stories and drive engagement.
If you want to discuss about the above tactics, contact us and we will share with you our case studies, insight and ideas! Hapticmedia has over 15 years of expertise in this industry, clients including Guerlain, Baume & Mercier, KENZO, Nestle, Baccarat and so on. We are aimed to bring you visible improvement!
Contact us
Contact Hapticmedia now to see our successful user cases and the visible improvement we have brought to our clients. You will be amazed.