Virtual Try-on: The Next Big Thing in Luxury Business
By Yahong Zhang |
Virtual try-on catching on?
Virtual try-on technology enables customers to try on products using their camera equipped devices such as mobile phones. With the help of Augmented Reality, users may contextually visualize the item in which they are interested, interacting and confirming the style, the size and the fit before making a purchase.
Virtual try-on supported by AR is bringing great results
Entering the market
One of the first brands to use virtual try-on was Converse, in 2012. Through The Sampler App developed for iPhones, users are able to use phone cameras to see how shoes looked on them in reality and post photos on social media as well as make online purchases.
Experts say the company was ahead of its times, as only later on in 2016 Augmented Reality technology got a big break, when Niantic launched Pokémon GO, an AR-enhanced game available both to iOS and Android users.
This app encourage gamers to search for famous pokémons in real-life environments and settings based on GPS systems. They are able to catch these distinctively looking creatures, as well as to train and battle them against one another in "gyms".
For the first time, this immersive technology had captivated audiences, generating a worldwide phenomenon. Actually, since then this game has set 5 Guinness World Records, such as "Most revenue grossed by a mobile game in its first month", i.e. $206.5 million and "Most downloaded mobile game in its first month", i.e. 130 million times.
Seeing such astonishing results of an app, marketers started to believe in the power of Augmented Reality and to power money into the sector.
Increasing demands
As shown by Statista, the AR market was worth 3.5 billion in 2017, but is growing consistently and expected to reach an impressive $198 billion in 2025.
To be detailed, according to Martech: 2020 and beyond by WARC and BDO, 21% of marketers are already using AR in campaigns and 46% of retailers planned to deploy AR or VR solutions base on a research of Gartner, to provide engaging, unified customer service experiences, that tell stories and convert. Moreover, when prompted what they thought would present the most exciting opportunity for their organizations in three years' time, 14% of respondents mentioned virtual and augmented reality.
As for customers, over 100 million consumers are expected to shop in Augmented Reality online and in-store by 2020, according to Gartner.
Use of Augmented Reality democratized even more, after giant apps like Snapchat, Instagram and Facebook developed their new AR filters and, more recently, after Google even launched Augmented Reality objects on Google search.
As an increasing number of brands are using smart mirrors, consumer experiences are being reshaped too. These AR-powered devices enable potential customers to digitally try on items and have fun with experimentation, while boosting online revenues.
Consider this when determining if it is beneficial to implement virtual try on
A smoother multi-channel customer experience with higher engagement rates
Digitalization has impacted life as we know it, including consumers' decision processes and shopping patterns. According to Statista, online shopping is one of the most popular online activities worldwide, and ecommerce sales in 2019 amounted to $3.53 trillion in 2019 and are projected to grow to 6.54 trillion US dollars in 2022.
This is encouraging marketers to invest in high end technologies to drive smoother customer experiences and to ensure that ensure they differentiate brands from the competition. In fact, the value of the overall martech market was assessed at $121.5bn in 2019 and expected an average of 12% increase in budgets.
In such a context, the days when the use of advanced technologies was considered a plus by shoppers are long gone. Nowadays, possibility to interact with products on the Internet, try, test and share them on social media and communities is a basic feature that consumers need.
To begin with, technology is boosting loyalty and sales.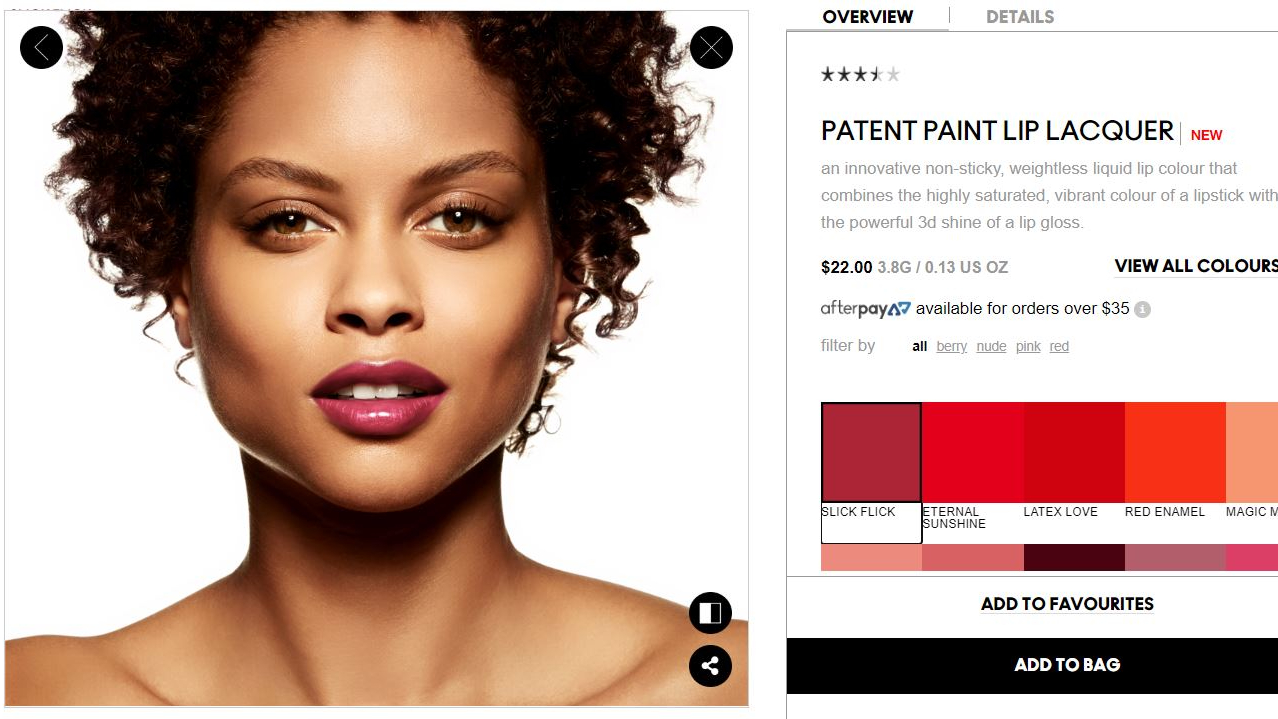 Source: Mac Virtual Try on
Nyma Malik stated in her article in 2018 that around 40% customers are willing to spend more on a product if they can try it through Augmented Reality, due to the fact that this experience makes easy for them to explore the options and to customize or personalize the products.
Also, 70% of people are expected to be more loyal too to brands incorporating AR as their shopping experience.
Many companies in the luxury industry are opting for such technologies in order to increase the connectivity with consumers and gain a competitive advantage in the market, big names including L'Oréal, Baume, Sephora, Adidas, Nike and Snap.
Feel, try and play with the product.
Virtual try-on technology enables consumers to see how certain products look on them before they actually buy the item. This technology applies very well to shoes, apparel, accessories, jewelry as well as make-up, where consumers long for a sense of "touch and feel". And they have total freedom regarding decision making, trying and choosing products at their own pace, without feeling the pressure to make a purchase.
Possibility to offer personalization.
According to Forbes Insights, 40% of marketing executives report that personalization has a direct impact on maximizing sales, basket size and profits in direct-to-consumer channels, such as e-commerce, while another 37% point to increased sales and customer lifetime value through product or content recommendations. More than one-third of respondents have seen increases in their transaction frequency as a result of personalization strategies.
Combined with 3d product configurators, virtual try-on makes it possible for companies to offer customization to clients, so that they could create personalized products that help to express their personalities and sense of style as well as boost revenues.
Virtual try-on technology also encourages cross sales.
With this technology consumers are allowed to mix and match multiple products of various styles and looks to see as a whole whether they are a good fit. Under this circumstance, consumers are able to, for example, try a lipstick with different eye shadows or hair colors to ensure they really complement one another, or to see how their desired sneakers look with different outfits.
Share, share, share. Share the look, spread the word.
When using virtual try-on, consumers are able to take pictures of themselves trying the virtual product, share to social media and communities, or their friends and family about this experience. They might even ask for help to see how it looks. This way, word is spread voluntarily and chances of returns are reduced to the minimum.
All these being said, virtual try-on technology is no longer a thing of the future, but a necessary tool that ensures a convenient shopping experience, that should be on every luxury marketer's to-do list.
In addition, it reduces the number of product returns
According to Appriss Retail, total merchandise returns account for $309 billion in lost sales for US retailers alone in 2019, with an average of 8% of total sales.
Figures are going to be even more impressive, if we take into account other costs associated with returns, apart from lost sales, for example, logistics, warehousing and restocking, labor as well as impacts on the environment.
Knowing that consumers need to try, feel and interact with products, e-commerce platforms encourage shoppers to buy through offering hassle-free returns, but the truth is that this act affects both the brand's margin and the overall ecosystem.
Certain consumers have currently become so used to the idea of trying on items in the comfort of their homes, that now they tend to order more sizes and models than necessary, knowing in the beginning that they would return most or even all of them.
According to Barclaycard Research, 30% of shoppers deliberately over-purchase and subsequently return unwanted items, while 19% admit to ordering multiple versions of the same item so they could make their mind up when products are delivered and tried out.
Virtual try-on technology helps to reduce returns, which means less costs and more fluid supply chains.
A case study: Swiss luxury watch brand Baume and virtual try on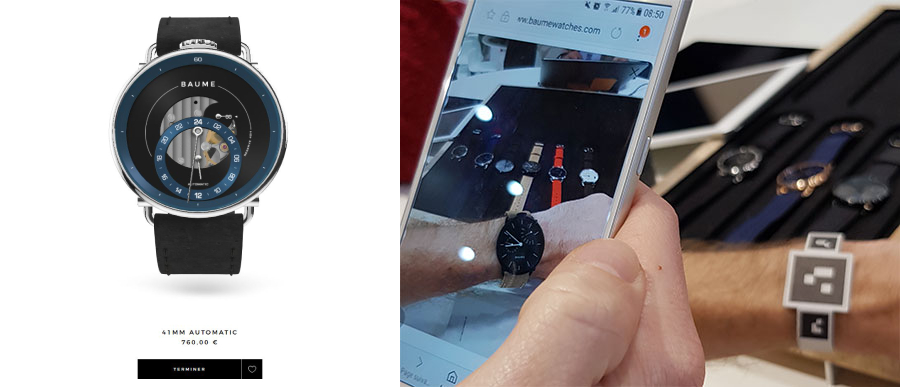 A great example of integrating virtual try on technology into the multi channel marketing strategy can be taken from Baume, a high- end watchmaking brand.
The company is currently offering customers a 3D configurator by Hapticmedia embedded in their website, which provides an interactive 3D product presentation that enables customers to do online customization so to create their own unique watch designs.
In addition, the brand also offers clients the opportunity to virtually try on the customized watch directly on their wrists using a paper wristband. This practice largely improves the shopping experience for customers by engaging and involving them in the design process while causing little extra costs to the company.
Marie Chassot, Head of Baume said about the project: The results of these technological innovations are spectacular: 3D rendering that is virtually identical to the physical watch; perfect fluidity for increased configurator user-friendliness and an augmented reality wristband that enables customers to try on their watch without physically handling it.
Hapticmedia understood our needs, both in terms of design and customer experience and came up with very inventive ways to develop them!
Contact us
Contact Hapticmedia now to see our successful user cases and the visible improvement we have brought to our clients. You will be amazed.