Be Ahead of the Game: Luxury Marketing on Top Chinese Social Media (2020 Version)
By Yahong Zhang |
Large usage of social media in China
We Are Social Digital 2020 issued in January, positions China as the second fastest growing market as far as Internet penetration is concerned, with a 23% increase compared to last year, namely an Internet population of 840 million as the largest online community.
Out of the total population 72% use social media, which means 15 million more in April 2020 than same month last year. Moreover, one Chinese user has on average 9.6 active and inactive accounts in social media, and spends 2 hours and 12 minutes per day browsing their preferred networks.
As figures show, social networks are extremely popular in China and, although the conventional platforms such as Instagram, Facebook, Youtube and Twitter are not available in the country, there exist multiple domestic social networks available to the audience, such as Tencent WeChat and Weibo. These local networks have been attracting over 700 millions of users each year, making China the world's biggest social media market.
Adoption of multi-function platforms like Tmall and Wechat further narrows the gap between e-commerce and social media and therefore bring huge business opportunities. As data have shown, 64% of Internet users between 16 to 64 have made online purchases in the past year, while the average amount spent per capita is $1,021.
Connection between luxury marketing and Chinese social media
According to McKinsey research, through social media, consumers are seeking to pick up information about the latest luxury products and lifestyles and are heavily influenced by key opinion leaders.
To keep up with this trend, traditional e-commerce platforms like Tabao have been increasing social attributes, while at the same time, social media platforms like WeChat and Weibo have been developing shopping features that enable Chinese consumers to shop newly discovered brands directly and quickly on social networks
Established Chinese social networks
Wechat: the most popular and versatile network
Wechat is the world's fifth most used social media platform, with over 1 billion daily active users. 45 billion messages were sent on a daily basis on the platform, while 410 million audio and video calls were made every day.
At first, Wechat was initially an instant messaging app that enables user-to-user communication, but as the network has been transformed into an umbrella for multiple modules, including mobile payment, online shopping (both B2B and B2C), news media, and life services such as ticket booking, food and grocery delivery, as well as playing video games and run errands, it is becoming an irreplaceable all-in-one platform.
Luxury brands were quickly attracted to this versatile network. Big names such as Cartier, Louis Vuitton and Bulgari are all now marketing and selling products on Wechat.
Here is a list of best practices used by brands.
Cooperate with popular KOLs with a huge audience on Wechat, to push brand awareness through content or collaborations or directly sell products;
The WeChat Mini Program: an interactive platform with multiple features where brands and consumers can communicate and engage. It enables marketers to share brand information, deal with inquires and after-sales problems, create online pop-up stores and so on.
Use the self owned and developed search engine of Wechat to attract potential clients;
Advertise in "Wow", which follows a format similar to that of user generated content but with a sponsored tag;
Open brand accounts where companies publish marketing campaigns, post content, engage with the audience and directly selling products;
Encourage user-generated content to promote brand awareness through friends and family, offering users the ability to post and share messages, photos, videos and curated links;
Other WeChat features of which marketers make use include location-based services, html campaigns, as well as the WeChat payment solution.
We need to point out here that this network is an excellent platform for brands to cooperate with KOLs to publish sponsored content that showcases the brand to a new audience. Since these fans have already developed a certain level of trust for their influencer, this method is proven to be very successful.
You can also include links in the content, which means that users can make the purchase directly on the spot with the help of the Wechat mini program or the Wechat store. Within just a few clicks, clients make a quick purchase, maximising the effects of impulse buying.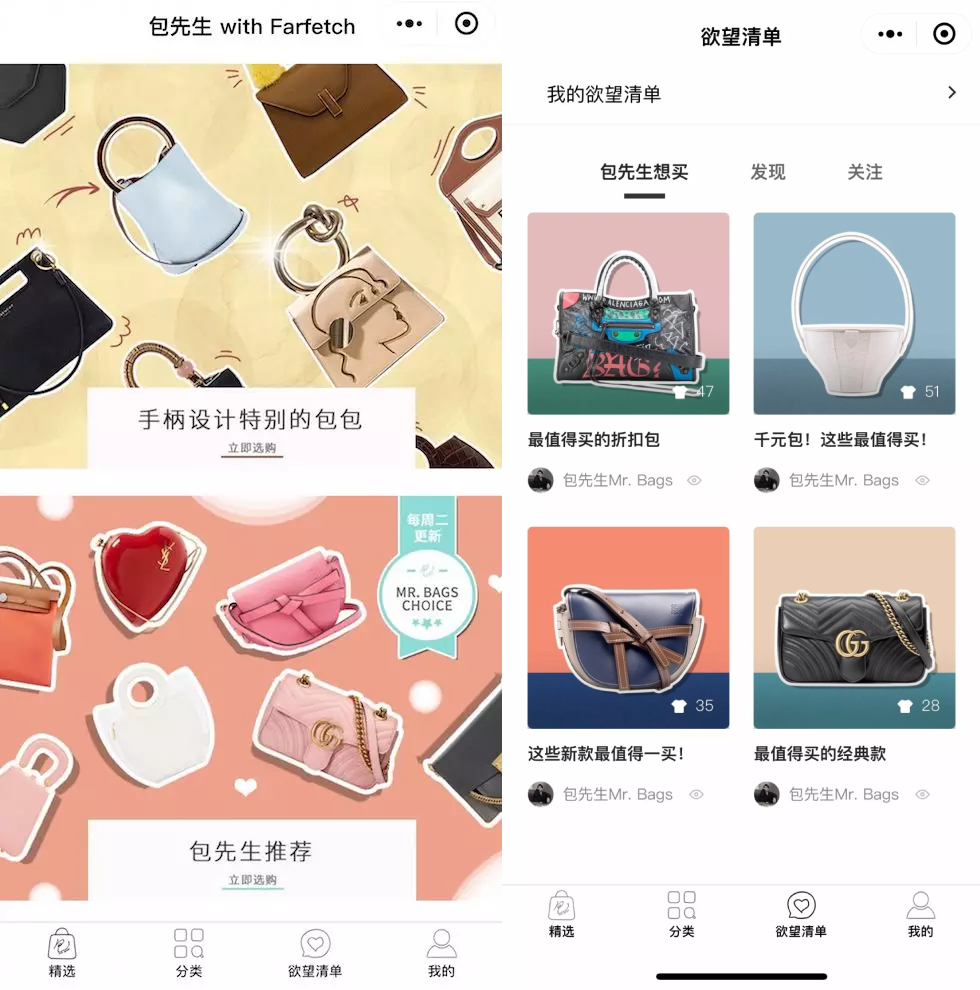 A good example is the partnership between Mr. Bags and Farfetch, i.e. a Wechat Mini Program called "包先生 with Farfetch". Linked to the KOL's official account, this marketing campaign allowed Mr. Bags to present items that he liked on his personal wish list and to provide direct access to users so that they could buy the product, without exiting his profile.
WeChat has revolutionized Chinese social media marketing in an elegant and controllable way that brings together brands, influencers, friends, and consumers, without being unacceptably pushy.
Still, there are questions about this network. The Gartner L2 research released in 2018 shows that only 4% of posts by fashion brands and 3% by watch and jewelry brands receive more than 60,000 views on WeChat, which makes certain marketers doubt the selling power of this platform.
Such figures do make sense as initially Wechat is a platform to communicate with friends and family, unlike Tweeter or Instagram, users do not expect advertisements or aggressive brand content. That's why we suggest brands to cooperate with KOLs on Wechat, which is currently the most efficient method to market on this particular network.
In addition, this app works extremely well for customer services. For example, users can easily begin dialogue with brands, book appointment to shop or repair products, check membership status, obtain information on products and get question answered and so on.
A list of the top WeChat campaigns by luxury brands.
Michael Kors launched a membership program to bring together both offline and online experiences. When shopping in stores, consumers can check every product detail in real-time, review their shopping experience and access after-sale benefits.
Chamet held a VR exhibition using a Wechat mini program, allowing users to see the brand's jewelry in the Forbidden City and get an unforgettable immersive experience.
Guerlain and Sunrise Duty-Free went even further and created a gamification app, where users are encouraged to play and win a prize. This campaign delivered great results. Within 10 days of its launch, the campaign attracted over 18.500 page views and 10,000 viewers.
Weibo: Most preferred network by brands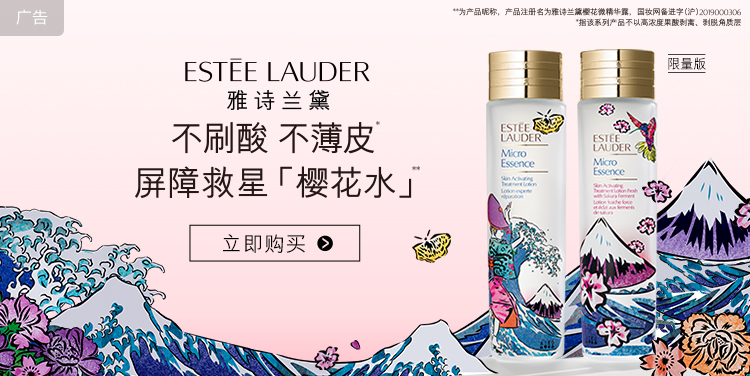 Source: Estée Lauder advertisement on Weibo
Weibo, which means "microblogging" in Chinese, is one of China's first social networks. It was created by Sina in 2009, following the success story of Twitter. In March 2019, Jing Daily reported that Weibo reached more than 200 million daily users and 462 million monthly active users in Q4 2018.
To attract even more users, Weibo has recently extended the character limit to 2,000, added an online game center and developed into a mix of Twitter, Instagram, Pinterest, Reddit and Youtube.
Over half of China's population is using Weibo, including celebrities, artists, business people, athletes and officials from governments and organizations. We can also see a large number of international accounts in politics, entertainment, sports and business such as David Cameron, Justin Trudeau, Cristiano Ronaldo, Katy Perry etc.
For brands, there exist multiple important features that facilitate a smoother shopping experience. For example, this platform allows integration with Taobao and Tmall, which directs users to an according e-commerce page within a click.
Again, here is a list of best practices adopted by marketers.
Influencer campaigns: Where key opinion leaders are paid to promote implicitly or explicitly a certain product and link to Tmall / Taobao.
Advertising: Based on big data and a huge clientele, this platform offers precise targeting towards a large audience.
Brand account to share content and engage with potential customers.
Encourage user-generated content to promote brand awareness, offering users the ability to post and share messages, photos, videos and curated links.
Compared to other networks like Wechat, Weibo has a significantly lower CPM. For an investment of 1 million RMB/ 140 thousand USD, brands get 55 million KOL impressions on Weibo, 19 on Xiaohongshu/ Little Red Book, 18.4 on Meipai, 8 on Douyin/ Tik Tok and only 1 on Wechat.
In addition, Weibo has significantly younger online community compared to that of Wechat. This means that on this platform luxury brands can easily carry out campaigns tailored to the Gen Z and Millennials, who are starting to dominate Chinese luxury business. Now almost every luxury brand is using Weibo for influencer campaigns and communications such as Gucci, Estée Lauder, Guerlain and so on.
Xiaohongshu/ Little Red Book: A trusted resource center for lifestyles
Xiaohongshu (小红书), or Little Red Book in English, is a complex app that combines blogging and Instagram, Pinterest and Amazon. An important feature of Xiaohongshu is e-commerce, called the "RED store", where they have access to a large number of duty free luxury products, much cheaper than those from official websites or flagship stores in Tmall.
Ever since its launch in 2013, Xiaohongshu targets young modern women, who seek information and references on a high-end lifestyle and inevitably, luxury in every aspect of life. This is why its customer profile is 88% women and 12% men.
With 85 million active users as of June 2019 and a reported value of $5 billion, Little Red Book has excellent engagement and conversion rates, which make it one of the most preferred apps by luxury marketers. Uptil now over 29,000 brands have joined this network, including big names like Louis Vuitton.
The network relies heavily on user-generated content. Consumers use this app to share user experiences in products, shopping tips & tricks, as well as their wish lists, reviews and recommendations, whether good or bad. In this context, Xiaohongshu has become a trusted resource center for those who want to browse or choose the top beauty and fashion products.
Still, Xiaohongshu did experience a complicated 2019, as the brand was accused of fraudulent reviews and unauthorized data collection, which actually had the app removed from Chinese app stores for three months. Later after the company solved problems and the app retook its place in the hearts and phones of Chinese consumers.
Little Red Book has now announced stricter criteria for KOL marketing to ensure the quantity and quality of organic content. Only approved influencers with a certain number of followers may accept sponsored content and, for every sponsored post, a key opinion leader needs to create 4 organic ones.
Since then, the Red KOL network continues growing, making this platform a hub of high-end brands and top influencers. If, in the beginning a KOL with only 10k followers would be paid $150 for a sponsored post, now the figures have increased ten fold and even more.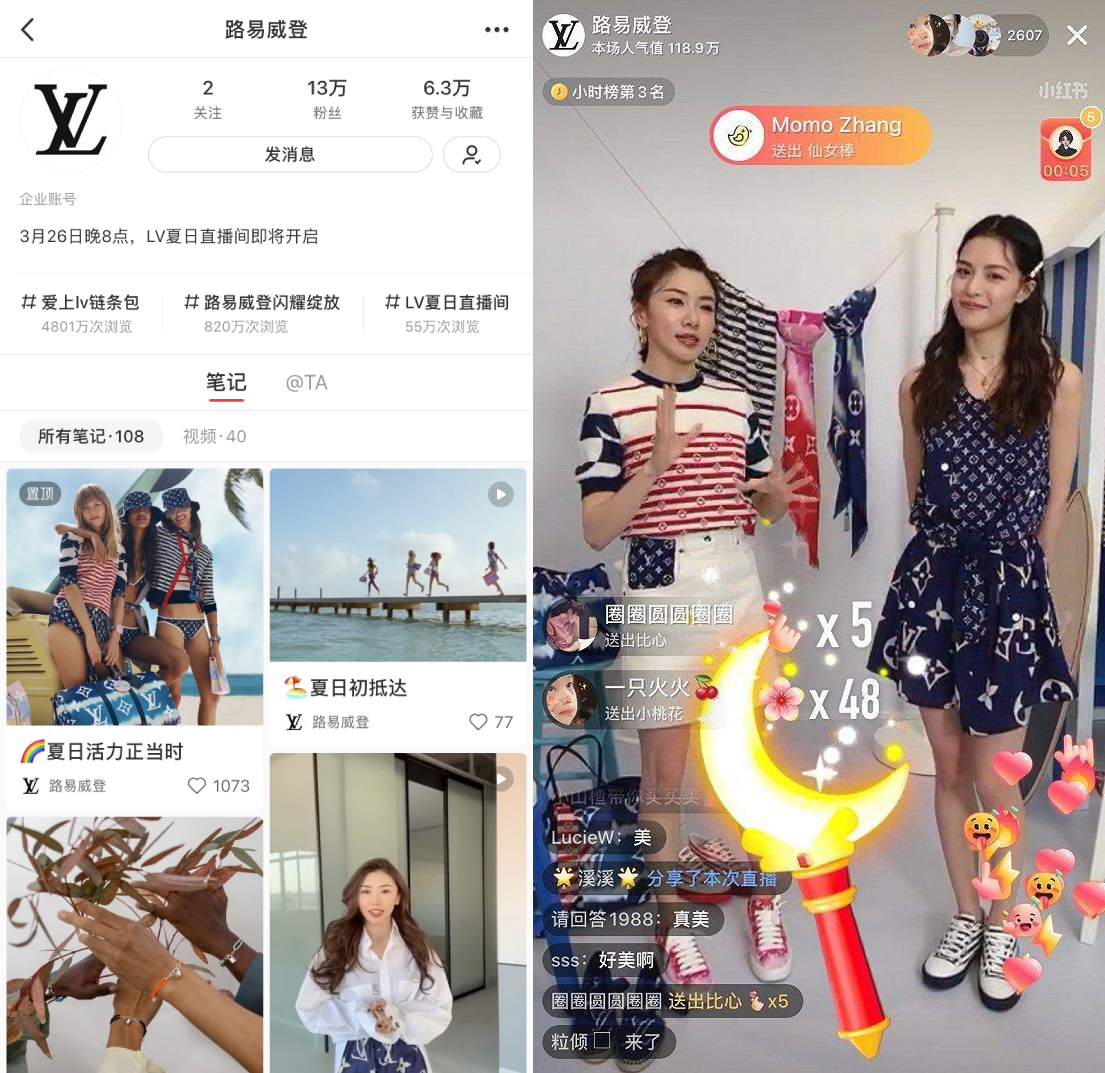 Louis Vuitton has been using content and influencers to please consumers. Up til today, this brand has attracted 130 thousand followers and received over 64 thousands orders on Xiaohongshu.
An example of influencer campaigns on Xiaohongshu is a recent live streaming by Louis Vuitton. In March 2020, the brand launched its new collection through the live stream service of Xiaohongshu, asked fashion blogger Yvonne Ching and celebrity influencer Zhong Chuxi to present the items, offer tips and tricks on how to style the bags, as well as direct the viewers towards the LV shopping channels. This one-hour live streaming generated 152,000 page views for the brand.
Tmall: High-end e-commerce is boosting with the help of live streaming and community.
Tmall is a division of Taobao, a B2C/ C2C ecommerce website under the umbrella of Alibaba. In order to better segment the audience, Tmall positions itself as a high-end B2C online retailer to differentiate from Taobao. This platform enables luxury brands to sell goods in mainland China, Macau, Hong Kong and Taiwan. With over 500 million active users in February 2018, this website is the world's second e-commerce site sorted by GMV/ gross merchandise value and the third most visited.
In 2019, to serve its luxury-hungry consumers, Tmall launched the Luxury Pavilion, a separate platform which allows the world's most sought after brands to open flagship stores on Tmall. A large amount of luxury brands have joined the program. To name a few, Valentino, Versace, Isabel Marant, Chanel, Bottega Veneta, Net-A-Porter, Michael Kors, Givenchy, and Burberry.
Earlier this year, another addition sparked enthusiasm within the Tmall community: Cartier opened its standalone boutique on Tmall, reinforcing its commitment to Chinese consumers.
There exist multiple attributes that make Tmall a very helpful platform to luxury brands.
Tmall is creating China's most powerful influencer accelerator program. With the help of eCommerce giant Alibaba Group, this project is building a self owned Tmall Ecosystem of Global Influencers, a group of both local and international key opinion leaders who share their experiences and preferences with consumers.
To launch this initiative, Tmall invited Kim Kardashian West, an American reality TV star/ social media influencer/ businesswoman, and Viya Huang, a Chinese top key opinion leader to cohost a live stream. As a result, KKW Beauty sold out in just a few minutes.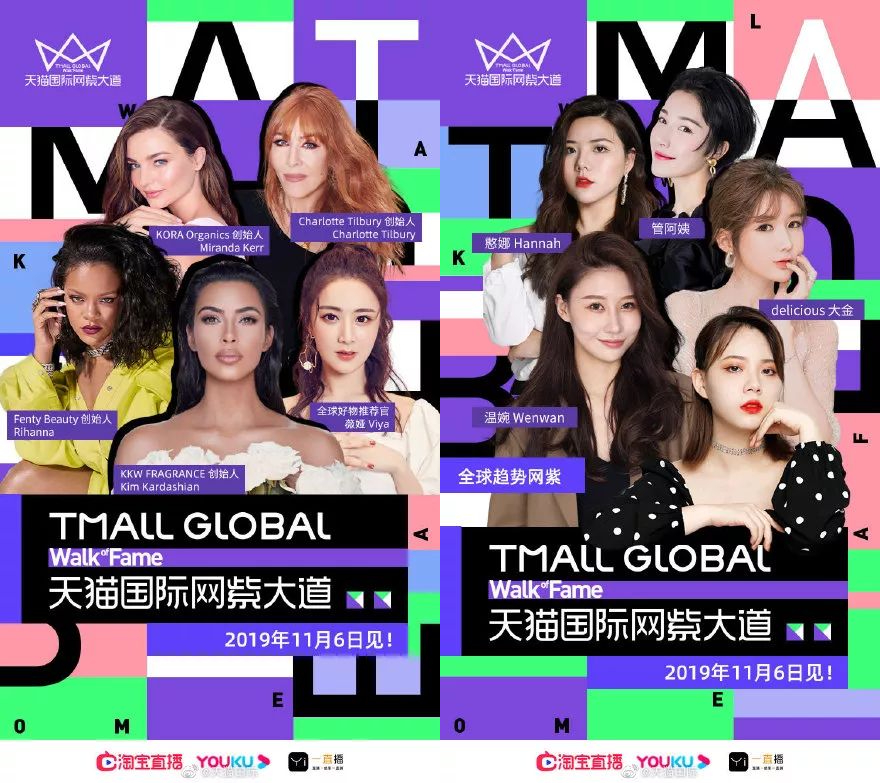 Content marketing by brands, live streaming, influencer marketing, user generated content, socializing and a huge online community. All these attributes are contributing to a one stop eCommerce platform where the "attract, engage and shop" funnel is easily achieved.
For example, L'Oreal, the best selling beauty brand on Tmall, took full advantage of those features last year. The brand did a Single's Day pre-sale, where they asked a top influencer to stream on this platform for 17 hours per day, 392 hours in total, which led to over 10.34 million orders. This was a record.
Tmall is also a customer service tool. Users can directly communicate with brands through AliWangWang, an instant messager where customer service representatives usually present until midnight. Clients can ask details about products and services, demand tips & tricks and solve after sales problems.
A few more words on Taobao Live.
Taobao Live is Alibaba's live streaming platform that enables brands and influencers to increase interaction with audiences. This new feature has already registered multiple records:
During Singles' Day 2019, Taobao Live was responsible for 7.5% of the group's total sales, equivalent of $2.85 billion.
That same day, American influencer Kim Kardashian West used the network to live stream alongside Viya, one of Taobao's most popular hosts, and managed to sell 15,000 perfume bottles in just a few minutes.
Premium beauty brand Whoo sold $14 million worth of products in just 6 minutes using Taobao Live.
Car manufacturer JMC, reported to have sold 55 cars in just one second using Taobao Live.
Users spend around 350,000 hours / day on Taobao Live, so it is understandable that brands are extremely attracted to it.
Live streamer Viya managed to attract 43.15 million buyers in 8 hours, while "Lipstick King" Li Jiaqi 36.83 million users in 6 hours.
Given the difficulties that physical stores have been facing due to the COVID-19 pandemic, quantity of live streams doubled in January and February.
Douyin/ Meipai / Kuaishou: Video content has always been effective for Millennials
Currently one of China's most popular social networks is Douyin.
Douyin is the short-video app known to the global market as TikTok. This Chinese platform has over 400 million daily active users  and a young customer profile, which makes it a hot spot for marketers.
Douyin is used to consume both entertaining and educational content. As the network matures over time, the range and quantity of posts are enlarged. Tastes and preferences shift from one period to another. Nowadays, apart from music and dancing, Chinese users are getting interested in comedy, celebrities and information on a variety of industries including niches.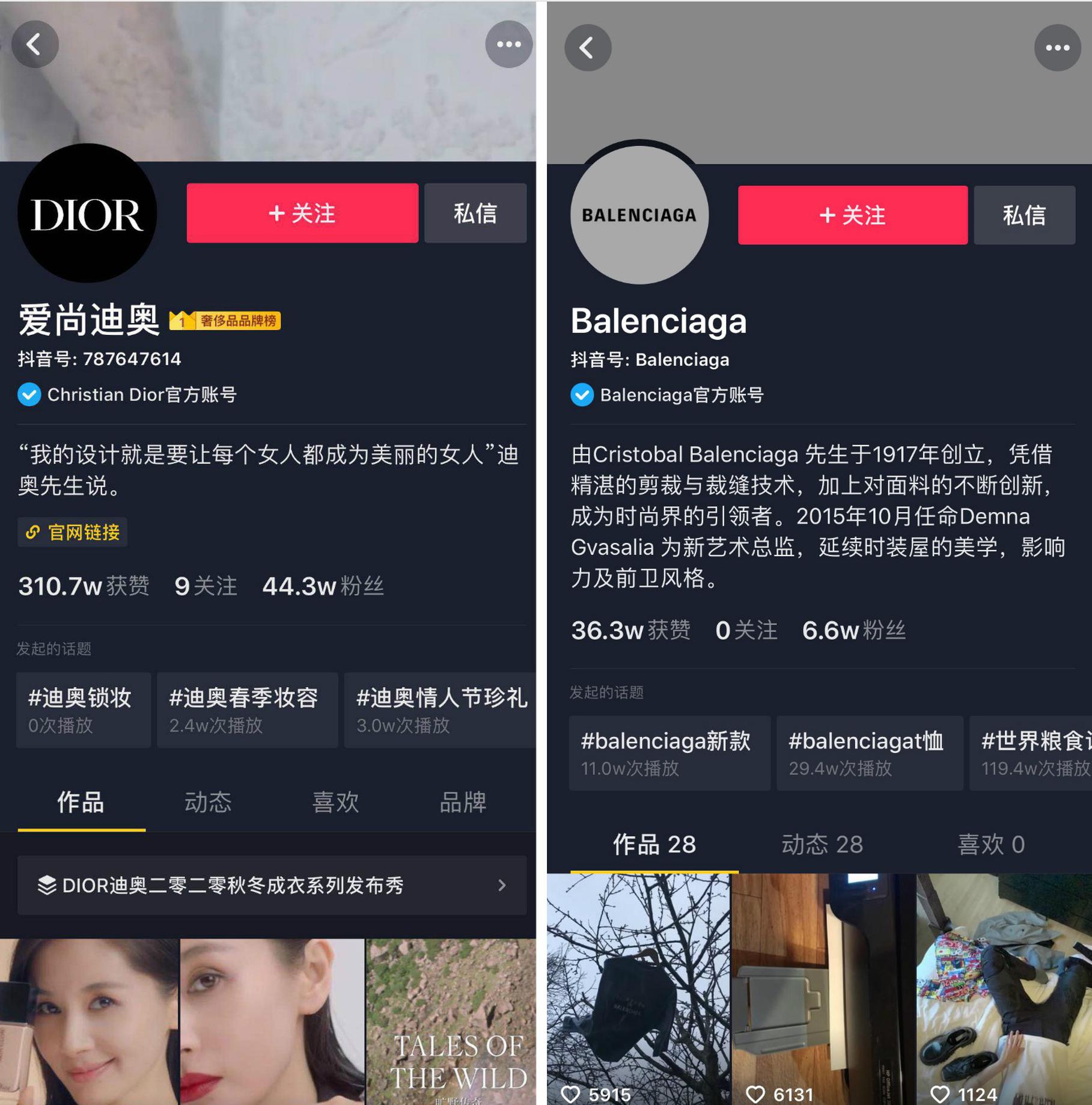 This is why such luxury brands as Gucci and Louis Vuitton are attracted to this platform.
Meipai is one of China's first short-video apps focused on beautification.
Meipai is a platform developed by Meitu, the company known for its selfie phones and powerful image editing apps. Users of this network are mainly women, 23 years old on average, living in tier 1 and 2 cities with medium to high incomes.
Meipai differentiates itself from competitors with a system of tools and features to beautify the character and the content, which makes it a popular choice for brands in the beauty and fashion industry, for example, L'Oréal, Maybelline, ELLE and Victoria's Secret.
In 2016, L'Oréal invited Chinese KOLs like Li Bingbing, Jing Boran, and Li Yuchun to livestream how they use their favorite products to create stunning looks for the Cannes Film Festival.
Bad news is that even Meipai started off as China's most successful video app, the network is currently losing to Douyin. After reaching a peak of 152 million daily active users in 2017, Meipai lost around 65% of customers to competition in less than a year.
Kuaishou is considered as the strongest competitor of Douyin.
With over 300 million daily active users and 20 billion video clips, Kuaishou is the largest short-video library in the world.
The main difference between Douyin and Kuaishou is that, while Douyin is preferred by urban users who live in tier 1 and tier 2 cities, Kuaishou is more popular in rural areas, where they are more interested in discovering content created by people they already know, instead of KOLs and brands. This is actually one of the reasons why Kuaishou has less advertisements.
Maximize the potential of social networks for luxury brands
Luxury brands have a wide array of platforms they can employee to market to Chinese luxury consumers; therefore, when making such decisions, research is needed. Figure out the target audience, objectives and budget of the campaign, talk to local consultants and influencers and very importantly, pay attention to the demands and tastes of customers as they might differ a lot from country to country.
Guerlain 3D lipstick configurator in cooperation with Hapticmedia.
Organic content is not enough for Chinese consumers. That's why even Hermes is adopting Wechat marketing to please local customers. To get better results, markers are supposed to deliver 360 degrees campaigns, which include key opinion leaders, new experiences involving VR/ AR/ 3D technology, engagement through personalization, games and communications and great customer services.
Resources
https://jingdaily.com/why-is-kuaishou-better-than-douyin-for-e-commerce-conversion-social-engagement/
https://jingdaily.com/meipai-shut-down-douyin/
https://en.cifnews.com/meipai-video-app-setbacks-success/
https://techcrunch.com/2020/01/06/douyin-tiktok-app-in-china-hits-400-million-daily-active-users/
https://techcrunch.com/2017/03/23/tencent-back-chinese-instagram-kuaishou/
https://technode.com/2019/11/13/livestreams-on-taobao-live-earn-rmb-20-billion-in-sales-on-singles-day/
https://insideretail.asia/2020/04/06/alibaba-urges-offline-retailers-to-livestream-on-taobao-live/
Contact us
Contact Hapticmedia now to see our successful user cases and the visible improvement we have brought to our clients. You will be amazed.