The ever increasing luxury goods market and its competition in the digital age
For the past years, the luxury goods market has been increasing both in sales and in opportunities. According to McKinsey research, in 2018 its value has been 330 billion Euros and it is expected to reach 430 billion Euros, in 2025.
With such high figures it is understandable that more and more companies want to gain that luxurious and exclusive feel and to turn their products into aspirational and must-have pieces, while taking advantage of new marketing tools and tactics with which consumers resonate.
Still, according to Deloitte's Global Powers of Luxury Goods 2019, the top 100 luxury brands ranking is somewhat stable from one year to the other.
What are actually challenging these companies are the shifts in consumer behavior, as well as competition from high-end streetwear brands that have adapted to the new generations' needs for engaging, personalized and digitized experiences.
Who are these top luxury brands recently?
Leading 10 most valuable luxury brands worldwide in 2019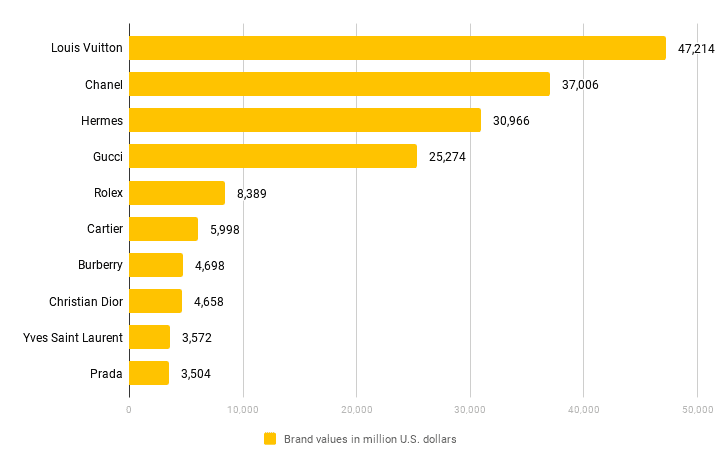 Brand values in million U.S. dollars; Source: Statista
As shown above, the top 10 luxury brands worldwide in 2019 are mainly established heritage houses of which consumers appreciate for their timeless values. Yet each of them approaches the market in different ways.
Louis Vuitton, for example, uses its heritage and fundamental values yet still ensures that it appeals to younger audiences by adding a certain amount of je ne sais quoi. This comes under the form of innovation, collaborations, supporting artists and making use of new marketing tools, such as VR and AR.
Chanel is reportedly the second largest luxury brand in the world, behind LVMH's Louis Vuitton and ahead of Kering's Gucci.
The brand has been investing heavily to cater to the demands of millennial clients. For exmaple, in February 2018, Chanel announced a partnership with global ecommerce platform, Farfetch, to develop digital initiatives for personalized in-store experiences for customers, enhance luxury shopping experience through e-commerce, and introduce an app.It is also named the most influential luxury brand on social media.
Hermès focuses on its steady worldwide development, taking things slowly and capitalizing on its life-long attributes- exclusivity, rarity and preciousness- and association with royalty, celebrities and fashion icons. The brand does not overcrowd the market, as it always ensures that demand is higher than the offer.
There is also Gucci, a brand that is actively contributing to the fashion disruption. For the past 4 years since Marco Bizzari joined the company as CEO, the brand has been focusing on young consumers and as a result their sales figures have skyrocketed.
In 2018, 62% of Gucci sales came from customers who were under 35 years old, while the brand's fastest growing segment is Generation Z. Gucci was actually one of the first brands to understand the potential of Millennials and Generation Z and to create a strategy that acknowledges them and centers around them.
The brand is already capitalizing on its approach that involves influencer marketing and advanced technology, such as the ArtLab - a factory that combines artistic experimentation with top of the line and futuristic production processes. This enables Gucci to remain relevant and to adapt more rapidly to its customers desires and needs, which is exactly what converts younger demographics.
Three features of luxury goods: high income elasticity, Veblen goods and the heritage
From an economical perspective, luxury brands are characterized by high income elasticity of demand, which means that, the wealthier people get, the proportionally more they buy. Even more, some of their products are considered Veblen goods, as any price increase would impact perceived value and thus mean higher sales.
This is something understandable, given the fact that consumers have always been attracted to luxury brands, not just because of their design, quality or technical features, but because of the history they have and the way they manage to showcase it.
Indeed, heritage has long been considered crucial for luxury brands, as it creates associations with the so called dream values, that attract and convert consumers, such as authenticity, credibility and depth.
An Hermès bag, a Prada scarf or a Louis Vuitton luggage are all items that speak for the consumer, connecting whoever wears them with certain timeless attributes, such as elegance, appreciation for craftsmanship, quality, responsibility etc.
The characteristics for which they stand reflect on those who own and use them and it is exactly this that makes them aspirational. This is why, for decades, luxury brands like Louis Vuitton, Gucci, Chanel, Burberry and Rolex have been retail icons.
New comers arrive with new mindsets and tools to dilute the importance of the heritage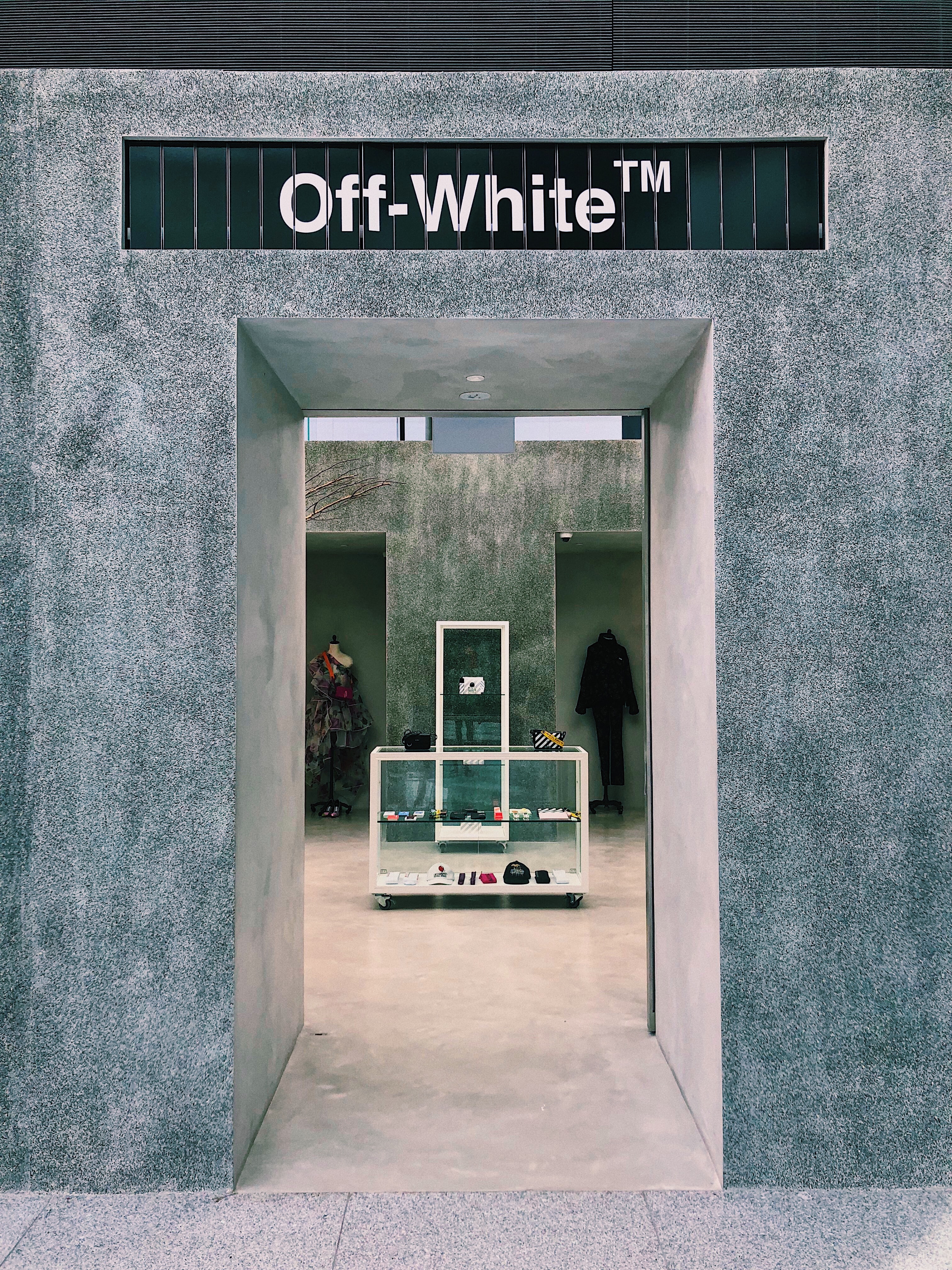 20 years ago, few marketers could have imagined that a luxury brand may capitalize more on something other than heritage.
Still, nowadays the market has welcomed several new companies that made a name for themselves in record time, taking advantage of social media, celebrity influencers and technology.
Names like Off-White, I.AM.GIA or Reformation have built themselves a reputation of "challengers", as luxury segment disruptors. They are followed by hundreds of thousands or even millions of people on Instagram and have developed a strong presence in the digital environment, due to celebrity endorsements. Their products sell in record time at high prices and are desired by worldwide consumers.
They are not luxury brands per se, but they compete for similar audiences at, often, comparing prices.
Thus, many specialists agree that the definition of luxury brands is becoming more ambiguous.
In a recent article, Daniel Langer mentions that, when asked which luxury brands they admired most, a panel of 14 to 16-year-old Gen Z-ers, mentioned Rihanna's Fenty or Pharrell Williams' Billionaire Boys Club, and failed to say anything about the heritage houses.
Focusing on the HENRYs: potentials consumers for high end brands
To understand why the landscape of the luxury market has shifted, we recommend taking a look at consumers as well as their characteristics and behavior patterns.
Of course, as anyone could anticipate, luxury brands are mainly targeted at rich consumers, with big incomes and an appreciation for quality and exclusivity.
Still, new segments have been emerging lately and Deloitte research draws attention towards a new category - the HENRYs.
The HENRYs (High-Earners-Not-Rich-Yet) is a new consumer segment characterized by significant discretionary incomes, making between US$100,000 and US$250,0001.
According to Deloitte's Global Powers of Luxury Goods 2019, HENRY's come from 3 categories, namely Millennials, Gen Z and Baby Boomers, but have an average age of 43, are digitally savvy and enjoy online shopping. They don't save money and spend between $60,000 and $86,000 / household / year.
For luxury brands, HENRYs are extremely important, as this is the consumer class that has more chances of becoming rich in the next years; therefore engaging in activities centered around them is an excellent strategy, as it ensures that brands manage to secure them and build a strong relationship from today.
From their desires to capture HENRYs, Millennials and Generation Z members, luxury houses have started focusing on the demographic's values, such as authenticity, relatability, commitment to do the right thing and following sustainable practices, as well as on the tools and channels they use, particularly social media platforms.
Inspiring marketing approaches adopted by best luxury brands
With so many changes in luxury branding and marketing, new approaches are continuously emerging due to huge demands and therefore heritage brands have started too to employ new tools and tactics, to resonate with the younger and digitized demographics.
1. An increased interest in sustainability.
For decades, luxury brands have been associated with excessive consumerism, high prices, elitism and frivolous pleasures.
But as Millennials and Gen Z are taking over and are accountable for 85% of global luxury growth, the situation is changing and sustainability is becoming an important topic.
New consumers expect their love brands to get involved in practices that have a positive contribution to the environment, as well as the society, showing civism, transparency and authenticity.
For example, the luxury brand Stella McCartney is one of the pioneers in sustainability. The company is involved in projects with NGOs and global associations and has been implementing green practices for over a decade. The brand also recycles all reusable textiles and powers their stores and offices with renewable energy.
2. Social media and the growth of influencer marketing.
![Luxury Brands in The New Age and What We Can Learn 3](/uploads/wenyang-R21oHiBL-Yo-unsplash (1).jpg)
Nowadays, marketing is not about the products themselves, but about brand storytelling. Younger and emerging demographics buy brands rather than products, and they tend to focus on those which capture their interests and engage with them on social media.
In this context, the need for dynamism, surprise and strong messages has increased, and stories are told through technology, apps, add-ons that are used across different channels to create consistent strategies that capture and convert.
Consumers expect brands to be on social media where they are, be a part of every-day conversations and bring added value to them. This is especially done with the help of digital influencers, who play an important role in reinforcing communication, building trust and generating impressions. All these elements are vital for luxury houses everywhere.
Certain brands have even built long-term relationships with influencers and an excellent example to showcase this is the relationship between Balmain and Cara Delevingne, who has become a friend of the heritage house. This collaboration extended on designing collections together and generating Instagram content that captures consumers and communicates in an engaging way the house's attributes: the glamour, the rebel spirit, the invigorating style.
3. Online and conversational retail
The days when luxury retail was all about the white glove, in-store service are long gone.
Consumers nowadays want the benefits and convenience of shopping online or even on social platforms, like WeChat, Instagram and WhatsApp. They do research on the Internet and access watchmakers' websites to get the information they need.
The role of online retail in luxury brands marketing has been underestimated, at first, by even some of the largest companies.
Jean-Claude Biver, Non-Executive President of the LVMH Watch Division, declared at the 2018 BaselWorld that retailers considered that consumers wouldn't purchase luxury pieces online, saying "We didn't realize the speed at which millennials would take to buying cars or watches online.".
Nowadays, though, more and more companies are using online platforms to sell their products.
4. Heritage versus quality, customer services and design.
According to the Luxury Institute's report, Millennials, Gen Z and Baby Boomers rank brand history and heritage as the sixth element that impacts their purchasing decisions, with the first 3 being quality, customer service and design.
Decades ago, heritage would be synonymous with quality, exclusivity and high prices, but, nowadays things have changed, as consumers are seeing a dramatic increase in quality and fun from upscale brands.
Many brands that are not perceived as luxurious take pride in delivering consistent strategies which build experiences and offer high quality products, so the gap between them and luxury brands is minimizing. Moreover, in this context even craftsmanship has become a given and younger demographics aren't interested in paying more just for it.
Consumers seem to be trading heritage for convenience, for how timely and in what personalized manners brands respond to their needs and what added value they have offered them in the past 24 hours. Nowadays, no matter what their pricing policies are, luxury brands need to be convenient and accessible, as long delivery times and that glass tower feeling are becoming less appealing to consumers.
5. Brand-consumer relationships get even more personal.
In a world where users are one click away from everything, top luxury houses need to appeal to consumers emotionally, by creating personalized, remarkable and memorable experiences.
From customizing products, like Hapticmedia did with the Guerlain 3D configurator that doubled conversions, to personalizing the shopping experience, adjusting to each consumer's needs and likes has become a must.
As technology is such an important part of our daily lives, luxury brands can't ignore it. On the contrary, they need to use it to their advantage to create connections and drive experiences and tell stories.
For example, this is what Cartier did, when they used VR to tell the Santos watch collection story to Chinese consumers, transporting users to XXth century Paris.
We, at Hapticmedia, also used AR and VR to enable consumers to create their personalized Baume watch, a tactic that proved to be extremely successful for the brand.
6. AI and data are bridging the gap between brands and consumers
These past years, there has been serious talks about AI and its potential of replacing human interaction. Still, in this digitized society, luxury companies are using such technologies to enhance their customer-oriented strategies and build even stronger bonds.
Louis Vuitton, Tommy Hilfiger and Dior are all using analytics and machine-learning to offer more personalized services and improve their real-time-marketing strategies.
Chatbots have become an important tool for luxury brands, but their usage is not individual. They are put in context, together with AR/VR, 3D configurators, storytelling and personalized human interaction, to create seamless experiences that are worth reliving and sharing.
7. Contamination by collaboration with high-street brands
Consumers nowadays have a choice between heritage luxury brands and high-street fashion. Brands like Off-White, Vetements, and Supreme have built a strong followership by limiting production, releasing products spontaneously and working on the "one-chance-to-buy" mania.
Streetwear brands drop merchandising, exploiting what is now called FOMO (fear of missing out) and creating a sense of urgency and specificity.
Analyzing the brand attachment streetwear fashion creates and the way it manages to always keep its audience interested and engaged, established luxury brands have become open to new means of reaching out to their younger and modern audiences.
Louis Vuitton x Supreme, Manolo Blahnik x Vetements, and Jimmy Choo x Off-White are just some examples of brand contamination that has helped heritage houses capitalize on the disruption.
8. Privacy & Regulations
If we analyze current marketing approaches, luxury brands seem to have a wide array of options and tactics they can use, but the truth is, with great opportunities comes great responsibility.
On the one hand, consumers expect brands to offer perfectly tailored and relevant experiences, but they also want their privacy respected and are not comfortable with their information being shared across channels.
Requirements such as those imposed by the EU's General Data Protection Regulation (GDPR), which took effect in May 2018, and the California Consumer Privacy Act are limiting the way companies gather and use personal data, which means luxury brands need to be extremely cautious about the strategies they employ.
Even more, countries like the US have imposed rules for influencer marketing, as well, requiring that the brand-influencer relationship be a transparent one, where hashtags like #ad and #sponsored are mandatory.
Conclusions
Luxury brands nowadays need to reexamine their values and the ways new consumer segments relate to them.
In a world of technology, adaptability is crucial and new media and tools need to be used to provide personalized customer service and tailored-experiences that keep consumers engaged.
References
Mckinsey how young Chinese consumers are reshaping global luxury
https://www2.deloitte.com/content/dam/Deloitte/ar/Documents/Consumer_and_Industrial_Products/Global-Powers-of-Luxury-Goods-abril-2019.pdf
https://jingdaily.com/disruption-why-the-big-luxury-brands-should-be-scared/
https://en.wikipedia.org/wiki/Income_elasticity_of_demand
https://www.statista.com/statistics/267948/brand-value-of-the-leading-10-most-valuable-luxury-brands-worldwide/
Contact us
Contact Hapticmedia now to see our successful user cases and the visible improvement we have brought to our clients. You will be amazed.