What can luxury brands learn from Gucci's digital strategy?
By Yahong Zhang |
Gucci is reinventing itself by creating digital content and digital products
Marco Bizzari as CEO and Alessandro Michele as Creative Director, Gucci has managed to implement a marketing strategy targeted at Generation Z, i.e., the group of consumers with apparently low buying powers but high influences.
According to Forbes, Sarah Willersdorf, Partner and Managing Director at BCG said that, while these young audiences only represented 4% of the world's overall luxury consumption in 2018, the percentage was bound to double by 2020. In regions like China, Generation Z is responsible for up to 15% of the country's luxury purchases.
In order to attract these young consumers, who have not yet to be taken fully into account by other luxury brands, Gucci is reinventing itself by actively adopting emerging technologies and digital marketing tools to create digital content, like Augmented Reality, Virtual Reality, AI chatbots, applications, as well as by collaborating with partners to deliver digital products, like virtual versions of its collections and products.
For example, Gucci has created virtual versions of its collections and products for esports like Tennis Clash, for platforms like Roblox, for fashion-themed video game Drest and for VR chat apps where users could dress up their avatars with Gucci products.
In Tennis Clash, users can use digital pieces of Gucci clothing and accessories to express their style, with a focus on sports luxe. In Roblox, the brand surprises users with iconic accessories such as the Marmont bag, guitar covers, sunglasses, jewelry and so on.
And now, Gucci is selling $12 digital sneakers
In March 2020, Gucci created a collection of digital sneakers that consumers could try on using Augmented Reality.
Through the "Gucci Sneaker Garage" available on the Gucci app, shoppers may purchase a pair of digital sneakers, called Gucci Virtual 25, and wear them using Augmented Reality technology in the Gucci app, as well as in partnering apps like Roblox and VRChat.
The sneaker cost $11.99 in the app and is designed by the house's Creative Director, Alessandro Michele, showcasing a chunky design with neon colors inspired from the '80s. Of course, these signature products wear the GG logo on the soles and on the tongues.
Moreover, in the Gucci Sneaker Garage, shoppers may customize the sneakers to create unique versions that fit their individual styles.
Gucci x Generations Z: Strategy and results
In the past years, Gucci has become Kering's best performing brand due to incredible sales growth. For example, in the first half of 2018 its turnover went up 49%. According to Statista, the fashion house also closed 2019 with $9.6 billion worth of sales, significantly higher than that of Saint Laurent ($2 billion) or Bottega Veneta ($1.16 billion).
Gucci can not do this without Alessandro Michele's digital strategy, which makes it a priority for the brand to address young audiences, understanding their needs and acting upon them.
Quartz reported that the Creative Director even has a shadow board of Millennial advisors under 30 years old, with whom he discusses topics that are also approached with executives.
What Gucci did was move the luxury brand from the runway to the internet, especially in social media, by focusing on Millennials and Generation Z. With re-imaged knock-off logo tees, orange tracksuits, attention-grabbing colors and gold stitchings, Gucci understands that consumers are "doing it for the gram" and that they need to look fabulous on Instagram and attract as many likes as possible.
The strategy seems to be paying off. In fact, 55% of Gucci's sales came from audiences aged under 35. This percentage is significantly higher than other traditional luxury brands. Moreover, online sales have witnessed a significant increase, as the brand doubled its digital sales in the first quarter of 2018.
What can luxury marketers learn from Gucci's digital strategy?
1. Virtual try-on and 3D visualization are becoming popular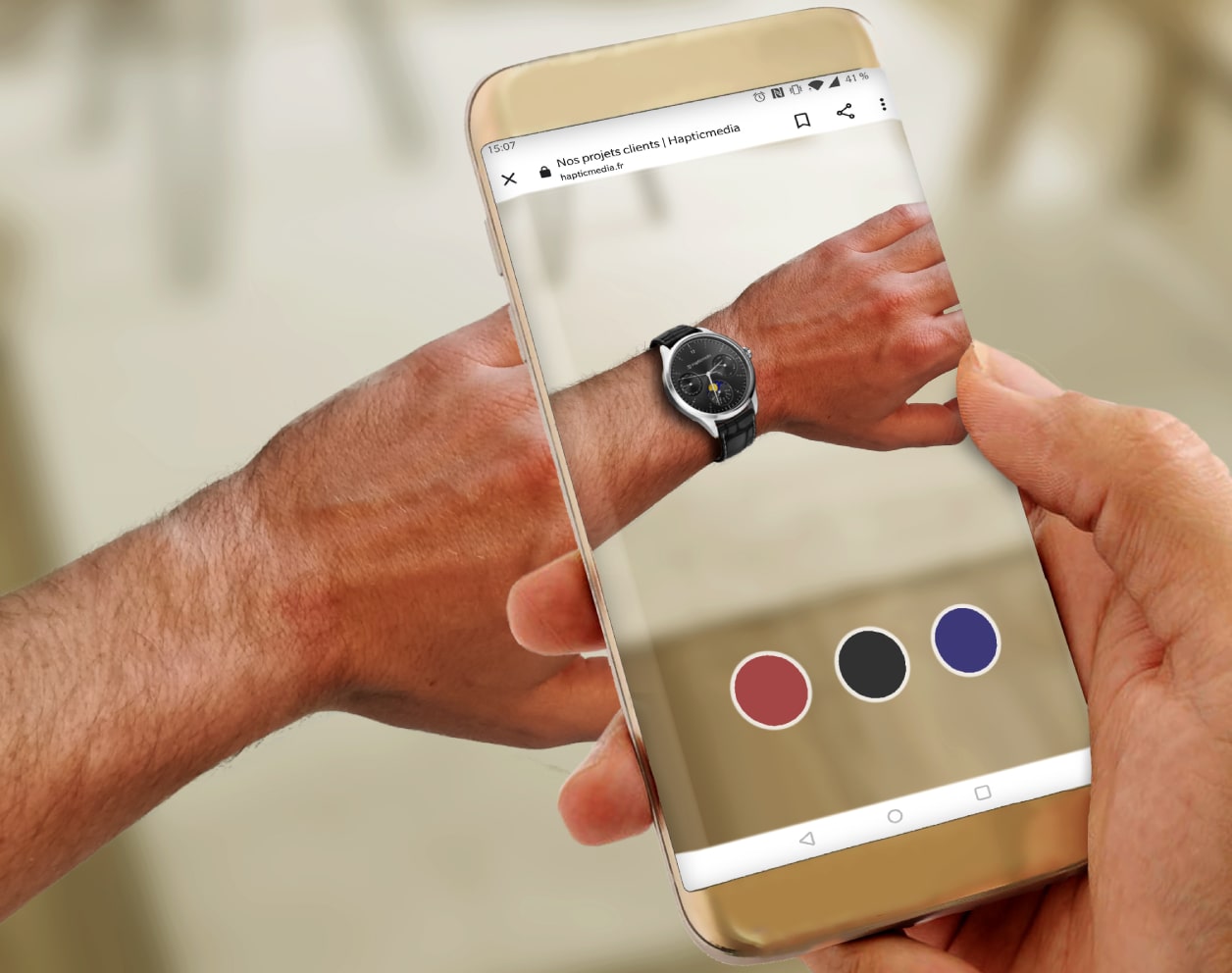 A great example of integrating virtual try on technology into the multi channel marketing strategy can be taken from Baume, a high- end Swiss watchmaking brand.
Since the COVID-19 crisis started, more and more luxury brands have gone digital, implementing digital strategies and direct-to-consumer platforms. As e-commerce and omnichannel are becoming the norm, consumers especially young ones need brands to deliver engaging and convenient digital experiences.
The ability to try on everything from sneakers and watches to hats and lipsticks using a phone has become mandatory in a world where highly digitalized consumers want consistent engagement and gratification.
Through its app, Gucci enables shoppers to play with its garments and accessories, using augmented reality for virtual try-on. This means users may try shoes virtually to see how they look, photograph them, share online and get feedback from friends.
Such an experience ensures Generation Zers may enjoy an Instragram-worthy digital shopping experience that is both fun and convenient, from the comfort of their homes.
2. Generation Z needs to be taken into account
Generation Z isn't coveted for its current buying power, but for its huge influence. These young consumers shape our everyday consumption behavior, by interacting with colleagues, family members, friends etc. They are early adopters. They are not afraid to test things and to make recommendations accordingly, as well as to contribute to building hype.
Consumers under 25 years old have a natural way of ensuring that what sparks interest in them will ultimately attract Generation Xers. This means that a mother is more likely to buy an item from an exclusive fashion brand recommended by her daughter than the opposite.
In order to access its influence, Generation Z needs more than to be acknowledged. It requires a whole strategy built around it. The reason is that this young demographic is extremely digitalized and well informed, which means that its expectations are high and its loyalty is low. Brands that are relevant for Generation Z are the ones that approach them early in life, delivering engaging and appealing content while sharing their views and principles.
Overall, Gucci's results and financial reports have proved that, young consumers are indeed a force in the luxury world.
3. Customization as a signature
Generation Zers want to be different and express their unique personality. They are interested in creating their own signature products. Customizing certain goods by mixing and matching elements expresses a stylistic freedom for which young shoppers crave.
Especially when it comes to footwear, made-to-order is extremely popular, as consumers want to enjoy both the functional and the aesthetical benefits of having a pair of shoes created particularly for them. Wiivv is a Canadian-American company which manufactures footwear based on foot scans. Customers can make an order with smartphones using the manufacturer's app. This brand has doubled its sales year-on-year since 2014, showcasing how popular customization is.
4. Digital communities are as important as offline communities
With its lockdowns and restrictions, the COVID-19 pandemic has made people crave for interaction and togetherness. Being able to go out to events and showcasing their new sneakers or bags offer contact that consumers lack.
Although these are not possible to the same extent as they were in 2019, Generation Zers and Millennials are still engaging in activities that provide a sense of belonging and make them feel acknowledged.
In order to do this in today's world, consumers have shifted their interests and expectations towards their avatars, either the ones they created for themselves in video games and esports challenges, or on social media. These are their digital representations.
As the global number of esports players was expected to reach 495.0 million, according to Newzoo, there is a good pool of users that are building communities and are engaging with one another; therefore, online communities should be treated by luxury marketers with the same devotion.
5. Online environments help drive word-of-mouth in real life
Gucci's digital strategy isn't only about drawing consumers to their stores or other sales channels, but also creating digital buzz, be it in gaming communities or on social media. The company is trying to achieve its goal without gifting its products to influencers and brands in an ostentatious manner.
The brand is interested in becoming the most talked about brand online, as they know that by driving hype online, they could replicate the effect in real life.
6. No shopping desire should go wasted
By partnering with esports and gaming platforms and offering digital versions of their items for sale, Gucci proves that it intends to transform every fan into a consumer, no matter its incomes, social status and location.
If decades ago, luxury brands were using miscellaneous items, such as belts, wallets and small leather goods to attract less affluent consumers before introducing them to the companies' standards and experiences, nowadays, Gucci is doing the same digitally.
Contact us: 3D visualization, augmented reality, virtual try on, customization
Hapticmedia has over 15 years of expertise in immersive technologies including 3D visualization, customization and configuration, engraving, Augmented Reality, Virtual Try On, and is supported and covered by LVMH, Forbes, Les Echos, Le Point, BFMTV. Check here to see our client projects with Gerlain, Kenzo, Baume & Mercier, Baccarat, Edenly or contact us now to see the visible improvement we will bring to you.
References
https://www2.deloitte.com/content/dam/Deloitte/us/Documents/consumer-business/welcome-to-gen-z.pdf
https://www.forbes.com/sites/pamdanziger/2019/05/29/3-ways-millennials-and-gen-z-consumers-are-radically-transforming-the-luxury-market/?sh=43b012a0479f
https://jingdaily.com/luxury-brand-strategy-genz-dior-gucci/
https://www.businessoffashion.com/articles/technology/gucci-is-selling-12-virtual-sneakers
Contact us
Contact Hapticmedia now to see our successful user cases and the visible improvement we have brought to our clients. You will be amazed.