How can the chatbot revolutionize your businesses?
By Yahong Zhang |
Technology is constantly evolving, which means that, nowadays more than ever before marketers have a wide array of tools and tactics they can use to their advantage to create engaging and memorable customer experiences that convert and drive sales.
One of the most talked about, in recent years has been the chatbot, a digitized invention meant to create a bridge between artificial intelligence and humans, with the purpose of contributing to a more interactive and efficient customer relationship.
What is a chatbot?
The Oxford dictionary identifies the term "chatbot" as originating in the 1990s from "chatter" and "bot" and defines it as "a computer program designed to simulate conversation with human users, especially over the Internet".
Furthermore, this type of software manages to conduct conversations through textual and auditory methods, simulating human behaviors.
How does a chatbot work?
In order to function properly, the chatbot is equipped with a back-end software that enables it to simulate conversations. Nowadays some of them are rule-based, which means they work through a series of predefined questions and answers, while a more advanced category is enabled by artificial intelligence.
AI chatbots are more complicated and advanced than rule based ones thanks to natural language processing
An AI-based or machine-learning chatbot uses natural language processing to develop answers and deliver information, in a way which it is able to:
Collect, understand and analyze each user's input and study how people communicate;
Learn from conversations and select related and useful information, which means that the more conversations, the better they become at replying to users.
Produce their own content with the help of expert systems
Apart from the content itself, chatbots are also capable of respecting a certain tone-of-voice and acquiring a personality that is in accordance with the brand's vision and their customers' expectations, everything done through complex algorithms.
How did chatbot technology come to be?
For decades, with the increased use of technology, society has been accelerating its pace and thus, customers have developed a need for dynamism and promptitude when it comes to shopping experiences. Emails and contact forms were no longer enough, as consumers started to expect a more responsive, direct, efficient way to communicate with brands.
This first led to live chats and widgets that were implemented on social media, digital platforms and websites, enabling agents to walk customers through certain processes and answer questions in real time.
Demands for quick and efficient customer services have been created and shaped by new generations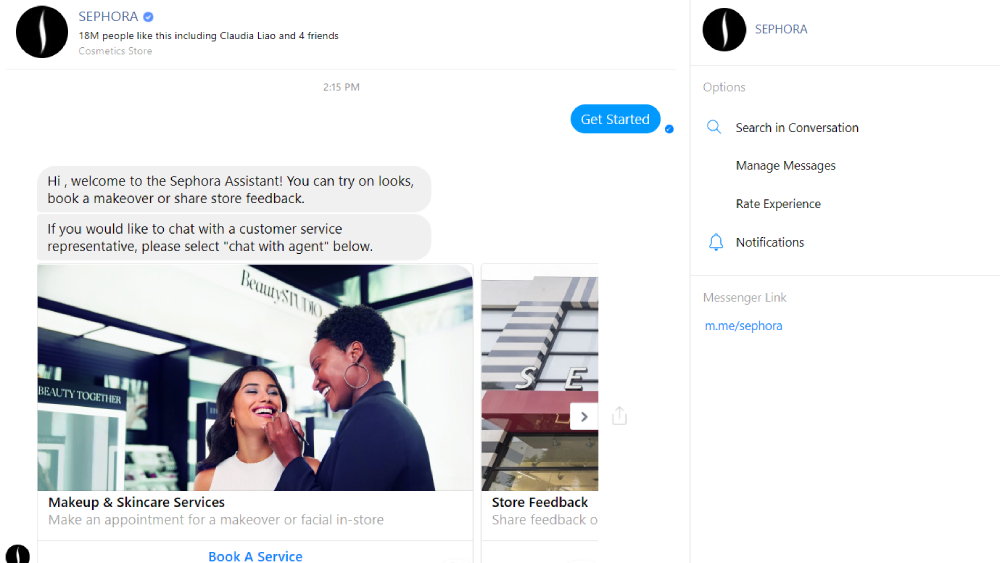 Source: Sephora
In this context, it did not take long for a new demand to arise: 24/7 customer support, which offered consistent, immediate and personalized responses, regardless of the business' specificity, seasonality, working hours and even geographical limits.
To fulfil this in a result-oriented, cost-effective manner, virtual help has been developed and it is this way that chatbots came to be.
From its early days, the chatbot technology appeared to fill several gaps, as it responded to the consumers' sense of urgency - created and amplified by new media - and to the brands' needs to become approachable entities that were part of their customers' everyday lives.
These are some of the reasons why platforms like Facebook Messenger are currently employing an AI chatbot in their marcom efforts and why this technology is used even in the telecom industry, where communication is being conducted through SMS.
Research results have revealed a rather affirmative attitude from consumers
According to a research, 70% of millennials have had positive chatbot experiences, while 90% of businesses have registered faster complaint resolutions using bots. Over half of the companies prompted agreed that a chatbot delivers large ROI with minimal effort, while a similar percentage identifies artificial intelligence as a relevant tool for creating a "customer-first culture".
Even more, looking deeper into its potential and focusing on conversions, Hubspot reports that 47% of respondents to a survey declared themselves open to buying items using a chatbot.
What are the benefits of using an AI chatbot for your brand?
Although many business professionals nowadays understand what is a chatbot, some struggle with identifying the best uses and benefits of the technology, yet as experiences have showed us, the advantages are quite enormous:
A chatbot helps to optimize consumer experiences by offering fast and personalized customer support and real-time shopping assistance.
According to Comm100's 2019 Live Chat Benchmark Report, the average wait time, how long a visitor waits until an agent joins the chat, is 48 seconds. If they are told to waiter long, they tend to quit the chat. This again proves that users have been accustomed to quicker and facile communication.
In addition, since chatbots rely on complex algorithms, they are faster at searching for information and at identifying the user's details, consumer patterns and are able to handle unlimited requests. Even more, an AI chatbot anticipates user behavior, which means that it knows when the consumer leaves your site, places an order or needs help. In this way, it is easier to place targeted marketing and improve efficiency.
A chatbot offers real-time shopping assistance, just like customers receive in store. In a world where consumers have a multitude of options available at the push of a button, brand loyalty is extremely difficult to obtain and retain.
Providing a high lever of promptitude and personalized service is no longer seen as an added value, but as standard procedure, as today's consumers may buy the same thing from different sources or may replace a brand with another if the customer experience is better.
This particularly applies to the luxury industry, where companies compete on identifying themselves with a certain vision and style that need to be consistently expressed and bestowed upon their stakeholders and consumers.
A chabot increases consumer engagement rates and helps nurture leads
Chatbots don't only answer questions. Based on user profiles, they are able to start up conversations, offer discounts, remind them of items that are pending in their carts and helping them finalize acquisitions.
All those functions enable brands to build stronger relationships with their audiences and make consumers more open to their messages.
Chatbot technology helps to save costs
As less of resources will go into hiring, training and retaining staff, research shows that by 2022 worldwide, chatbots will generate over $8 billion in savings.
For those planning to scale their business to different markets and offer customer service in different languages, they can turn to chatbots for help without needing to worry about diversifying your human resources or any other unnecessary investments etc.
Industries and domains that employ AI chatbots
Given the benefits stated above, AI chatbot technology may be used for both internal and external communications for business, targeting employees, B2B and B2C clients as well as other stakeholder segments.
This form of virtual assistance has been integrated as an important marketing tool on social media, websites and apps. It is also implemented on internal platforms to make the life easier for human resources or account departments, since an AI chatbot may do anything from prompting a conversation, to walking users through a certain process, issuing a support ticket, collecting and distributing information.
Industries that have been making use of chatbots are those with a strong focus on customer service: banking, utilities, healthcare, fashion, retail, FMCG and beauty etc.
Chatbots are being embraced by the luxury industry and are becoming more versatile
The luxury industry has been putting chatbots into use ever since 2016 when the technology was first launched, but it is only in recent years that they have been integrated into more complex projects and got attention.
One of the first adopters was Tommy Hilfiger, who at the New York Fashion Week in 2016, launched the Gigi Hadid collection and chose to use a chatbot on Facebook Messenger to create an engaging and personalized customer experience.
This act in the end allowed users to get fast fashion advices, find the pieces that suited them, read the look book or browse behind-the-scenes shots of Gigi, Bella and Joan Smalls.
Burberry, too, took advantage of the same occasion to make public its own chatbot which allowed users to even shop items in the Messenger app.
In the following years, increasing high end brands have taken actions to try out chatbots. While luxury brands like Audemars Piguet took advantage of this technology to help showcase their brand stories, values and missions, others such as Estee Lauder and Levi's implemented it to offer extra assistance and improve the customer experience.
In recent years, as the idea of using an AI chatbot or a machine-learning chatbot has caught more attention, marketers and digital strategists are starting to develop more complex roles for them, building platforms around this technology and maximizing the benefits they get in terms of user experience, customers perception and conversions.
Chatbot examples: Not only about responsiveness but personalization and uniqueness
Jet black: Walmart's AI-Powered Concierge Shopping Service
American retailer Walmart decided to enter the upscale industry by targeting high-income New Yorkers through a concierge shopping service, which is meant to bring together the best of both worlds: the beauty of a carefully crafted e-commerce experience and the benefits of personal shopping.
This is how Jet black was born: a platform which uses AI chatbots as well as professional buyers to offer high-end shopping experiences.
The subscription-based platform launched in 2018 targets parents who don't have time to shop and rely on messaging to get things done. The designated AI chatbot is able to either place the order for them or send them a selection of items to choose, based on a short note that the user inputs, a photo of what is need or even more complex requests.
To make the experience extremely effective and optimized, each new subscriber is asked to either engage in a starting phone call with one of the Jet black representatives or accept a visit from a Jet black representative that comes to scan products and take photos of the household.
The platform launched only in Manhattan and Brooklyn has currently a long waiting list and is generating lots of interests worldwide.
Threads Styling: optimized and personalized luxury shopping enabled by chatbots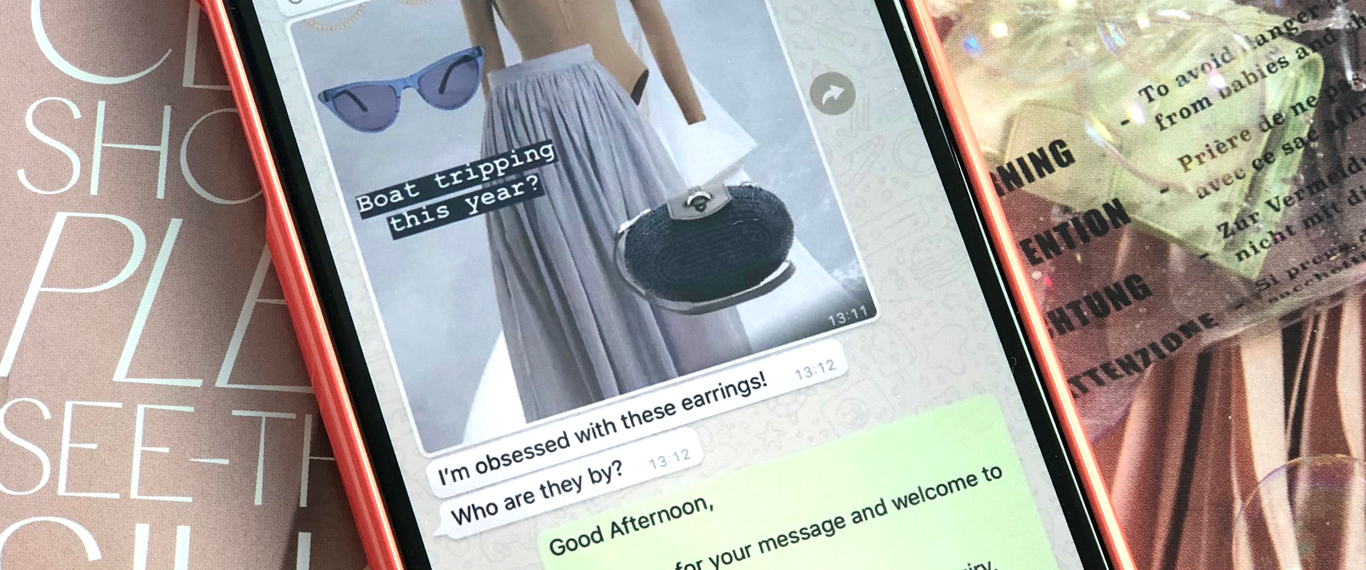 Source: Threads Styling official website
Threads Styling is considered as the global pioneer of chat-commerce, a multimillion luxury business which disrupted the fashion experience that we knew.
Using both style advisors and AI chatbots, the company provides high-end audiences a new and upgraded customer experience that refines the relationship between luxury brands and their clients, by allowing users to order via platforms like Instagram, WhatsApp, WeChat, Snapchat and iMessenger.
Without having an actual website or a dedicated app, Threads Styling uses social media, the channels with which consumers have already developed relationships to promote and launch products, while at the same time human consultants are also ready to address proactive requests from customers who are looking for a certain item that might be out of stock or discontinued.
The company targets high-end millennials and Generation Z members, as these generations play a huge role in reshaping consuming trends; yet the service has gained traction with senior and less digitized demographics as well.
The average order value is £2,600, while the most expensive item ever bought through the service came in at almost $1 million, according to The Telegraph.
Threads Styling is now in partnerships with many luxury brands like Bulgari, Gucci, Bottega Veneta and Jimmy Choo.
Conversational commerce is around the corner thanks to chatbots
The age of chatbot technology has given birth to what specialists call "conversational commerce", also known as the future of e-commerce, especially if we focus on luxury brands, which need to always keep their customer journeys fresh, coherent and engaging. To position themselves as visionaries and leaders in the field, an increasing number of high-end B2C companies are taking advantage of the AI technology for the following reasons:
To be at a click away from their customers and even to anticipate needs and issues, making ordering processes quick and convenient without moving consumers from their preferred environments such as social media
To ensure high-quality and effective post-purchase support and follow-up, making customers feel acknowledged and appreciated.
To create personalized experiences based on each consumer's buying and browsing history.
To prompt consumers and ensure they don't look for information on competitors' channels.
The future of AI chatbots: together with other tools to facilitate and upgrade shopping experiences
According to research, the chatbot market value was at $703 million in 2016 and is bound to reach $1.3 billion in 2024, which means that the technology is gaining traction among both marketers and consumers.
This is understandable. Usage of AI chatbots in the luxury industry comes in a time when the market is characterized by dynamism and fierce competition and consumers have strong demands for quick and convenient tools that simplify decision-making.
Still, as the case studies have shown, a chatbot is not a tool that is supposed to replace the human input, but a way to bridge the gap between humans and technology.
Nowadays, a chatbot needs to be part of integrated services alongside compatible tools such as 3D configuration, Virtual Reality, Augmented Reality, as all of them contribute to providing an engaging and memorable customer experience that drives good consumer perceptions and eventually higher revenues.
Contact us
Contact Hapticmedia now to see our successful user cases and the visible improvement we have brought to our clients. You will be amazed.