Impacts of COVID-19 on the luxury market and how to reboost
By Yahong Zhang |
Impacts: Dramatic drop and late recover
The coronavirus pandemic has strongly impacted the first quarter of 2020, affecting the luxury industry to its core. Signs of a huge influence started in January, when the virus was striking China, the country responsible for 90% of the 2019 global luxury market growth and 35% of overall luxury sales.
While things spread and authorities started taking measures, brands found themselves dealing with the inability to produce and sell their goods, since lock-downs began to shut factories and suppliers in countries like Italy and France.
China is looking stable for the time being and consumers appear to be slowly returning to their lifestyles; therefore, luxury marketers want to know what to expect from the future.
Still, at this point, too many variables prevent specialists from actually issuing a clear scenario of how this pandemic and the measures taken will affect luxury brands: we don't know when the virus will stop spreading globally and thus, can't anticipate how it will impact the economy, as well as consumer behaviors.
According to Bain and Boston Consulting Group, sales could drop up to 35% this year, resulting in a total decrease of 600 billion dollars compared to 2019, which is significantly bigger than that of the 2008 - 2009 recession.
This is an understandable fall, if we take into account certain factors like outlets and factory closing, threats of unemployment due to the pandemic or just a more cautious approach to spending money, powered by a consistent fear of a potential economical crisis.
In its Executive Briefing issued on March 25, McKinsey and Company estimated that, as the second most affected industry, after Commercial Aerospace, Air & Travel will get a restart in the first or second quarter of 2021, while Apparel, Fashion and Luxury, which is down by 28% in terms of stocks, should recover late Q2 or Q3 of 2020.
There exist, of course, multiple variables to this pandemic, but there is one thing on which we may agree: at one point, this situation will stop and consumption will return to better parameters. To prepare for those moments and to also make the most of the context, marketers need to be on top of the return, re-imagine and reform to develop strong strategies that meet updated consumer trends.
Luxury marketing in the time of COVID-19
When going through difficult times with reduced revenues and profits, businesses see themselves as forced to lower costs and one of the first things on which they cut down are marketing budgets.
"Why invest in marketing towards a group when it does not have the power to buy?", appears to be the question.
The answer is actually intuitive and those who have been through the 2008 - 2009 recession know it well: an optimized strategy that responds very well to consumer insights, catering to both their emotional and physical needs, helps brands maintain relevance and market shares and strengthen the bond they have with their audiences.
This way, when consumption restarts, and it always does, these companies are the first to get back on track and enjoy the benefits.
Knowing these, luxury brands have quickly amended their strategies during the crisis to ensure engagement in consumer-oriented and socially responsible initiatives.
The first step taken by big name companies was to adjust communications channels and try to move as many offline events and campaigns as possible to online. Extra hygiene and safety measures were taken and, where possible, store traffic was discouraged. This act showed good business acumen while delivering respect and care for both customers and employees.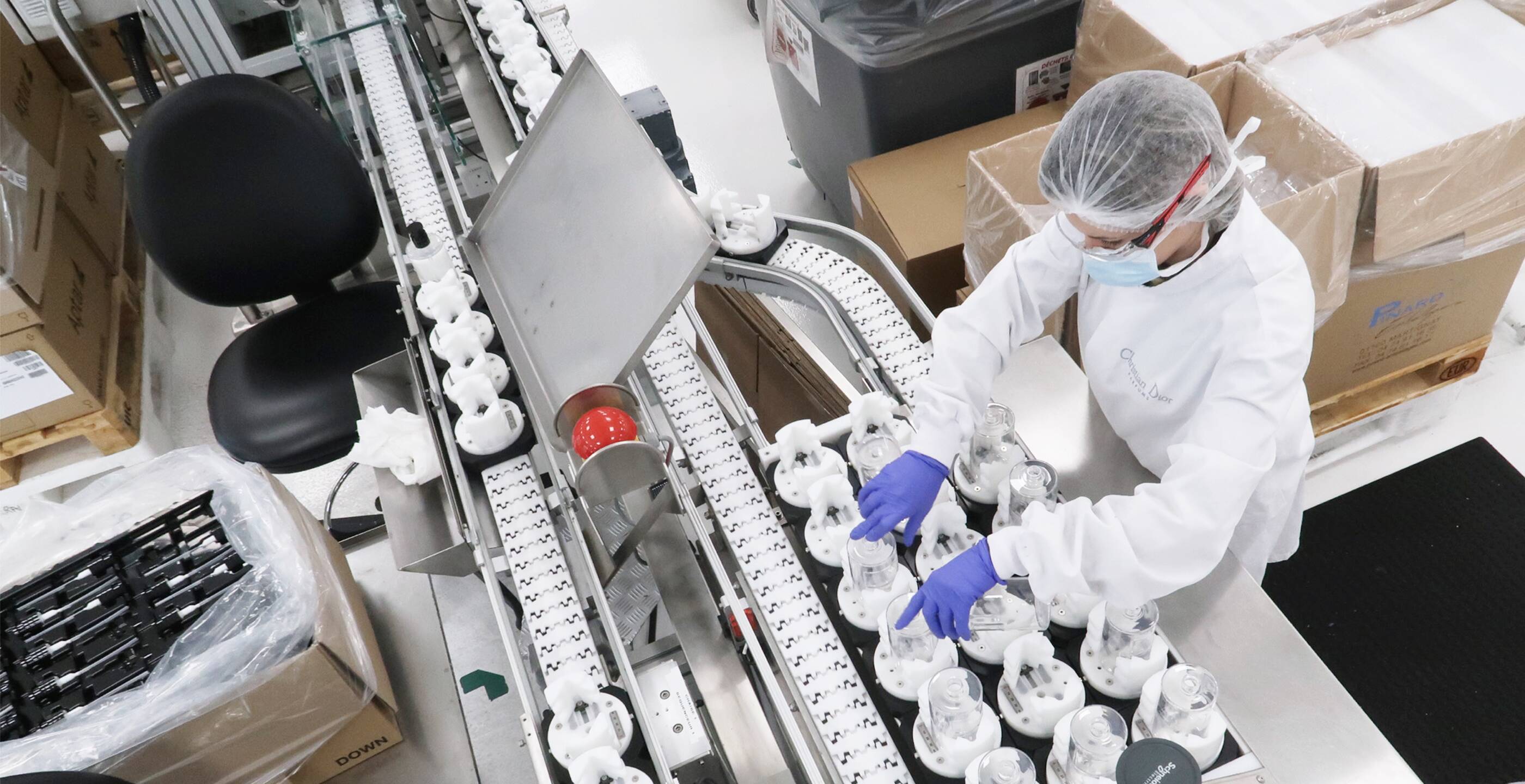 LVMH prepares to manufacture and distribute free hydroalcoholic gel in large quantities; Source: LVMH
In addition, Luxury groups such as LVMH, Kering and Estée Lauder all decided to involve in the fight against COVID-19 by helping governments and health institutions, LVMH and chanel transforming existing product lines to produce face masks and sanitizers, Bulgari funding coronavirus research, Kering, LVMH, Moncler, Ralph Lauren, Capri Holdings, Gucci and Richemont Group, which owns Cartier, Van Cleef & Arpels, and Chloe, all making donations and collaborating with state officials to help solve resource shortages so on.
Taking an example, Moncler announced a $10.9 million donation, highest of all luxury brands so far, towards the construction of a new hospital in Milan, while controversial brand Dolce & Gabbana declared that it was funding a study into coronavirus at the Humanitas University.
Shifts in consumer behaviors during the time of COVID-19
Up til now the coronavirus pandemic has spread in 200 countries. With governments and communities dealing with this virus, citizens start to approach daily activities differently with a change in their behaviors.
Here are some shifts that are bound to impact the way we look at luxury marketing:
Increased interests in digital experiences and online content.
Source: Guerlain Rouge G 3D lipstick configurator in cooperation with Hapticmedia
Ready to use 3D configuration technology for higher conversion rates like Guerlain, Baume, Kenzo and more? Contact Hapticmedia to get a free quote!
During the quarantine digital consumption may increase to 60% or more, according to Nielsen research. Even in Hong Kong, which is mostly a brick-and-mortar market, consumers quickly adjusted and downloaded e-commerce apps.
Moreover in Asia, the region that was firstly struck by COVID-19, social media quickly became platforms for sharing news about COVID-19 cases and related regulations.
#IKnewIHadCabinFeverWhen I finished Netflix.

— Stephen (@PhtevenIsMyName) March 25, 2020
Television host Jimmy Fallon started a hashtag in quarantine and here is one of the most popular responses.
According to Bain & Company, once the coronavirus crisis ends, consumers will return to their physical stores to enjoy real-life experiences.
Still, their appreciation for digital tools will stay; and therefore, more than ever brands are expected to create complex on- and offline experiences that drive interests and sales.
Social involvement is being carefully assessed.
At this point, with public health systems struggling with the virus and small and local businesses at risk, consumers are paying close attention to the brands that are contributing to the fight against COVID-19, be it social media influencers or manufacturers or experience generators.
Acts like helping the needed or simply showing empathy will be remembered even after the turmoil passes and will increase the bond between companies and consumers.
Consumers with medium and medium-high spending powers seeing luxury as an investment.
When talking about luxury brands, there are two audience segments that need to be taken into account: the middle and the elites. For elites, luxury is a given, a metric that reflects their quality of life; for the other, very importantly, luxury means something aspirational, which indicates that when recession strikes, such demands need to be carefully limited and justified.
This is the reason why, in such situations, the medium income demographic often buys luxury as an investment, such as jewelry, watches, statement bags, while reducing costly experiences.
What they really want is more returns for their money, and it is a great opportunity for brands to deal with the situation by going that extra mile for them, for example, communications and care from brands, personalized and well-crafted messages and so on.
Foreseeable higher spendings from China.
As the situation in China is settling down, consumers are starting to resume their shopping behaviors and actual spendings in the country might be even bigger than before, given the fact that traveling is still restricted.
What can luxury brands do to keep their brands high
Under the current circumstances, luxury brands are facing a lot of challenges as well as opportunities, that when approached properly, might help marketers strengthen their brands in the medium term.
Here are a few tips that would help optimize your strategies during the crisis:
1. Conduct in timely communications with all stakeholders
This pandemic is, first of all, a critical situation that affects your brand as well as all stakeholders such as investors, suppliers, employees and clients and so on; therefore a prerequisite is that is that this crisis needs to be a part of the corporate conversations.
It means that, for example, brand representatives should communicate the additional health measures they are taking, as well as the methods and tools with their employees and consumers and keep them safe.
In addition, messages that acknowledge the situation and show support for people that are going through the pandemic also help.
Brands like Burberry and Prada approached the situation by being transparent about how the coronavirus impacted their operations and keeping stakeholders updated on store closings, business hours and measures taken.
2. Involve in socially responsible activities
What can also be included in a good strategy is socially responsible activities. As mentioned above, a major shift in consumer behaviors during this crisis is that customers are now paying more attention to brands' social involvement.
By taking this action brands are able to create a tight bond with stakeholders and at the same time, make huge contributions to the society.
Luxury groups such as LVMH, Kering and Estée Lauder all decided to involve in the fight against COVID-19 by helping governments and health institutions, transforming existing product lines to product sanitizer, making donations, collaborating with state officials to help solve resource shortages and so on.
Another good example is the DvF charity sale held via live streaming, which raised over $25,000 for the A Dream Foundation to provide elementary schools with sterilizers and disinfectants.
3. Carry out necessary activities to maintain brand exposure, as consumers are in need
When the coronavirus first struck, certain brands froze their campaigns due to fear that ad spending might conflict with the overall sentiment.
"However, COVID-19 is characterized by a situation where increased time at home means expanded media time and heightened consumer attention. For brands looking to authentically connect with the consumer during this difficult time and offer a solution, this is the time to lean in.", said Ranjeet Laungan from Nielsen Media.
In a time when discovering content is one of the most common activities during quarantine, brands need to remain visible to their audiences and create a sense of normality by moving offline interactions online.
A good example of such a technique is how Dior live-streamed its runway show for the 2020 autumn/winter collection on Weibo.
4. Adjust your channels and go digital
Source: A simplified 3D visualization and configuration demonstration provided by luxury brand Lolo Chatenay and tech startup Hapticmedia.
Ready to use 3D configuration technology for higher conversion rates like Guerlain, Baume, Kenzo and more? Contact Hapticmedia to get a free quote!
As the coronavirus started impacting the luxury world, many brands were caught off-guard but some reacted quicker than others.
L'Oréal, for example, stopped all offline advertising as early as in February and directed budgets towards online channels, developing influencer campaigns that in the end managed to surpass the average sales of the brand.
Once exposed to digital content, consumers obtain a taste of convenience and excitement and get used to it.
This means that brands are given a chance to reinvent themselves, to generate engaging content and to offer a much better online experience with the help of new approaches, such as 3D and VR technology.
3D configuration technology especially is proven to be effective to create a better user experience for e-commerce customers. Companies who use it achieve 40 % higher conversion rates and average a 30 % sales increase when they replace 2D product displays with 3D ones. Essentially, integrating 3D configuration technology can result in a massive sales and profit increase for ecommerce businesses that sell products online.
Ready to use 3D configuration technology for higher conversion rates like Guerlain, Baume, Kenzo and more? Contact Hapticmedia to get a free quote!
Another case study of Guerlain in conjunction with experts from Hapticmedia. Now equipped with this technology, customers can pick a shade and customize lipsticks in a variety of colors and style in the best possible way that matches their unique needs. The customization page of Rouge G Range now enjoys twice the conversion rate compared to any other page in the whole website.
On the other hand, those who continued to use outdoor billboards, contextualized the content for this special occasion.
Internet technology company NetEase changed the copy of their campaigns as follows:
"Don't look at this ad anymore. This was originally our promotional advertisement from 2.23-2.29, but it has been temporarily replaced. Although everything is on the right track, we still recommend that you don't gather in public places and don't stop for too long in front of this ad. Stay home, take care and wait for spring."
5. Create direct-to-consumer excellency for better understanding and closer relationships
In this landscape marked by fast-paced technologies and digitization, direct-to-consumer (D2C / DTC) brands like I.Am.Gia, Glossier or Reformation are winning terrain and therefore established houses, too, are expected to follow the lead and add this component to their luxury marketing strategies.
This sort of strategy is more reliable and effective, as it does not rely on wholesalers and enables luxury marketers to talk directly with consumers and to coordinate every stage of decision making with user experiences so as to cover their needs.
6. Look for potential opportunities and be part of the solution.
The coronavirus period is a time of isolation, worries, uncertainty and distrust. In these difficult moments, consumers need convenience, comfort and solutions to their problems. Depending on purposes and contexts, brands are supposed to search for potential demands and respond.
A good example would be beauty brands creating skin care routines for issues caused by mask usage: an apparently simple yet effective strategy that consumers appreciated.
Use of technology in post-crisis luxury marketing
According to Gartner, 46% of retailers planned to deploy AR or VR solutions by 2020 to provide engaging, unified customer service experiences, that tell stories and convert; And 100 million consumers are expected to shop in Augmented Reality online and in-store by 2020.
The coronavirus outbreak is forcing brands to rethink channel strategy and address digitalization. Visionaries are already using advanced technologies such as 3D configurators, Virtual Reality and Augmented Reality tools, machine learning, chatbots and live streaming to cover consumers' demands for convenience and personalization. It is important marketers to lead this reformation.
According to Gartner, 40% of marketing executives report that personalization has a direct impact on maximizing sales, basket size and profits in direct-to-consumer channels, such as e-commerce, while another 37% point to increased sales and customer lifetime value through product or content recommendations. More than one-third of respondents have seen increases in their transaction frequency as a result of personalization strategies.
Contact Hapticmedia to get a technological boost to your sales
Here Hapticmedia is a leader in 3D configuration industry with over 10 years of experiences, combined with Augmented Reality technology we are able to offer a upgraded and engaging online shopping experience for your consumers, like what we did with Guerlain and Kenzo, enabling clients to config and personalize products on your e-commerce website.
Contact us and ask for an estimate of your tailor made 3D product configurator and see with your own eyes the true results it brings.
References
https://www.bain.com/insights/luxury-after-coronavirus/
https://www.linkedin.com/pulse/covid-19-recovery-scenarios-fashion-luxury-brands-javier-seara/
COVID 19 breifing material: Global health and crisis response by Mckinsey
https://www.worldometers.info/coronavirus/
https://www.nielsen.com/apac/en/insights/report/2020/the-impact-of-covid-19-on-media-consumption-across-north-asia/
https://www.voguebusiness.com/companies/communicating-under-covid-19-coronavirus-china-e-commerce-advertising-livestream
https://www.forbes.com/sites/louiscolumbus/2019/01/16/5-ways-visual-configurators-are-revolutionizing-cpq/#577d307b27df
https://hapticmedia.com/blog/luxury-trends/
https://www.forbes.com/sites/insights-treasuredata/2019/05/01/the-path-to-personalization/#7bd5b38c7a76
https://www.gartner.com/en/newsroom/press-releases/2019-04-01-gartner-says-100-million-consumers-will-shop-in-augme
https://www.businessinsider.fr/us/luxury-fashion-moguls-donating-to-combat-coronavirus-giorgio-armani-2020-3
Contact us
Contact Hapticmedia now to see our successful user cases and the visible improvement we have brought to our clients. You will be amazed.