Luxury 4.0: A new concept that is secretly reshaping luxury marketing
By Yahong Zhang |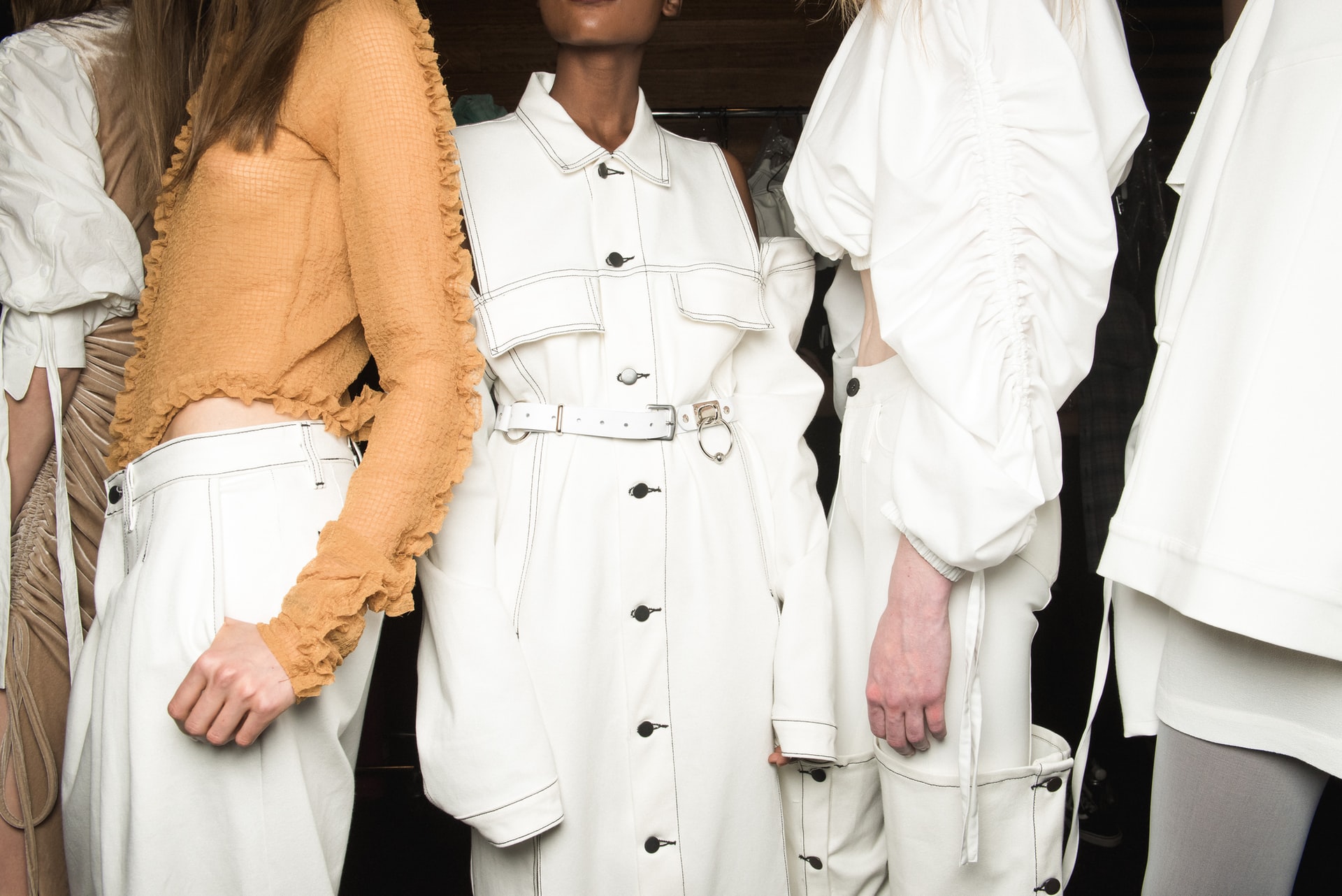 Let's start with Industry 4.0
Characterized by advanced technologies such as big data, smart factories, 3d technology, Artificial Intelligence, the internet of things, robots, advanced algorithms and machine learning, the 4th industrial revolution is happening as we speak and is triggering changes in industries and reshaping the way that companies manufacture products and the way that customers search for, engage with and shop for products.
The main driver of Industry 4.0 is the digitization and integration of vertical and horizontal value chains, of product and service offerings and of business models and customer access. Ultimately, Industry 4.0 will be fueled by the desire of companies to digitize as many components of their business as possible using breakthrough technologies.
As is anticipated, Industry 4.0 enables companies to digitize and automate their businesses, while reducing the involvement of human workers in actual production processes, thus increasing both productivity and profits.
In such a context, luxury marketers are expected to take their industries to the next level by ensuring that digitization becomes a source of smooth and personalized customer experiences.
A brief history that introduce us to Luxury 4.0
1950-2000: Era of Efficiency
It all started in the 1950s, when mass distribution was born in brick-and-mortar outlets using an inside-out approach. This period is known as the Era of Efficiency, characterized by an increased complexity in the customer retailer relationship.
For examples, the first shopping mall opened in Michigan in 1954; in 1958 Bank of America issued the first credit card; and in 1974 the first bar code was created.
2001-2018: Era of Experience
The Era of Experience is marked by digitization and real omnichannel experiences that capture and convert on a series of touchpoints.
For example, 72% of customers use mobile in store to look up price or product information and 90% of Alibaba's 'singles day' purchases were on mobile in 2017.
2019-present: The Era of Luxury 4.0
The Era of Luxury 4.0 is just starting out and we have yet to figure out what is exactly in store for us. We are, however, able to anticipate that it revolves around the consumers and their needs to create a strong bond with brands.
In fact, consumers are already getting emotional with brands and are demanding responsiveness, contextual awareness, personalization and empathy. They now describe the relationships with brands the same way they would with people, using words like "love", "happy" and "adore".
It is fair to say that tomorrow's customers will be interested in more than just products or services; Instead, they are to have strong demands to relate to brands and ensure that they have similar values and principles.
What exactly is Luxury 4.0?
Luxury 4.0 is primarily associated with the technological shifts of Industry 4.0, especially the disruption sparked by what is considered to be the most valuable resource we have nowadays: digitalization.
Big data and advanced analytics
On one hand, digitization enabling big data and advanced analytics allow brands to collect information from multiple touch points on market trends and consumers behavior in order to offer more precise and personalized services.
Flexible manufacturing and mass customization
A simplified 3D visualization demonstration provided by luxury brand Lolo Chatenay and tech startup Hapticmedia.
On the other hand, data make it possible for companies to connect each phase along the value chain and transfer information from downstream to upstream or vice versa. This enables flexible manufacturing and mass customization, which is now a great added value for luxury brands due to huge demands of customizing items and of course, feeling special, as they already want.
A fluid ecosystem
Last but not least, this fast and efficient information exchange and processing allows companies to create a fluid ecosystem within which each element is tightly connected and valued and new enterprise processes are successfully carried out, thus increasing the efficiency of the whole system through synergy.
To help brands carefully coordinate the elements of their ecosystems, Luxury 4.0 forces marketers to implement advanced technologies and develop IT capabilities.
Digitalization supported by the ecosystem takes consumer experiences to a next level
Coordinate each marketing channel for better branding
Online sales done through websites, apps, social media or other third parties are expected to reach 19% by 2025, which is about €74 billion, according to information from Euromonitor & Forrester.
If you are not realizing the importance of digital retail yet, look at another set of data: 70% of sales were influenced by online information in 2017. Moreover, two years later in 2019 100% of the Chinese luxury consumers confirmed they were influenced by both online and offline touchpoints, when making a purchase.
Isn't this amazing? Digitalization not only provides a new channel for distribution but also helps branding and shaping customer behaviors.
Online personalization enabled by mass customization
Apart from technologies that allow companies to customize recommended products based on browser history and user profiles, which is no longer news in the marketing world, what is now secretly shaping the luxury business is the ability to allow customers to interact and personalize products on line, supported by mass customization.
Reality is, 25-30% of shoppers showing high levels of interests in buying custom made products, making it a huge market according to Bain.
See also this report by the Consumer Barometer, led by KPMG and IFH Cologne, where approximately 500 consumers interested in personalized products were interviewed as a sample. Out of these interviewees, 43% expect to see more customization offers and 55% of experienced buyers are willing and importantly are able to pay a higher price for those items.
Results wise, it is paying off too. According to Forbes Insights, 40% of marketing executives report that personalization has a direct impact on maximizing sales, basket size and profits in direct-to-consumer channels, such as e-commerce, while another 37% point to increased sales and customer lifetime value through product or content recommendations. More than one-third of respondents have seen increases in their transaction frequency as a result of personalization strategies.
This is why brands are now implementing new technologies to allow customers to personalize products on their e-commerce platforms, which increases engagement as well as revenues. See this example of Guerlain in cooperation with Hapticmedia.
Ready to use 3D visualization and configuration technology for higher conversion rates like Guerlain, Baume, Kenzo and more? Contact Hapticmedia to get a free quote!
Reverse omnichannel: In-store marketing is having a tech boost to catch up with online channels
Physical stores are still important. In 2018, online giant Alibaba announced that it was allocating $1.3 billion to its brick-and-mortar strategy.
While figures show that less than one fifth of sales happen online, 90% of customers confess that they don't buy things in digital platforms because of high shipping fees or long delivery time.
What they do is choose BOPIS, buy-online-pick-up-in-store model that enables them to actually have an excellent in-store experience and interact with the salesforce.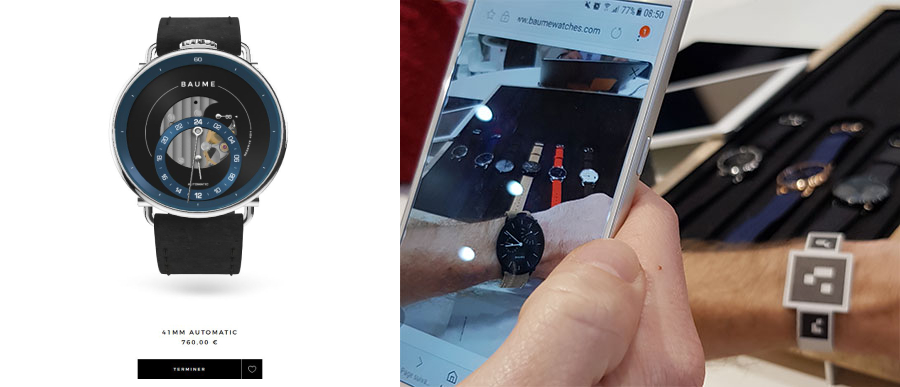 Source: Baume 3D watch configurator combined with Augmented Reality available both online and in physical stores, in cooperation with Hapticmedia.
Ready to use 3D configuration technology for higher conversion rates like Guerlain, Baume, Kenzo and more? Contact Hapticmedia to get a free quote!
Baume, the latest-born brand in the Richemont group, is bringing this new perspective to the watchmaking market. To showcase its highly customizable portfolio of high end products, we created a 3D configuration tool supported by 3D Visualization and Augmented Reality, to enable customers to create their own dream watch in 3D, choosing everything from straps, to hands, dials, casing, engraving from a total of over 2,000 possible combinations.
Moreover, after configuration consumers could also use NFC technology to visualize the design on their own wrists before placing the order. This, of course, is contributing to much higher conversion rates, as well as engagement and word-of-mouth.
Doug Stephens, also known as the Retail Prophet, supports the idea that the stores shouldn't be assessed in sales, as the main objective will be to immerse consumers in the brand narrative and expose them to brand messages and an aspirational lifestyle.
Burberry, too, is having great success in in-store marketing through its flagship store in London. The brand launched a digitally integrated showroom that allows customers to use RFID, Radio-Frequency Identification, to enjoy interactive content like videos of product details and manufacture. Moreover, the brand is able to offer personalized recommendations based on customer profiles built on previous try outs or purchases, using the same RFID tags with the shoppers' permissions. "Walking through the doors is just like walking into our website", declared Angela Ahrendts, CEO of Burberry.
Integrated marketing tools to achieve synergy in terms of sales
Again, according to the 2019 Holiday Survey of Consumers issued by Deloitte, subjects were expected to spend 59% of their holiday budgets online, while 70% of smartphone users said they would make a purchase from their device.
Digital tools such as direct-to-consumer platforms, social media and chat bots all serve as added value to the consumer experience and help creating a more seamless journey that is now fragmented in 15 touchpoints, more than half of which are digital, especially for Chinese demographics.
Clearly influenced by the behavioral patterns of Generation Z, consumers now have embraced the digital environment, using it for everything from gathering information to purchases and after-sales support and mixed it with the already established shopping channels.
This is why high-end brands that started off with direct-to-consumer approaches are now quickly developing brick-and-mortar stores. The non-toxic home essentials brand Parachute Home, for example, was launched in 2014 online. From its first days, Social media especially Instagram played a importance role in strategy, telling stories and promoting, but in 2016 the brand began to develop its first physical stores across the U.S., fueled by the desire to approach consumers on different touchpoints.
Conversational commerce brings not only responsiveness but personalization and uniqueness to online luxury business
According to Comm100's 2019 Live Chat Benchmark Report, the average wait time, how long a visitor waits until an agent joins the chat, is 48 seconds. If they are told to waiter long, they tend to quit the chat. This again proves that users have been accustomed to quicker and facile communication.
In addition, since chatbots rely on complex algorithms, they are faster at searching for information and at identifying the user's details, consumer patterns and are able to handle unlimited requests. Even more, an AI chatbot anticipates user behavior, which means that it knows when the consumer leaves your site, places an order or needs help. In this way, it is easier to place targeted marketing and improve efficiency.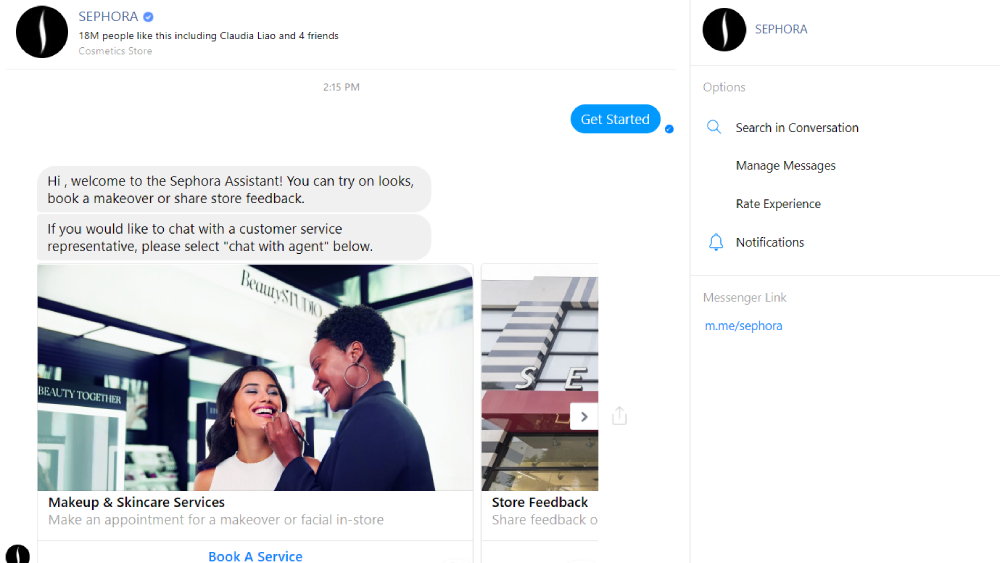 A chatbot offers real-time shopping assistance, just like customers receive in store. In a world where consumers have a multitude of options available at the push of a button, brand loyalty is extremely difficult to obtain and retain.
This particularly applies to the luxury industry, where companies compete on identifying themselves with a certain vision and style that need to be consistently expressed and bestowed upon their stakeholders and consumers.
Research results have revealed a rather affirmative attitude from consumers too. According to a research, 70% of millennials have had positive chatbot experiences, while 90% of businesses have registered faster complaint resolutions using bots. Over half of the companies prompted agreed that a chatbot delivers large ROI with minimal effort, while a similar percentage identifies artificial intelligence as a relevant tool for creating a "customer-first culture".
Even more, looking deeper into its potential and focusing on conversions, Hubspot reports that 47% of respondents to a survey declared themselves open to buying items using a chatbot.
Digital first brings better results in margin
In what marketing professionals are concerned, an Adobe study shows that 50% of client-side respondents were planning to increase the applications of customer experience related technology, and that digital-first companies were 64% more likely to have exceeded their 2018 business goals by a significant margin.
Advanced technologies like big data change the way enterprises function and communicate
Fast, precise anticipation and increased customer intimacy
It is in such a context that we may see how consumers are taking power and becoming the nucleus of luxury marketing. With digital tools, they are now able and motivated to participate in brand activities, sharing and even creating content, which shapes a customer-to-customer economy as consumers become more than mere bystanders and transform themselves into actual marketing channels.
In addition, using data analytics and contextual marketing, brands are creating intimacy and better anticipating customer desires — powerful ways to retain core customers and drive growth with new ones.
What will brands get exactly? According to Deloitte, consumers don't want surveillance or monitoring, as 35% of respondents refuse to let companies know their browsing history. What do they want brands to know, instead?
75% expect brands to know why they purchased the product
49% expect brands to know how long they've been a customer
52% expect brands to know how satisfied they are with the product
57% expect brands to know their customer service history
A best practices here could be Montblanc. In collaboration with RetailNext, the company uses video analytics to generate maps and see how customers spend time in retail stores, so that the brand can identify the best areas for product placement. This act helped Montblanc gain an extra 20% in sales.
Still, in a Luxury 4.0 model, consumers want brands to respect their privacy and respectfully use the information. This is why, according to Adobe, proactive companies pay great attention to data risk assessment and personalization without violating privacy seems to be a top challenge for 36% of agency professionals surveyed.
Role of mar-tech: how to adopt Luxury 4.0 to your advantage
Just like all of the industrial revolutions before it, industry 4.0 is going to dramatically increase the ability of mankind to create products, ship them around the world, and improve the customer experience. However, unlike other industrial revolutions, It is going to allow for high levels of automation, customization and productivity and efficiency that have never been seen before.
Thanks to the extensive amount of innovation that is currently happening in the world, the fields of biotechnology, energy storage, quantum computing, 3D technology, autonomous vehicles, nanotechnology, materials science and more should be advanced in dramatic and positive ways.
Through digitization, mass customization, flexible manufacturing, 3D configuration technology and Virtual Reality, companies are able to increase their profit margins and create better customer experiences, which is beneficial for customers as well.
Exactly what to do now: contact us to get a technological boost to your sales
Here at Hapticmedia, we encourage luxury brands to adapt to Luxury 4.0 just as big names are now adapting to Industry 4.0, as those able to do it well can capitalize on all of the exciting new technologies to their benefits. Contact us now like our clients Guerlain, Kenzo, Nestle and see with your own eyes the true results it brings.
References
https://www.pwc.ru/en/publications/industry-41.html
https://www2.deloitte.com/content/dam/insights/us/articles/6382_2019-holiday-survey/DEL_Holiday19_ConsumerSurveyFindings.pdf?nc=1
mckinsey-china-luxury-report-2019-how-young-chinese-consumers-are-reshaping-global-luxury
https://www.deloittedigital.com/us/en/blog-list/2019/driving-brand-loyalty-with-emotion.html
offerings-20190521-exploring-the-value-of-emotion-driven-engagement-2
https://www.adobe.com/content/dam/acom/uk/modal-offers/2019/DT-Report-2019/Econsultancy-2019-Digital-Trends_UK.pdf
Chinese-luxury-consumers-the-1-trillion-renminbi-opportunity
https://www.mckinsey.com/industries/retail/our-insights/luxury-in-the-age-of-digital-darwinism
https://www.bearingpoint.com/files/007-21-BNR-1_Retail4-0_moving-from-hard-power-to-soft-power.pdf?download=0&itemId=491495
https://altagamma.it/media/source/20170525_DLE%202017_Shareablepres_1.pdf
https://jingdaily.com/are-virtual-influencers-the-future-of-luxury-retail/
Contact us
Contact Hapticmedia now to see our successful user cases and the visible improvement we have brought to our clients. You will be amazed.