6 techniques that will make you an in-store marketing expert
By Yahong Zhang |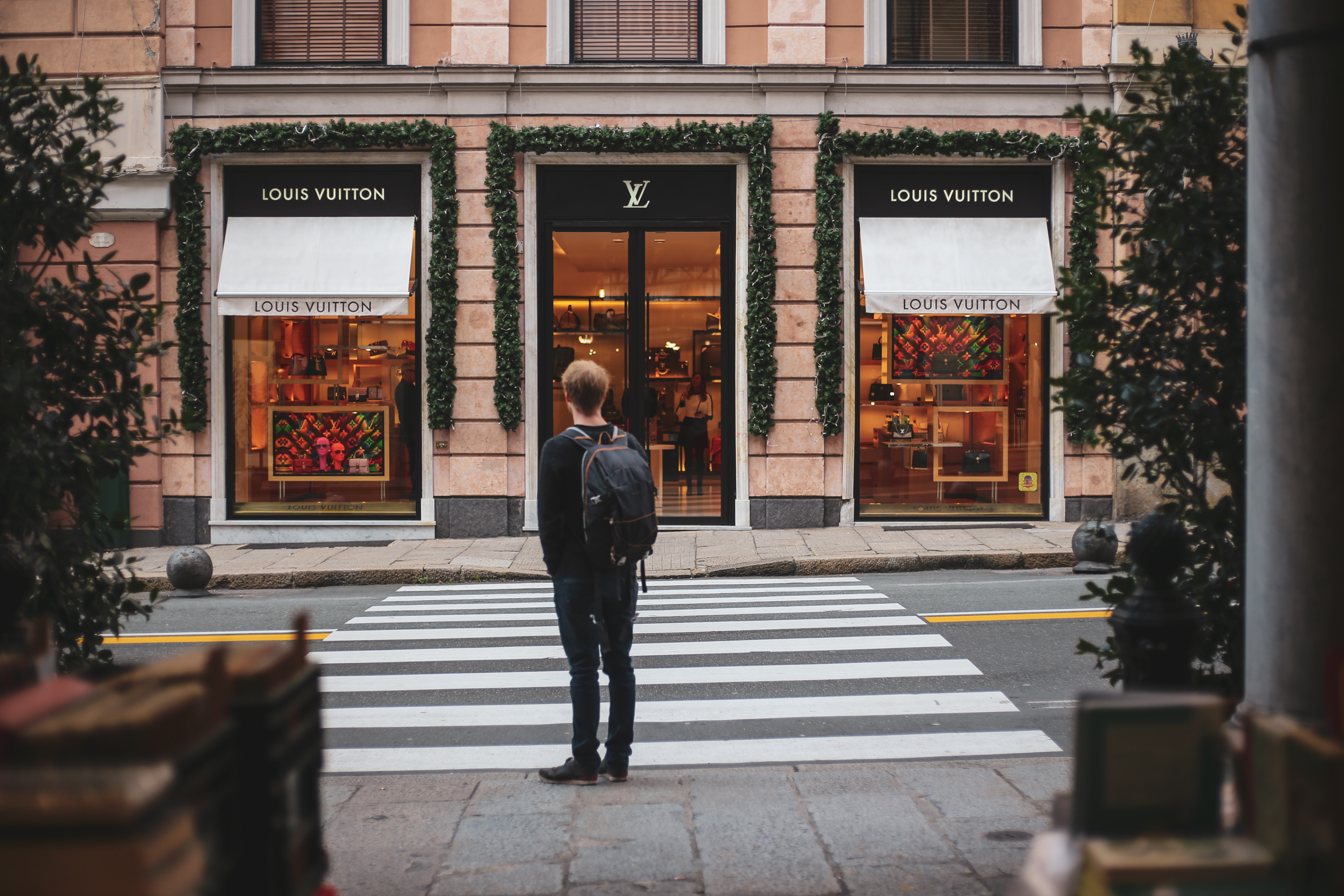 The in-store experience as the most influential factor of a luxury purchase
We have all heard about the importance of e-commerce in today's retail landscape due to the impacts of the digital generation. As seen in Deloitte's 2019 Consumer Survey Report, interviewees expresses expectations to spend 36% of their budget in store, compared to 59% online, while more than half, i.e. 54% said that they preferred online shopping experiences to offline.
However, in luxury marketing, this is hardly the case, as offline channels are still extremely important for the overall marketing and communication strategy of luxury brands.
Evidence in such a direction comes from no other than one of the world's fastest growing countries, in what technology and digitization are concerned. The McKinsey 2019 China Luxury Report shows that 9 out of 10 young Chinese consumers consider in-store experiences the most impactful element when making a purchase or discovering new items.
What does in-store marketing deal with?
In-store marketing is defined as the practice of promoting brands and products by addressing the consumer directly at the point of sale.
The purpose is to covert consumers by educating and convincing them to make a (potential) purchase, in an environment where all the necessary elements are prepared and displayed ideally to the seller's benefits, i.e. the inner decoration, the product display, the lighting, the scent and the presentation of the white-glove sales force, all of which play an important role in the final decision making by creating an inspiring image that showcase quality, heritage and authenticity and therefore shaping a desired customer perception.
This is especially more effective as compared to online shopping where the brand has no control over the atmosphere of the web visiter.
Consumers expect luxury brands to deliver on their promise of quality, individuality and exclusivity, making the buyer feel special. To be visible, educative and influential in a perfect environment with its audience, brands need a physical location.
It is now time to upgrade the in-store experience of your brand to the next level
A new player in the luxury market, the powerhouse Philipp Plein is deploying an aggressive strategy focused on opening stores after stores. His plan is synonymous with the "following the money" concept and, thus, being in the locations where the rich are.
Heritage houses such as Hermes, too, take it real slow to digitalize, in order to keep their image of uniqueness and exclusivity intact, making sure that consumers always crave their products.
Luxury marketers are certainly not giving up physical stores. If anything, they are revolutionizing in-store marketing as to ensure to make the most of such an emotionally driven environment even under the influence of digitalization.
Brands are now optimizing every technique and tool they own, trying to transform each square meter of the store into a foundation of an excellent and memorable customer experience.
And this can only be done through well strategized and carefully implemented in-store marketing.
6 techniques that will make you an in-store marketing expert
Retailtainment: Use of ambience, emotion, sound, and activity to create a mood to buy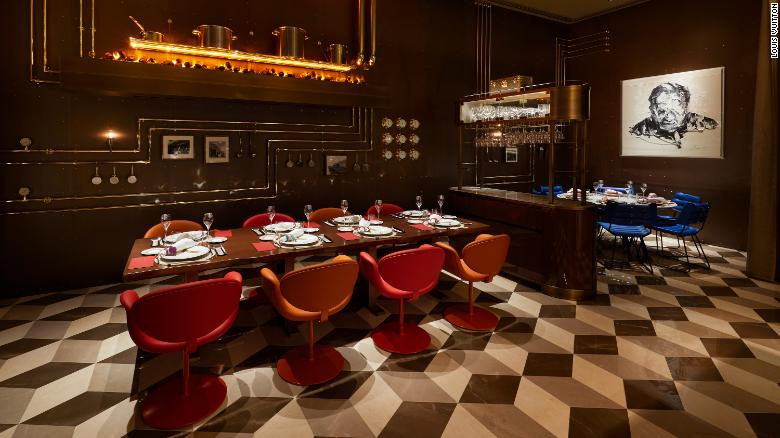 Source: The new Louis Vuitton Maison Osaka Midosuji store opened on January 31, 2020 in Osaka, Japan, with a restaurant and cafe.
Retailtainment is a term coined by author and sociologist George Ritzer, which describes it as "use of ambience, emotion, sound, and activity to get customers interested in the merchandise and in a mood to buy".
The fact is that stores nowadays are owned brand channels that, in order to remain competitive, need to capture and captivate consumers. The longer they stay in the shop, the longer they are exposed to brand messages.
This is why every detail is important. From the design, to the music, from the scent, to the uniforms and tones of customer representatives, all are elements of in-store marketing that should be in line with the brand's desired customer perception, its values and overall image.
The objective is to create a seamless experience which consumers enjoy and which makes them return, even when they cannot put their finger exactly on what is it that attracts them.
Audiovisual equipment has become mandatory for most stores which want to position themselves as innovative and modern, as large displays, video walls, touch screens, digital signage are now the norm in in-store marketing.
Still, things do not stop here: singing choirs, the Lafayette Christmas tree, the manufacturer that creates Hermes bags right in the shop, showcasing the handmade technique etc. These are all elements of a well executed retailtainment strategy.
Things have escalated to such an extent in what in-store marketing is concerned that brands have turned their stores into destination points. To the delight of its customers, Apple's Milan shop features a glass fountain and 14 Gleditsia Sunburst trees, while the Louis Vuitton store in Osaka includes a high-end cafe and a restaurant which celebrates the city's heritage.
Make most of the media value for stores to promote new customer acquisitions
![6 techniques that will make you an in-store marketing expert 3](/uploads/vivatech-baume-watch-augmented-reality-027bb3abd2378bf3c438a5c608a644bb (1).jpg)
Source: Luxury brand Baume blends physical and digital interfaces in stores.
Nowadays, you cannot talk about stores the same way you did 20 years ago, as a physical outlet that converts needs to do more than just sell products. In-store marketing is now focused on providing diverse, complex opportunities to loyalize customers, offer them information and enable them to interact with products.
There is an insight to be considered here: marketers and retail professionals know that physical stores are also accountable for online sales, as many consumers try products offline and buy them on the website. Moreover, they also know that digital advertising is expensive, as the cost per click / impression is an important part of their digital budgets.
In a piece written for Business of Fashion, Doug Stephens, also known as the Retail Prophet, states that physical stores shouldn't only be evaluated according to how much they sell, but according to their media value and in relation to new customer acquisitions.
When the in-store marketing strategy is a carefully crafted one, which connects consumers to the brand and immerses them in a narrative, be that a way to showcase its history and heritage, or information on manufacturing etc., the brick-and-mortar location becomes a powerful, memorable channel, that drives word-of-mouth, impressions and stirs interest.
If you are looking for ways to do so, consider everything from video content creation where you can stream influencer videos that recommend and use your products, to driving VR and AR experiences.
As with all media content, this in-store marketing tool requires a clear strategy that follows a red line, starting from the premise and objectives and ending with the KPIs.
Diversify brand stories by launching innovative sales and advertising practices in stores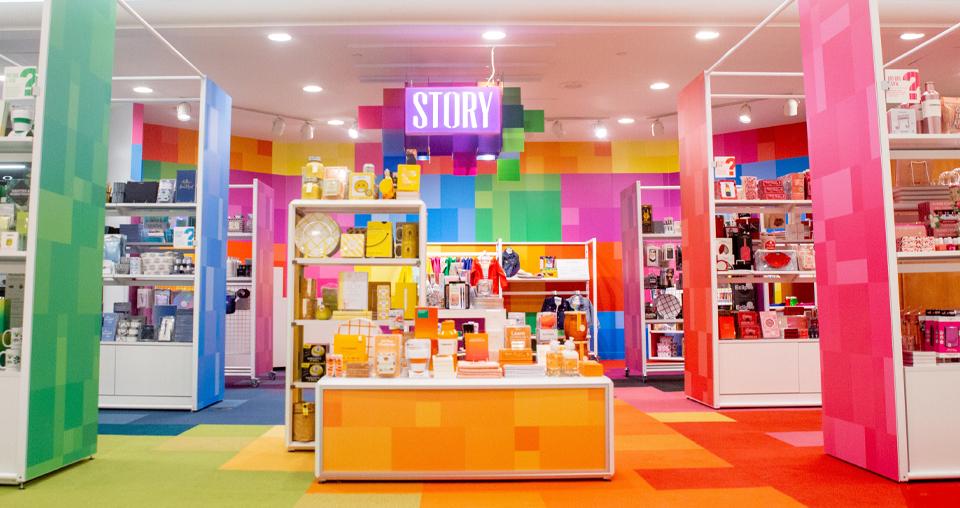 Source: STORY at Macy's, a narrative retail experience launched in 36 stores
In a world which is so dynamic and diverse, it is disappointing for consumers to relive the same retail experience over and over again. This is why, with each new window display, new collection or major product launch, brands need to adjust and tell different stories, that are part of the in-store marketing strategy.
American brand Macy's, for example, found a very interesting way of always bringing new content to life and developed STORY, a concept that enables the brand to launch different themes and invite local small businesses to participate, by sharing and showcasing their dynamic merchandise.
Adopt new technology to offer a personalized customer relationship
Nowadays, as part of in-store marketing strategies, digital technology collects and uses consumer data, to contribute to the development of personalized solutions.
Beacons placed at store entrances connect to customers' phones, to ethically collect data, such as name, email, birthday, location, city, brand affinities, social network influence, and demographics, as well as to send offers, deals and coupons, under the form of push notifications.
RFID tags help consumers identify objects and get information regarding price, collection, available sizes and colors, composition, manufacturing process etc. When used in combination with other technologies, such as magnetic stripes, smart cards etc., they allow automatic identification and data capture, enabling the use of alternative checkout processes and creating, for example, cashierless stores.
In such an environment, where in-store marketing uses deeply technologized solutions, some would say that traditional human customer relations are no longer needed, but the truth is quite the opposite. People bring added value to the shopping experience and help drive emotion and loyalty towards brands.
The only thing that needs to be done is to ensure that employees have their clear roles, where they may bring added value and that customer representatives are trained to behave in accordance with the brand's personality and values, as well as its in-store marketing strategy.
Engaging each and every consumer by providing customization services in stores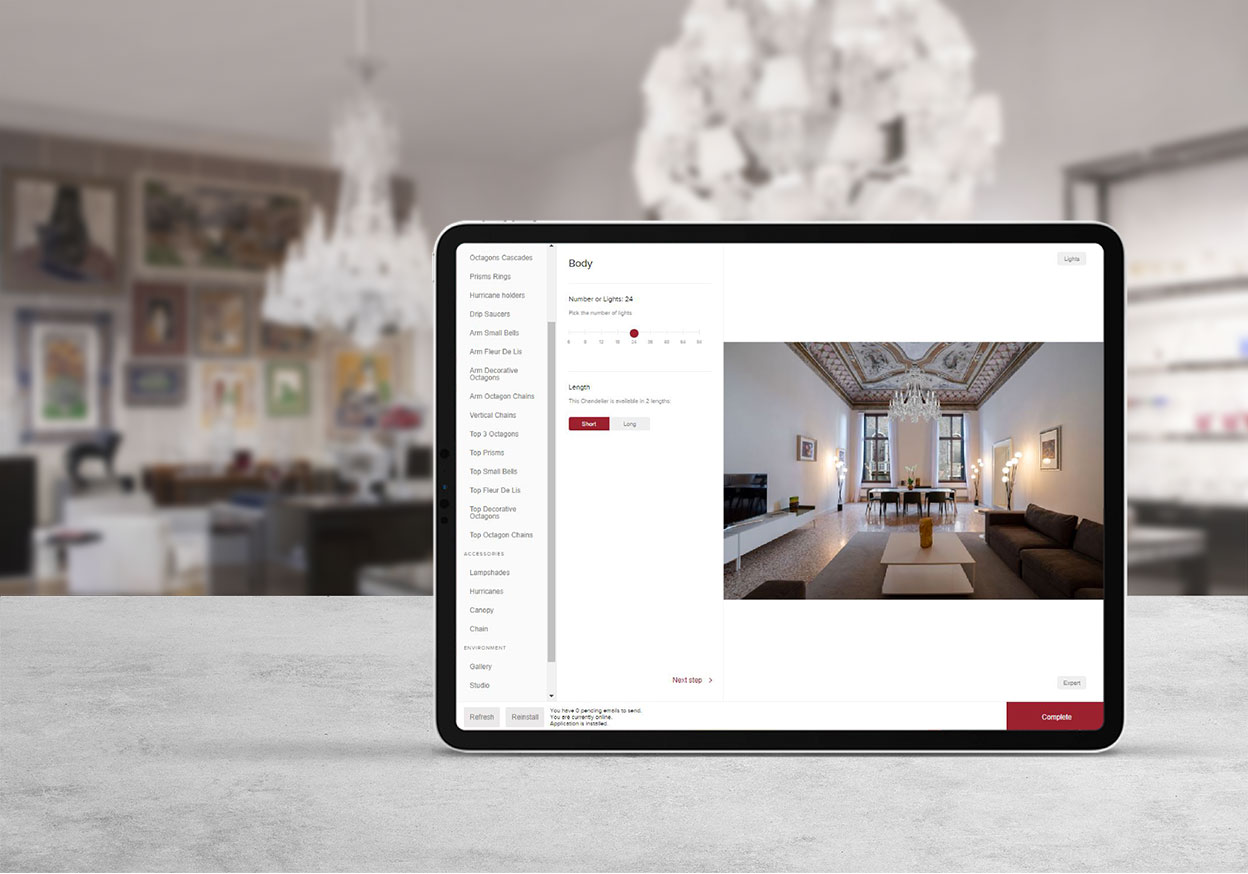 Source: In Baccarat stores, the brand enables customers to use a 3D configurator to design their own signature chandeliers and have a real time 3d view of the final result
As showcased in a recent article, product customization has become extremely valuable for customers, who expect brands to help them express their sense of style, while also sharing with them their attributes and values.
Shoppers nowadays want the exclusivity of a Louis Vuitton bag, for example, while also feeling like they need to leave their mark on it, and contribute to the creation process.
These are some of the reasons why the 3D lipstick configurator we developed for Guerlain managed to double conversions, driving both traffic and record sales.
To benefit from this consumer behavior, brands have made customization part of their in-store marketing and transformed stores into customization shops.
An excellent example of such a practice is the Baccarat, a French manufacturer of fine crystal glassware. In Baccarat stores, the brand enables customers to use a 3D configurator to design their own signature chandeliers and have a real time 3d view of the final result, taking into account the dimensions and space they have available, as well as the look they want to create. These features, as well as the overall in-store experience have proven extremely successful with customers, designers and architects.
Another great example is the Levi's tailor shop where denim fans may personalize their Levi's pieces on the spot. To see references or get an idea of how their products will look, guests may use the available iPads and create the model that represents them best.
Create a dedicated space to educate potential consumers about the brand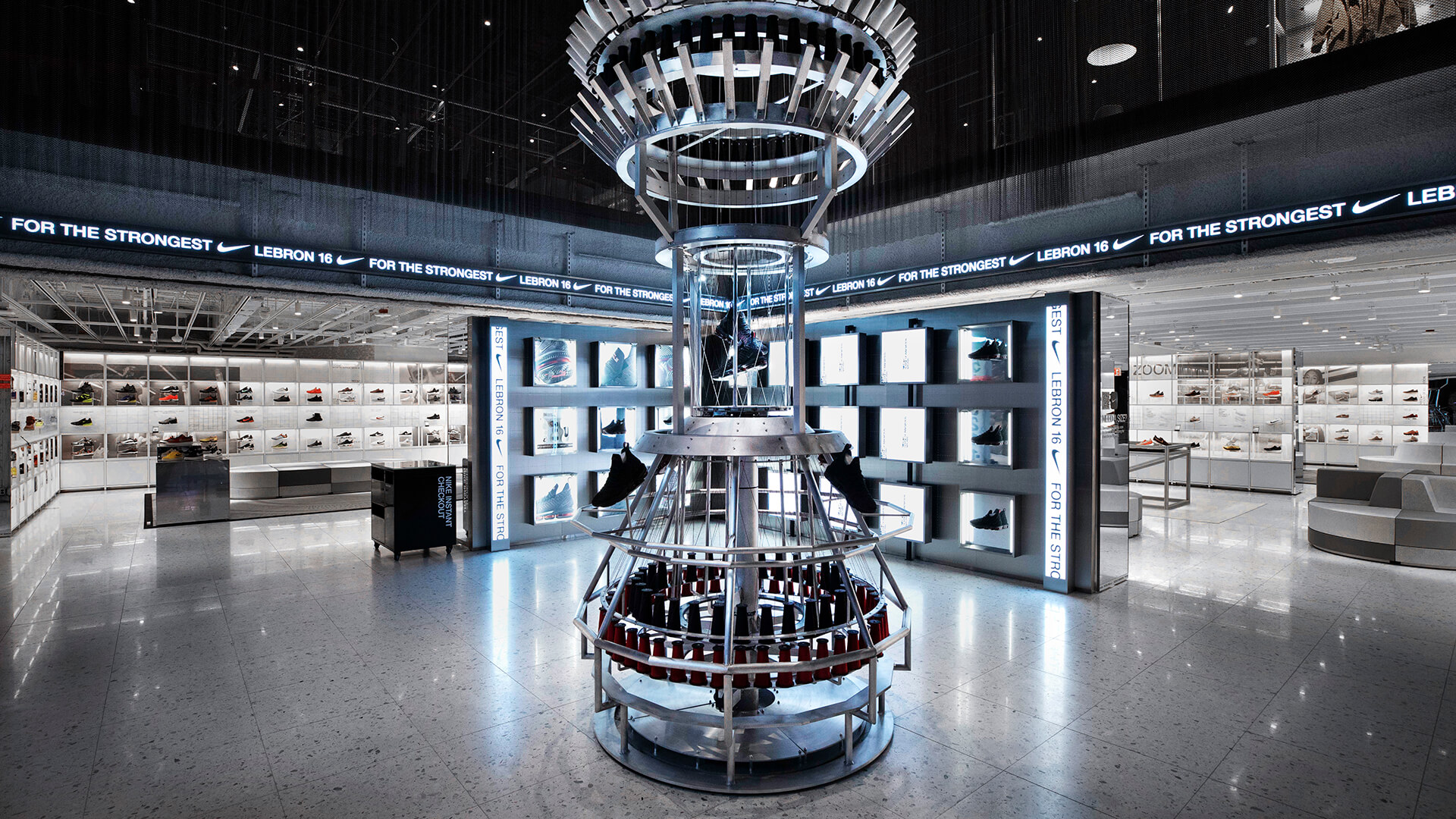 Source: Nike Sneaker lab in House of Innovation 000
One of the most important benefits of brick-and-mortar retail shops is that they enable people to feel and try products before they buy them. This is, actually, why 55% of consumers confess to visiting retail stores before buying online.
There are many people who want to try shoes and clothing before buying them, or see how jewelry looks and feels on them. It is quite understandable and it should be considered when developing in-store marketing strategies.
Taking advantage of this insight, retailers like Nike have developed complex spaces, where customers may try on products and engage in sporting activities. In Miami, for example, the Nike+ Basketball Trial Zone enables sports lovers to try their Nikes while shooting hoops, while other similar stores offer treadmills and football floors as part of their fun, brand-immersive experience.
In NYC flagship store, Nike lanched the House of Innovation 000, where even more, customization is a key feature of the shop, as the Nike Sneaker Bar allows customers to create their very own sneakers, making use of techniques like dip-dyeing, footwear printing, embroidery, footwear patches, lasering as well as enjoying the benefits of a full accessory bar of laces, zippers and tongue tags.
"This store is more than a store for us. It's a connection and immersion into the brand and a way to serve members," declared Heidi O'Neill, as president of Nike Direct, referring to their in-store marketing strategy, upon the store's launch, in 2018.
Conclusions
For the past decade, there have been intense discussions about e-commerce versus brick-and-mortar retail stores, but we, at Hapticmedia, believe strongly in an integrated perspective that brings the two together. From our perspective, there is no "versus", as digital and in-store marketing should be brought together, to deliver complex, memorable experiences that focus on the consumers, their needs and expectations.
As the uses of Augmented Reality, Virtual Reality and Artificial Intelligence are increasing, brands should use everything they have available to create immersive experiences which drive attachment, loyalty, word-of-mouth and, implicitly, sales, without forgetting that, while many of our tools are mainly digital, the actions that stir up emotions and user-generated content happen offline.
Contact us
Contact Hapticmedia now to see our successful user cases and the visible improvement we have brought to our clients. You will be amazed.