Customization: 7 Tips From Industry Experts
By Yahong Zhang |
A simple introduction to customization
Customization is defined as the act of modifying the supply chain to deliver goods and services which are adapted to satisfy a specific customer's needs.
As the world's largest supplier[1] of athletic shoes and apparel, Nike already had a worldwide reach, yet unfortunately they were losing touch with the end consumers.[2] That's when they found out that something needed to be done to optimize the direct-to-customer (DTC) sales channel.
To be precise, they were in demand of a platform, a process, or a new strategy, i.e. customization, to sell personalized shoes directly to the end consumer, considering the fact this focus would eliminate the intermediary and drive more revenue for the company[3].
With such a vision in mind, Nike launched a new online service channel called NIKEiD and this approach has generated over 22% of the company's total revenues since.
By leveraging on personalization, Nike is able to increase prices selling its shoes at $170 per pair and has successfully transformed its revenue focus[4].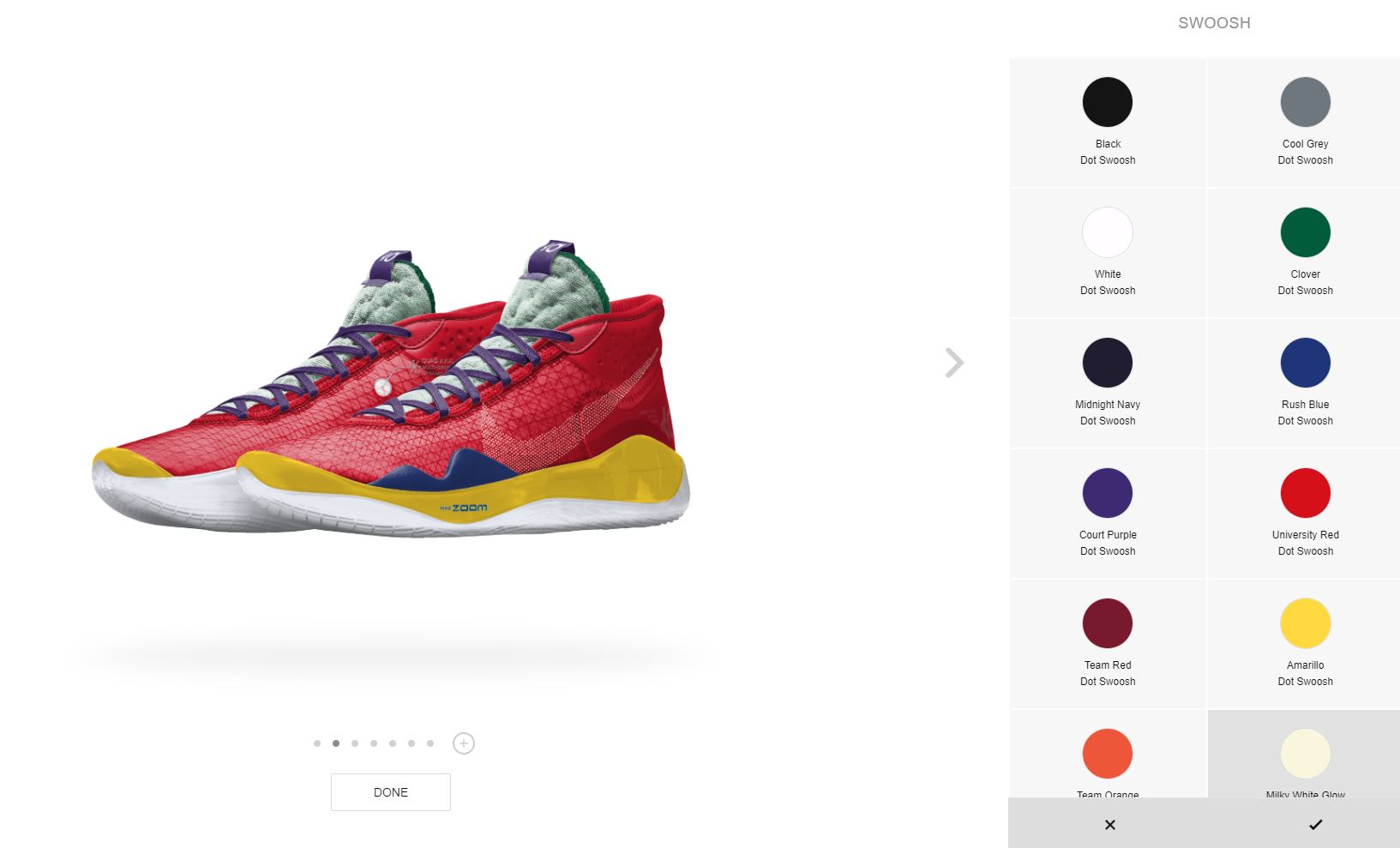 Source: NIKEiD official website
How is it helpful for entrepreneurs?
1. Drive to payment
Today, one in every three consumers expects customized products[5][6]. It is proven to be the most efficient way to satisfy their needs[7].
Research also shows that when users interact, design, and customize products online, they are far more likely to move forward to payment**[8]**.
Another example, the company DODOcase offers customers the option to handcraft IPad leather cases at a premium price. This strategy helped the brand generate over a million-dollar as revenue[9].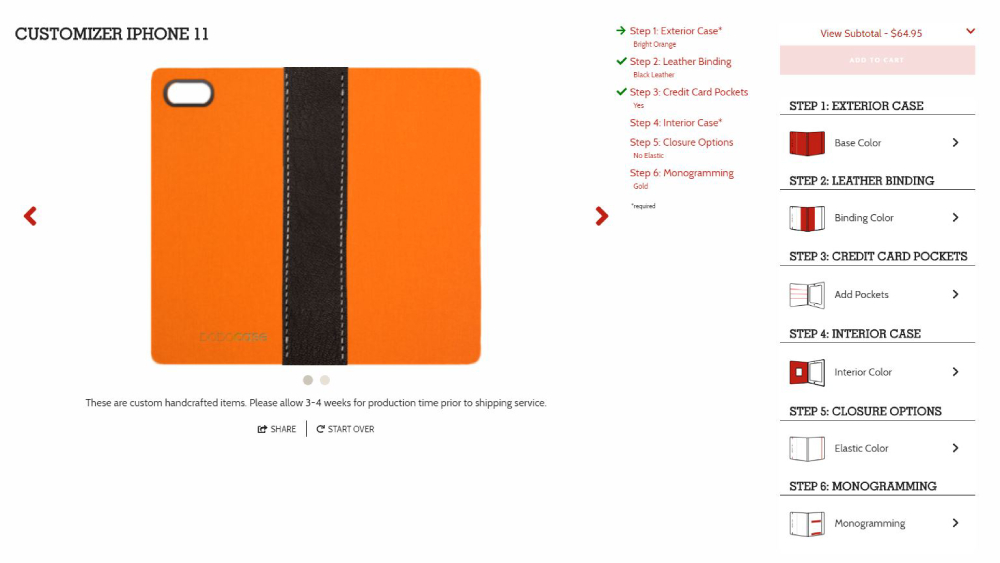 Source: DODOcase official website
2. Opportunity to charge more
In addition, product customization presents a consumer friendly way to charge more. Buyers are willing to pay about 20 percent more than usual for personalized products**[10]**.
3. Increased customer retention rates
Giving customers a new approach to get precisely what they want, creates the gift appeal which automatically satisfies their needs**[12]**. This exceptional experience helps brands connect with customers on a high level that boosts brand loyalty.
4. A better way to understand customers
By offering such a service, companies are able to learn more about their customer's preferences from individualized choices. Those first handed information can be further investigated by product development team as a part of consumer feedback.
5. Bigger brand awareness
Product customization can also aid brands to build a loyal audience and drive higher ROI**[15]**, with help of a stronger online presence and connection with customers. Like NIKEiD, it presents a unique way to meet the needs of the end consumers and shortens the retail line[16].
However, there are still some challenges regarding customized products. Therefore it is essential to understand the twists, tricks, and problems that might influence the future of a personalized product model.
7 Tips About Customization From Industry Experts
1. Start small with exclusive offerings
Never rush into a new concept without testing. We need to stay sharp minded and have a big picture in mind no matter how effective an idea sounds or how many success stories we heard [17].
Start with a sample group and gradually build up acceptance amongst customers. Going all in, may not only overwhelms consumers but also results in wasteful expenditures.
One suggestion is to begin by offering customizable options as gifts or add-on features to a few selected loyal customers.
Starting small and simple is the best way to understand how the business will be able to leverage the powers of product customization.
2. Find products that would scale perfectly
Not all products work well with such a strategy. Testing within the current product portfolio is an excellent start[18]. If not possible evaluate whether there is a need for a new production line or a fresh way to leverage existing resources.
Also be aware of the potential costs generated too. In this case, look for options that either can be customized without adversely affecting the costs or have the possibility to increase prices or volumes.
3. Analyze technological opportunities to improve the process for clients
Technical solutions can sometimes present new ways for desired results. Be ready to think outside the box and seek chances to personalize without changing the core features.
Guerlain equips their icon Rouge G lipsticks with a customization offering enabled by 3d configuration technology. With a 3D 360- degree viewer, customers can choose amongst 500 combinations and see results real-time. The brand figured out that this is the best possible way to match clients' unique needs.
4. Limit options; focus on the experience
The key success factor of personalization is the experience that the brand creates. It is about providing a highly personalized, engaging and therefore memorable journey to the customer. During this process, clients naturally improves understanding about the brand and feel as though they have a say in the creation of such a pleasant piece of work.
Limiting the quantity while pushing forward the quality not only helps make the experience smoother, especially for clients lacking certain expertise, but also allows the brand to emphasize icon products and their selling points, which usually account for a comparatively larger proportion of revenues while avoiding unnecessary production costs.
Earlier this year, Nissan adjusted their strategy by limiting the number of options available to the client, cutting off from the plan certain models with less demands[20] so to improve the overall profitability of this personalization service.
5. Use a customer-driven design strategy
Apart from the instructions and examples offered by the brand, clients might need extra resources to help successfully customize a product due to lack of expertise or time.
A platform that allow users to share their cases not only solves this problem but also helps to improve customer engagement and enhance brand presence.
For example, North Face launched a gallery of creative designs for a jacket made by a customer to serve as inspirations for others [21]. In this way they were able to educate clients on the finished products and help them make informed decisions.
6. Use variability with caution
Since clients sometimes have no idea what works for them even when the customized product is presented with complete information, returns or dissatisfaction still remain in the mix. Therefore, it is not a foolproof system to avoid situations like this.
A common practice now is to add a "no return policy" for personalized items. Nevertheless, such a strict policy might scare customers away.
Surmesur, a custom menswear brand solves the problem by encouraging customers to schedule with an online style consultant to make sure that their purchases are well done[22].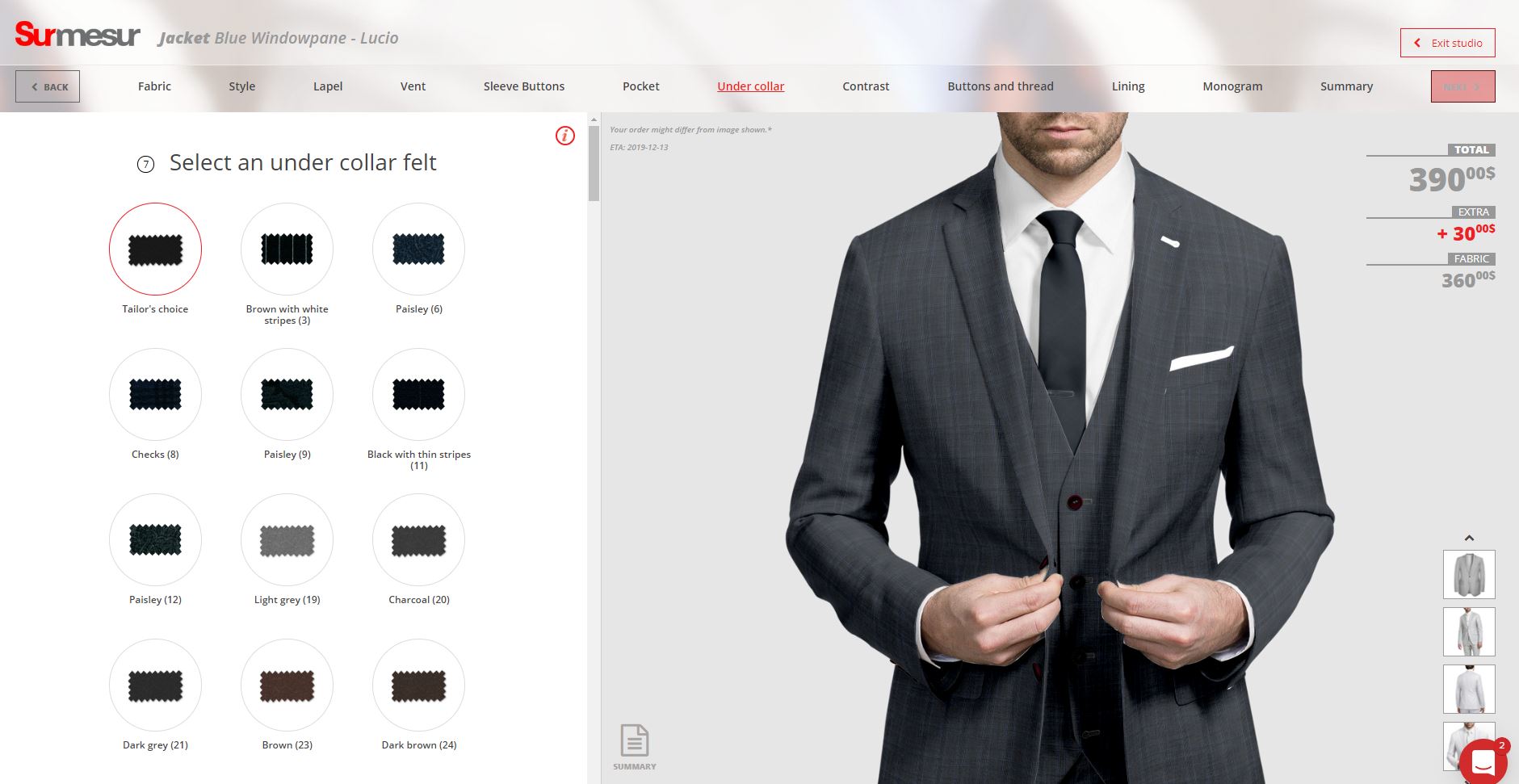 Source: Surmesur official website
7. Go beyond the website
Brands can benefit from synergy too through creating an omni- channel strategy. Apart from e-commerce platforms, we can also offer similar services to clients in physical stores, through telephones or emails and in social media.
Conclusion
Product customization is a highly valuable tool that can easily transform the revenue generation model of business. It improves greatly profitability and consumer satisfaction and is able to position the brand in a more high end market.
---
[1] https://www.reuters.com/article/nike-idUSN2526447020080625
[2] https://jingdaily.com/3-reasons-why-nike-ids-customizable-sneakers-are-more-crucial-than-ever/
[3] https://www.forbes.com/sites/greatspeculations/2015/07/09/how-nikeid-is-helping-nikes-push-for-greater-profits/#22e661424e65
[4] https://www.nike.com/us/en_us/c/nikeid
[5] https://www.bluleadz.com/blog/the-power-of-customization-giving-the-customer-exactly-what-they-want
[6] https://www2.deloitte.com/content/dam/Deloitte/ch/Documents/consumer-business/ch-en-consumer-business-made-to-order-consumer-review.pdf
[7] https://www.bluleadz.com/blog/the-power-of-customization-giving-the-customer-exactly-what-they-want
[8] http://blog.doogma.com/product-customization-for-your-business/
[9] https://productimize.com/blog/best-product-customization-examples/
[10] https://www2.deloitte.com/content/dam/Deloitte/ch/Documents/consumer-business/ch-en-consumer-business-made-to-order-consumer-review.pdf
[12] http://blog.doogma.com/product-customization-for-your-business/
[13] https://www.formulaboats.com/build/#/Crossover%20Bowrider/350%20Crossover%20Bowrider
[15] https://www.productsdesigner.com/blog/product-customization-software-ecommerce/
[16] http://blog.doogma.com/product-customization-for-your-business/
[17] https://www.strategyzer.com/blog/testing-before-building-is-the-key-to-success
[18] https://www.manufacturingtomorrow.com/article/2016/05/biggest-challenges-of-mass-customization-and-tips-for-addressing-these-challenges-/8017
[20] https://nnunion.net/nissan-had-adopted-a-simplified-product-line-strategy-in-comparison-for-its-rivals/
[21] https://www.infinitiresearch.com/thoughts/succeed-mass-customization
[22] https://www.forbes.com/sites/michellegreenwald/2014/10/08/infinite-customization-12-category-examples-6-key-questions-to-ask/#134df0864b1f
---
Contact us
Contact Hapticmedia now to see our successful user cases and the visible improvement we have brought to our clients. You will be amazed.