Why Customer Perception Matters and How to Improve it?
By Yahong Zhang |
What is customer perception?
In a highly competitive world, where differentiating your product or service through objective, functional attributes is becoming increasingly difficult, marketers are focusing their efforts on customer perception, a topic of high interest that stands behind some of the greatest marcom campaigns of the past years, in all industries, both B2B and B2C.
If you are looking for the customer perception definition, you will find several, all stating more or less the same thing. Customer perception encompasses the way consumers select, organize and interpret both information and stimuli related to a brand, its products and services, which, in turn, determines what they think and how they feel about them.
Why is customer perception important?
1. Yes, customer perception is important to any brand because it affects everything.
As a matter of fact, a SurveyMonkey report shows that 58% more people pay attention to a brand's message, if they have been trusting it for a long time.
Customer perception plays an important role, from understanding the customers to communications and advertising, their buying decisions, their loyalty, the extent to which they recommend a brand and, even more, their advocacy efforts.
A Deloitte study research, published in May 2019, mentioned that repetitive customers refer to brands with which they have a buying history the same way they would their friends and family, using words like "love", "adore", "happy".
Companies like Apple, Guerlain, Kenzo and many more have, thus, become more than mere suppliers of lifestyle products and garments, as consumers have started to offer them human attributes and see them as partners, friends, helpers, curators etc.
2. Customer perception enriches the brand value and brings more possibilities for business
In this process, as consumer perception developed on several levels, their emotional expectations grew, as well, leading to a point where we rely on brands to develop fun, engaging customer experiences, to create and deliver content, to come up with new technologies that make our lives better and even get involved in social matters and in shaping our environments.
According to the 2019 Edelman Trust Barometer Special Report, 67% of respondents from 8 markets globally agree with the statement "A good reputation may get me to try a product, but I will soon stop buying it unless I manage to trust the company behind the product,", while only 1 of 3 people can actually say that they really trust the brand they buy.
So, if we come back to the customer perception definition, we agree that trust is an important element of how people assess brands, even more so if we take into account that it has a great deal of influence, i.e. 31%- 37% in the decision-making process of big purchases, as reported by SurveyMonkey.
3. The majority of business opportunities is generated from customer experience
A simplied 3d product configurator demo adopetd by luxury brand Lolo Chatenay to offer an unique and personalized customer experience for clients.
Ready to use 3D configuration technology for higher conversion rates like Guerlain, Baume, Kenzo and more? Contact Hapticmedia to get a free quote!
Knowing that brand loyalty has become one of the most valuable assets a company may own, marketers invest more and more in offering customers emotional benefits and building a good consumer perception through positive shopping experiences.
Actually, most of business opportunities are generated through offline and online customer experience.
Adobe in association with Econsultancy has recently revealed in the 2019 Digital Trends that B2B companies generate the most of their business opportunities from optimizing customer experience. This variable came first above all other important elements such as content marketing, social media, video, data driven marketing and so on.
Further, statistics show 86% of buyers are willing to pay more for a great customer experience, with a price premium of up to 13% to 18%, thus perceiving such brands as the fines.
Think about it, we buy because placing the order is easy, because the app or website runs smoothly, because the sales rep is nice, welcoming and helpful etc. Buying is becoming less about the products themselves and more about the added value we receive in the process.
4. In the luxury sector, consumers are committed to the brand instead of the price or usability.
We have observed that in the luxury industry, consumers do not stay loyal to the price or the function of a brand. Rather, they are committed to the brand itself, which provides them with a unique and exclusive luxury experience.
In this case it is more logical and efficient for such brands to work on improving the brand perception instead of being involved in price competition or value-added features on the product.
5. Costs to find a substitute are reduced greatly
Nowadays, no matter their budgets and criteria, consumers have more options than ever before. Advancement in technology makes it easier for goods and services to be found and at the same time, reduces greatly the costs to switch from one brand to another with minimum efforts and costs, as soon as the customer is unsatisfied or has a negative perception.
What influences consumer perception?
1. Presentation of the brand and weirdly, its clientele
Presentation of a brand, ranging from the logo, UI, packaging to the lighting of physical stores creates an initial image for potential customers. This is the reason why companies invest heavily on the design and as a consequence the appearance of its company and services, considering that those visuals impact greatly consumer perception.
Demographics of clients using products of certain brands impact the consumer perceptions of those brands too. This is particularly true for the luxury business, as consumers of this industry link tightly the brand image to their own identity; Therefore buyers very much help convey the brand message in this case. This explains why high luxury brands are so selective on their customers.
2. Customer experiences: interaction with the brand before/ during/ after the purchase
This is perhaps the most important factor that influences customer perception.
The days when consumers were looking for products and services are long gone. Now everyone is in search of a consistent, remarkable experience, that is worth reliving and sharing on social networks.
It's not just about those sneakers, that lipstick or the watch, it's about the interaction each of us has with brands across different channels.
From a futuristic website which responds to the customer's desires, to delivering target content which enhances that experience or to the in-store media and personalized services, everything needs to be carefully crafted for your public, in order to create a customer perception from which you may benefit.
3. Partnerships, influencers, social media and online communities enabling customer reviews
Nowadays, brands are not responsible just for themselves and their actions, as they are often held accountable for what their collaborators and employees do. When it comes to consumer perception, the way your company's partners and influencers behave, their values and statements, as well as their socio-political views reflect on everything you do.
This is why intense research and strict guidelines should be applied to ensure that the people with whom you work share your values and respect your customers' cultural, social and political views.
4. Marketing and commercial activities
Marketing and commercial activities are meant to attract, engage and motivate consumers in brand sponsored interaction and experiences that will drive actions from them.
Also known as "brand activations", these tactics have a place in different points of the consumer's journey, from discovering the product, to building positive customer perception, as well as to encouraging recommendations.
Ways to influence consumer perception for your brand
So, we have answered the question "what is customer perception and why is it important", we have discussed the elements of customer perception, now let's see what we can actually do to influence it and differentiate our brands.
1. Always strive for consistency
A key element of the customer perception definition is that it reflects what consumers think and how they feel about your products and services. But what happens if different channels put out contradictory or unconnected messages?
Lack of consistency affects your brand's consumer perception, canceling your marketing efforts or even doing harm to your overall image.
This is why it is vital to strive for consistency and to ensure that you have an integrated marketing strategy, implemented across all channels.
From the first brand interaction, to the after-purchase tactics, your consumer's journey must be a smooth, pleasant one, built on the same values, principles and on complementary messages.
2. Build friendships and create emotional bonds with consumers
It's no news that most of the decisions we make on a daily basis are due to emotional triggers.
Actually, as the Deloitte research study shows, in order to recommend a product or brand, people need more than mere company values and CSR promises, they need a strong, reliable emotional connection that helps shape their customer perception.
And this of course pays off as HubSpot reveals that consumers that have an emotional bond with the brand have 306% higher lifetime value and a 71% chance of recommending a company, compared to the average rate of 45%.
With these in mind a question arises: in a world so digitized, what kind of emotional bonds do customers expect?
According to the same report by Deloitte, consumers are now looking for brands that are willing to be their friends and want these relationships to be based on responsiveness, a good understanding of their socio-cultural and political contexts, empathy, a high degree of personalization and bidirectional communications.
Consumers expect their favorite companies to know which of their products and services they use, with what frequencies and utilize all these to serve them personalized information and experiences.
As with all friends, consumers want brands to relate to their feelings, pay attention to their feedback, listen and reply. It is only when these are accomplished, that brands may benefit from positive consumer perception.
Since there is no room for delay, "who likes a friend which replies to your texts after a week?", marketers have started using for example, AI chatbots as a tool to improve services.
Brands like Sephora, H&M, Burberry, Tommy Hilfiger and other big online retailers rely on these technological helpers to answer questions and provide information about orders, deliveries, payments and help them shape their customer perception.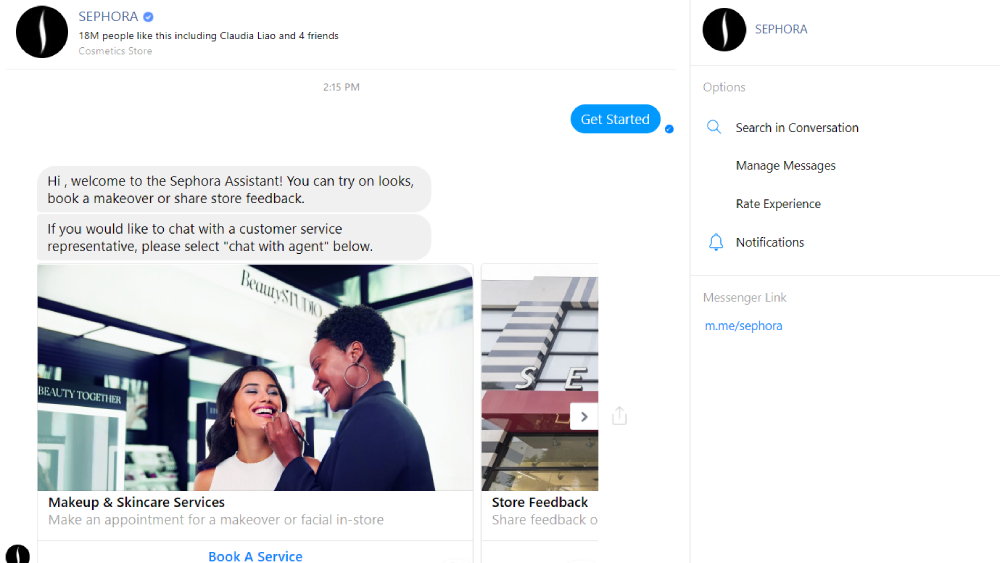 Source: Sephora
3. Drive remarkable experiences through new technologies
Customer experience as the most important element
Customer service has been on the lips of marketers everywhere for decades, and surveys still show that up to 70% of consumers confess that a "reliable and great customer service" is the most important trait of their favorite online shop.
Still, this expectation that is born online quickly shifts offline, as consumers expect to enjoy to the same extent the comfort of the in-store dressing rooms, the way each store consultant approaches them, the packaging and targeted messages.
What makes a great customer experience?
When referring to a remarkable experience, retail professional Doug Stephens mentions to Business of Fashion that, in his vision, there are 5 elements to it: surprise, uniqueness, personalization, engagement and repeatability, which shows that, in the battle for customer perception, people expect brands to tailor very interesting, worth sharing moments, both online and offline.
New technologies to upgrade the customer experience
Of course, an important role in this is played by technology, for example, interaction via VR and AR, navigation via location-based computing, visualization via 3d product configuration are nowadays gaining terrain. So let's see some examples of how digital experiences impact consumer perception.
Real world case studies
Baume adopted VR & AR technology to bring a topnotch consumer perception for high end watches
Source: Baume adopted AR technology to improve the customer experience, in cooperation with Hapticmedia.
Ready to use 3D configuration technology for higher conversion rates like Guerlain, Baume, Kenzo and more? Contact Hapticmedia to get a free quote!
Online retailer giant Richemont launched a young luxury watch brand Baume at the Viva Technology event, held in Paris.
In order to distinguish itself from competitors, the company worked with Hapticmedia to develop a personalized, engaging customer experience that allowed consumers to configure their own watches using a large touch screen and 3D models.
Those interested may choose everything from the size of the dial, its color, the frame type, bracelet material, etc. and customize a desired watch, from over a thousand combinations.
Once the VR fun is over and the details are all set, the customer can see the model in augmented reality and in real size, while trying it on their wrist, using just a smartphone and a paper strip. The experience doesn't end in store, though, as the customer may later view the model and show it to those around, using the same AR technology.
It is no wonder that the customer perception of a brand like Baume is that it's updated, modern, extremely attentive to its "friends" needs and edgy and that this experience delivers great word-of-mouth.
Guerlain uses 3d product configuration to double its conversion rates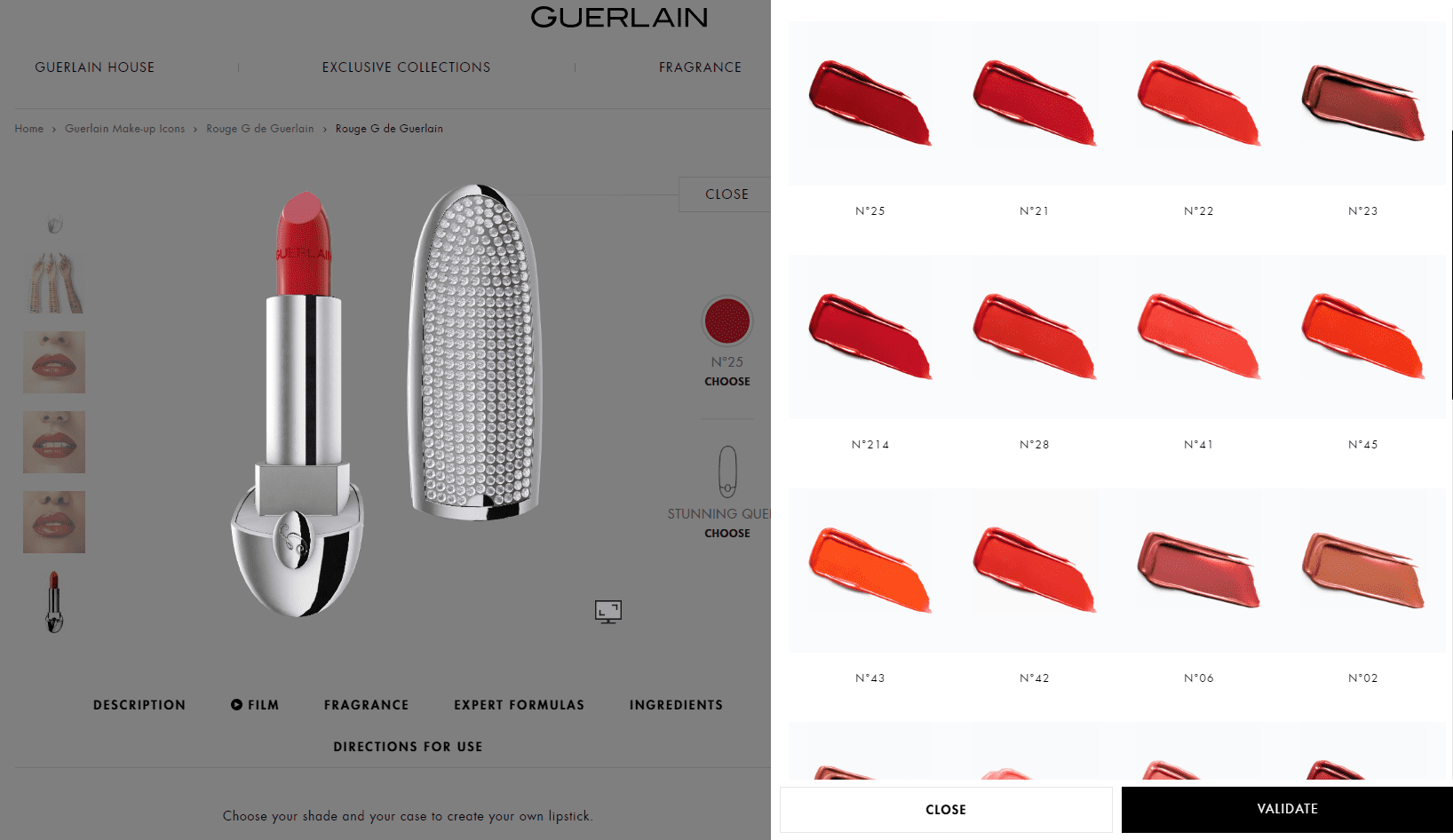 Source: Guerlain 3D lipstick configurator to offer online customization, in cooperation with Hapticmedia.
Ready to use 3D configuration technology for higher conversion rates like Guerlain, Baume, Kenzo and more? Contact Hapticmedia to get a free quote!
Beauty brand Guerlain developed with Hapticmedia a personalization tool which via a 3D solution showed buyers its entire range of products and variations, in an exciting and digitized way that avoided the high costs of a long and complicated product photo shoot. Now, users may access the company's website and create their own personalized lipstick, choosing between 15 cases and 30 shades.
This enables buyers to develop a product that is as much theirs as the brand's and making themselves feel part of the overall creation process. Imagine the consumer perception on that!
Hapticmedia's 3D technical solution has provided us with a superb showcase for our product Rouge G. It has also enabled us to present out customers with all available customization combinations directly on our site while avoiding us the high cost of a full range photo shoot. In addition to this, the solution was extremely easy for our technical teams to implement.

Romain Noyer, International Ecommerce Manager
In fact, 3D configuration helps businesses to overcome the limitations of 2D ecommerce product displays in order to create a better user experience for customers.
Source: Guerlain 3D perfume configurator in cooperation with Hapticmedia.
Ready to use 3D configuration technology for higher conversion rates like Guerlain, Baume, Kenzo and more? Contact Hapticmedia to get a free quote!
This technology is so effective that companies who use it achieve 40 % higher conversion rates and average a 30 % sales increase when they replace 2D product displays with 3D ones. Essentially, integrating 3D configuration technology can result in a massive sales and profit increase for ecommerce businesses that sell products online.
After witnessing a huge increase in conversion rates and customer engagement, the big player Guerlain continued to work with Hapticmedia and came up with a new 3D perfume configurator which was launched recently.
Ready to use 3D configuration technology for higher conversion rates like Guerlain, Baume, Kenzo and more? Contact Hapticmedia to get a free quote!
Conclusions
We've started from the definition of customer perception and showed you ways to use efficient techniques that would differentiate your brands from competitors, win more clients and drive loyalty. Follow our blog for more insights on how to turn your company into your industry's trend setter!
Contact us
Contact Hapticmedia now to see our successful user cases and the visible improvement we have brought to our clients. You will be amazed.