UX: what is it and how can you succeed at it?
By Yahong Zhang |
What is UX and UI?
In the digital age, the effectiveness of a product or service goes beyond bare minimum functionality. To satisfy technologically-empowered consumers, designers of products and services must employ user interface (UI) to offer them the highest possible user experience (UX).
But what are UI and UX? In simple terms, the UI refers to the elements employed by users to interact with a product or service. It can be either physical elements such as keyboards, mouse, and buttons or in non-physical forms like pages, screens, icons, and lights that users may interact with to use digital products or services.
On the other hand, UX is the satisfaction and internal experience acquired by users as they interact with every aspect of products and services offered by a company.
![UX: what is it and how can you succeed at it?](/uploads/daniel-korpai-lTb4gJK_l1Q-unsplash (1).jpg)
Core concepts and manifesto
Getting to understand the key components and principals of UX
When it comes to offering UX beyond users' expectations, designers rely on and adhere to the core concepts: Interaction Design, UI Design, Visual Design, Typography, Usability, Information Architecture (IA), and Content Strategy. Each of these core concepts contributes to the UX of a site and should not just be considered but strictly adhered to when implementing a UX strategy.
Interaction Design is implemented to exploit clicks, scrolls, and other actions taken by the user while on a website to create the most engaging interactive systems while UI Design is used to anticipate users' actions and ensure that the interface is designed to facilitate those actions.
On the other hand, Visual Design incorporates and exploits visual elements and aspects like images, layout, and typography to deliver a positive experience. Implementation of Visual Design is very important because 75% of users assess the credibility of a website based on overall aesthetics and visual elements.
Typography is used when choosing the right font and layout of the text displayed. According to Sam Kapila of The Iron Yard, UX designers are "the tour guides of experience, and typography is the path our users take." As a core concept of UX, Usability focuses on how users can effectively exploit a product to achieve their goals and satisfaction. It defines the bare minimum of UX.
The creation of the structure of website UX design relies on Information Architecture (IA) while writing and curating useful content contained in the product's guides, blog posts, videos, podcasts, social media, and so on relies on Content Strategy. Lastly, Functionality is adhered to, enabling users to complete their actions and accomplish their goals.
The UX manifesto is anchored on three elements: principles, policy and plan.
Viewing from another perspective, we can also decompose the UX into 3 elements. Principles focus on basic concepts, structures, and processes. Policy addresses product usage cycle, standardization, and other policies. The plan deals with the research agenda and UX in practice seeking to offer insight on how to design and evaluate UX.
Essential factors that influence your UX performance
The foundation of UX is anchored on offering value to users in various aspects of the content provided to them. First and foremost, users must be able to find what is being provided by a company for it to provide UX.
Understand the user psychology and adapt to changes in consumer behaviors
Incorporating a user's psychology is important to improve UX. It makes the website more appealing to the user. The appealing design will entice users to spend more time on the company's website.
A website designed based on users' psychology benefits the business by captivating users long enough for them to act on their impulse. To attain this, determine the target audience and their perceived behavior towards the site and the brand. From the users' first visit, the website design must make a positive and lasting impression.
To improve UX, your website should take into account users' familiarity with the technology, goals, and typical interaction with the interface. These points of users' profile will act as a guideline for your website interface design. This process is continuous with regular analysis and updates of users' data and profile to adapt to changes in consumer behavior.
According to Roberta Camarena of Place It, users' attention is captured by small pieces of data as they browse but not the information on the page. Therefore, your website design should always take account of customer behavior. Essential and captivating pieces of information can be strategically placed on the website to attract users' attention quickly. For example, you can use great logo design to attract the attention of users who know and trust your brand.
Usability the bottom line
On the other hand, usability requires the website, page, or site that contains the content to be easy to use. Doris Wójcicka of Uxeria highlights that '70% of online businesses fail because of poor usability.'
Format matters but still, create helpful content first
Once the users can find or access the product or service, the content provided should be useful and usable. For a product or a service to be useful, the content should not only be original but also fulfill a specific need. This implies that the content offered to users must be credible for it to be used and provide the desired UX.
Great visuals can be a key success factor, especially in e-commerce
The brain process visual data such as statistics captured in graphs and charts 60,000 times faster than explanations of the same stats in text. Content anchored on insightful and broad visualized statistics is an easy and effective way to impress and capture the attention of website' visitors.
Optimize the website content to fit smaller screens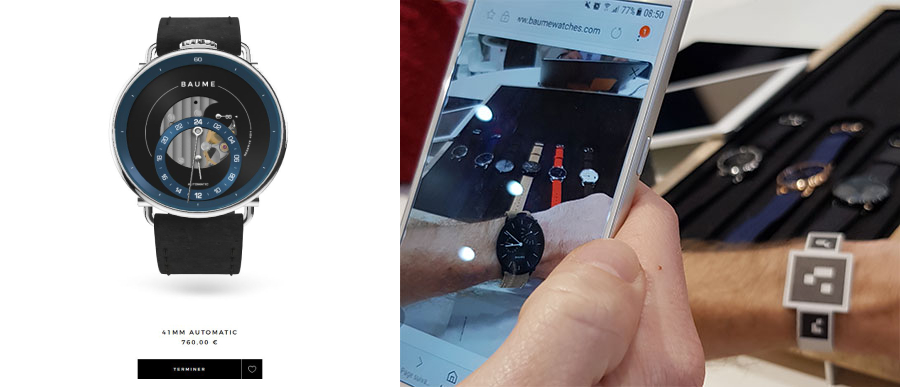 Source: Baume in cooperation with Hapticmedia
The number of people using mobile devices has skyrocketed in the last few years. It has become standard practice to optimize the website content to fit smaller screens used in mobile devices. According to Think With Google, 50% of users are less likely to use a website that is not mobile-friendly even if they respect and like the business. Another study indicates that 74% of people are more likely to revisit a website that is optimized for mobile. Based on these statistics, a company cannot rely on the quality of their products and services to attract new customers if their website cannot be used effectively on mobile devices.
Adapt your content so to be presented nicely on different media and channels
Companies that fail to accommodate the differences in dimension between standard computer screens and mobile phone screens cannot offer quality UX practice. Accessibility of content can be enhanced by offering it in different media. For example, an instruction manual can be offered as a written document and in audio form to be accessible to users who are visually impaired.
UX is adopted in multiple domains as an important indicator for business
According to Nielsen Norman Group, the popularity of UX has grown steadily since 1950. It is also highlighted by widespread adoption in other disciplines, such as project management, where it is used to plan, organize, and align projects and resources. UX is also applied in user research to understand the behaviors, needs, and motivations of users. Other areas of adoption include content writing, interface design, and so on.
The importance of UX goes beyond app and website development to include real impacts on the success of entire organizations. In terms of ROI, UX improves customer retention, enhances credibility, and increases additional repeat customers and recommendations.
A study by America Graphics Institute indicates that 52% of customers are less likely to engage with a company whose mobile version of its website offers a poor experience. The study also revealed that 75% of consumers rely on the website to determine the credibility of an organization. Bad experience on a website discourages nearly 90% of visitors from revisiting the website. UX is very important to all businesses, regardless of their size.
Investing in user experience provides a considerable return on investment. Every $1 spent on UX can provide up to a 500% return. In terms of customer retention, customers of companies that invest in UX are 15.8% more likely to stick with the same brand and 16.6% more likely to recommend the brand to friends and family. A better UX increases the willingness to pay a premium by 14.4%, which improves a company's profitability. Even though UX offers limitless benefits to organizations, only 55% of companies are conducting UX testing.
Advanced techniques with case studies: simulation and new technologies
The techniques to incorporate into website design to improve UX includes simulation where an approximation of the user's context is created. For example, MIT's aging suit can be used on a website selling anti-aging products or services to empathize with potential customers and convince them to buy.
Implement emerging technologies to improve visuals and boost engagement
Immersive VR experiences can be used to offer life-like visualization in context.
Users' experience can also be improved using augmented reality (AR) to allow potential customers to visualize and try products before they buy.
According to Nielsen Norman Group, AR can help to improve the user experience by reducing the effort and steps needed for users to complete a task. AR reduces cognitive load and the time taken to find a product or service by presenting relevant information to users automatically.
A furniture retailer can use AR to relieve users from mental frustrations about size and dimensions by displaying a product in the context of the user's home. Accurate information availed by AR increases users' confidence in their buying decisions.
Case studies of companies using AR include Home Depot's Project Color app that eliminates the frustration and time wastage in choosing the right paint color by visualizing how a paint color will look like if it used in the area or room to be painted. Also, the app provides color suggestions matching with user's existing décor.
AR can be combined with 3D technology to improve UX further.
For example, Nomatic allows customers to use AR technology in browsers instead of an app to view products in 3D spinning them round to check out all features and try them for size before buying. In this use case, AR improves UX by reducing the need to download the app while the 3D virtual model reduces the mental load in choosing the right product to buy.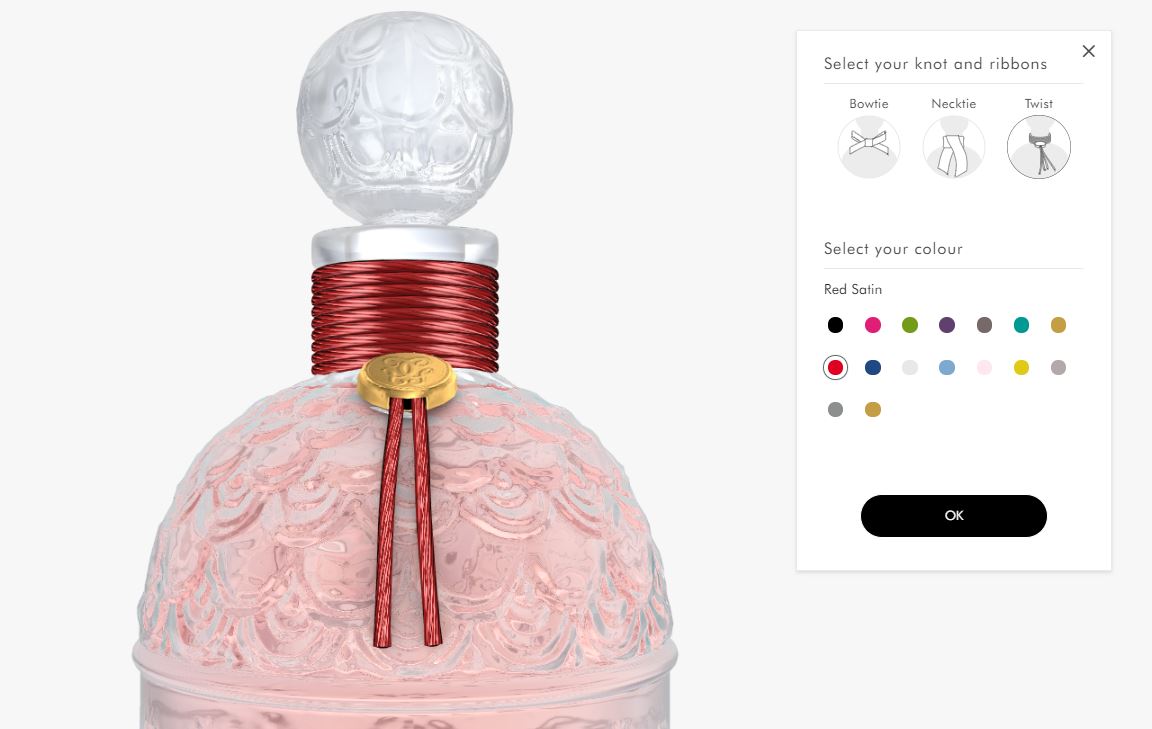 Source: Guerlain official website
3D configuration technology, too, helps businesses to overcome the limitations of 2D ecommerce product displays in order to create a better user experience for customers.
It serves as an interactive tool powered by live 3D models to allow customers to personalize products as they want, enabling users to watch their adjustments and receive estimates of the costs based on the customizations, which in the end leads to a more engaging client relationship.
3D configuration technology is so effective that companies who use it achieve 40 % higher conversion rates and average a 30 % sales increase when they replace 2D product displays with 3D ones. Essentially, integrating 3D configuration technology can result in a massive sales and profit increase for ecommerce businesses that sell products online.
Last thoughts on current challenges to conquer and the future
UX requires a lot of data. Gathering data without causing interruption is the biggest challenge of all. Without data implications and evaluations of UX cannot be quantified, making it very difficult to convince businesses to adopt.
Apart from this, product showcasing is another major one since it is not sufficient to simply rely on product pictures and customer reviews to boost sales.
This is why we recommend that you implement new technologies to upgrade your UX, such as AR and 3d configuration.
Human-computer interaction has already been advanced by the adoption of digital technologies such as AI, mixed reality (MR), blockchain, brain-computer interfaces (BCI), and voice interfaces.
In the future, emerging technologies enabled by AI and the cloud along with 5G and IoT are expected to transform UX and dramatically improved efficiency once they find a way into UX design.
References
https://usabilla.com/blog/fundamental-concepts-ux/
https://www.toptal.com/designers/ui/the-future-of-ux
https://justcreative.com/2018/05/30/ux-problems-and-solutions/
https://www.userzoom.com/blog/how-retailers-can-use-augmented-reality-ar-to-improve-user-experience/
https://blog.placeit.net/improve-your-website-ux-design/?gclid=EAIaIQobChMIrs3Q2syX5wIVR7DtCh2LLw7GEAAYAiAAEgLhtfD_BwE
https://www.agitraining.com/design-news/ux-training-news/roi-ux-how-user-experience-impacts-business-success
https://www.nngroup.com/articles/100-years-ux/
http://blog.uxeria.com/en/15-statistics-that-will-convince-your-boss-to-invest-in-ux/
https://www.smallbizgenius.net/by-the-numbers/ux-statistics/#gref
https://www.irit.fr/recherches/ICS/projects/cost294/upload/506.pdf
https://justcreative.com/2018/05/30/ux-problems-and-solutions/
Contact us
Contact Hapticmedia now to see our successful user cases and the visible improvement we have brought to our clients. You will be amazed.