Gamification marketing 101: Everything you need to know
By Yahong Zhang |
What is gamification and where is it used?
In their 2012 paper "Defining Gamification - A Service Marketing Perspective", Kai Huotari and Juho Hamari refer to gamification as "a process of enhancing a service with affordances for gameful experiences in order to support users's overall value creation."
Indeed, gamification means using game related elements and principles in non-game situations to attract users and increase engagement and retention.
To do so, "most gamification systems," according to Scott Nicholson, "focus on adding levels, leaderboards, achievements, or badges to a real-world setting in order to entice people to engage with the real world to earn these rewards". When offered properly, incentives are meant to change user behaviors and contribute to the development of repetitive actions, such as using a product, accessing an app, buying something etc.
Gamification is, thus, recognized as a method to architect human behaviors, with the objective of fostering innovation, productivity and engagement. This is why it is used in education, marketing, corporate environments, HR, well being and so on.
Why is gamification marketing gaining popularity?
In today's highly occupied media landscape, brands compete more fiercely for the attention of audiences, while on the contrary, consumers try to escape from too many brand-endorsed messages. According to the 2019 Edelman Trust Barometer Report: In Brands We Trust, 3 out of 4 respondents said they use one or more advertising avoidance strategies, with 39% confirming that they have managed to avoid all ads. Even more, almost half of those surveyed confessed to using ad blockers.
Moreover, as Kantar media 2019 reports show, almost 1 in 3 consumers perceives brand communications as advertising, referencing sponsored TV and radio ads, sponsorship of events and teams, product placement and branded messages in social media or in digital / print magazines.
It, thus, becomes increasingly challenging for marketers to communicate brand assets using conventional channels, as well as to get a share of consumers' attention.
In such a context, gamification marketing has become an engaging way of bridging the gap between consumers and brands, tapping into the human instinct of playing. By having consumers compete for digital and real-life rewards, gamification has managed to create positive experiences that build brand awareness and drive loyalty and conversions.
Hermès, one of the world's most luxurious brands, is no stranger to playful attitudes, which helps to humanize the brand and add freshness to its image.
This brand launched its H-pitchhh mobile gaming app in 2018, as part of the "Let's play" themed year, which invited fans to take on digital activities as well as join real-life events.
The H-pitchhh app allowed users to virtually toss horseshoes and score points depending on how close they got to the stake. As players gathered points, they could unlock exclusive content that helps to discover the virtual worlds inspired by Hermès illustrations. Users could either play by themselves or invite their friends via social media.
The gamification market is expected to reach $30.7 billion, by 2025
In 2019, the global gamification market was assessed at $7.98 billion, with North American being the biggest market and Asia Pacific the fastest-growing one. According to Markets and Markets, the industry is expected to reach $9.1 billion in 2020, and $30.7 billion by 2025.
Major drivers are corporate rewards and recognition programs that are meant to boost employees' engagement, as well as offers and marketing incentives targeted at consumers.
The rise of gamification in sales and marketing is fostered by several factors, such as the increased usage of mobile devices and the integration of social media, which enables users to share experiences with their friends.
In order to function properly, gamification systems need to have strong triggers that motivate consumers to participate. This includes rewards, awards, medals or any other forms of recognition.
Asia: the leader in gamification
Fascination for games is not something new. It has been primarily associated with arcade games, which is extremely popular in Asian countries like Japan. What they did was combine arcade games with shopping, by developing mechanisms that encourage players to get rewards and receive samples.
In fact, Asian demographics have managed to make gamification part of their everyday lives in a natural way, including gamification in shopping or even luxury-specific activities. As Jing Daily reports, audiences show great interests in buying Cartier jewelry from Wechat mini-program games.
Here is a best practice. In 2018, Chanel promoted their arcade pop-up "Coco Game Center", in fashion capitals like Tokyo, Singapore, Hong Kong, Shanghai, Chengdu. This brand encouraged consumers to collect recently released makeup products while playing with a claw machine. The initiative created so much enthusiasm that it led to over 2,900 of user-generated notes on Little Red Book alone, in the Chinese market.
Why using gamification marketing in the luxury industry?
1. consumer insights
Through its mechanisms, gamification makes it possible for brands to collect consumer data, in a way that is GDPR compliant and enables usages for marketing purposes. This is a huge plus in an ecosystem, where it is becoming more and more complicated to get audiences to share information and allow brands to communicate to them.
Collecting data also ensures that brands may track behaviors or certain demographic groups and have a clear image of what their audiences like.
2. reach new audiences and increase awareness
Gamification marketing enables brands to reach new audiences and increase awareness, as well as to target specific segments, such as Generation Z, who grow up on gaming, or young and educated women.
In China, for example, video games targeted at women are becoming the mainstream. Shining Nikki by Tencent, a game in which users can dress up their characters and live romance stories, confirms the success of gaming among this demographic. Within the first month in app stores, this game recorded 44 million downloads.
3. a fresh image, as well as interactions, engagement and loyalty
By using gamification in sales and marketing, brands create a better relationship with consumers that goes beyond just selling. These interactions drive engagement, emotions and positive associations, allowing companies to be more playful, attractive and fresh. Moreover, a detailed timeline of rewards, challenges and incentives contributes to higher loyalty and more acquisition of clients on medium- and short-terms.
This 3D interactive configurator has increased Gerlain's online conversion rates 3 times, by offering customization and boosting engagement. Read more about how 3D product configurators help improve engagement and conversions here.
A case study: How did Guerlain pave the way of gamification in luxury marketing?
In 2017, when gamification marketing was just emerging, Guerlain and Sunrise Duty Free, both big players in their respective domains, created a gamification WeChat campaign meant to help celebrate the launch of KissKiss Matte lipstick collection.
To do so, the 2 companies created a tetris-inspired game, in which users could go through different difficulty levels for a chance to win 5,000 points and, thus, to get included in a raffle in order to receive a lipstick. To participate, users needed to submit personal information, which offered the brand access to consumer intelligence.
This campaign was extremely successful. Within the first 10 days of launch, it had already attracted over 18,000 pages views and 10,000 players.
Gamification marketing: how to do it?
Options and current practices by luxury brands
Brandification: when the game is created around a brand, as is mentioned above- the case of Hermès' H-pitchhh.
Transmedia: this is usually the result of extending a media property into a different one, driven by the desire to capitalize on it and increase the audience. Nintendo's 007: Golden Eye is an example of a gamification strategy that became a business line in itself.
Through-the-line (TTL) and below-the-line (BLT): where brand information may reside on the game's screen, above or below the actual frame.
Advergames: which start from an already established name and later are redone, to match a certain brand and its products or services.
Depending on channels, gamification strategies may be split into online and offline. The first category includes games deployed on digital channels such as apps, websites, platforms, social media like Instagram, Facebook, WeChat and so on, while the second refers to in-store and on-premise implementation, such as events, activations and so on.
Wechat, in particular, has become a relevant tool for deploying gamification marketing for luxury brands. To use it, brands develop interactive html5 pages that engage users in doing a certain task in order to gain discounts, vouchers and so on.
Step 1: Start from your target audience and choose the right type of games
When creating a gamification strategy, the first aspect marketers need to consider is the audience, their preferences and needs. Everything starts with understanding your audience, their interests and motivations. And pay attention to the fact that each typology relates differently to gaming.
Psychologist Richart Bartle has identified 4 types of players:
Achievers: those who focus on accumulating points and reaching goals, and need to have their achievements acknowledged.
Explorers: those who enjoy discovering new things, such as doing random puzzles or getting engaged in side stories.
Socializers: those who prefer to play games that connect them to others and need cooperation to succeed.
Killers: those who are mostly interested in winning.
Depending on the player type of your consumers, you may choose a gamification marketing strategy that is most effective in motivating and engaging them.
Step 2: Research into the industry, competition and consumer behaviors
A successful campaign needs excellent research. When defining a gamification strategy, luxury marketers should consider what other brands have done, how their audiences responded, and what are the best and worst practices.
Another extremely important aspect to take in account is how to a good user experience. In order to understand the whole flow and to develop excellent UX, marketers need to study already existing games and apps, engage with them and understand how they work.
Connect such qualitative research with data such as number of downloads, ratings, comments, performances etc. This will enable you to better understand user behaviors.
Step 3: Set goals and KPIs
Gamification isn't all about having fun, it is a marketing technique that needs to deliver results. This is why, even before working on the game, marketers need to know what they expect from it: awareness, engagement, downloads, conversions, sales, recommendations etc. Once this is decided, KPIs may be set. By monitoring key performance indicators in real-time, adjustments may be made in an agile manner to ensure that the game delivers.
Step 4: Include competitive features such as leader boards and rewards
Human beings are competitive by default; therefore, when designing a game, marketers need to take into account leader boards. These techniques drive interests and entice users to advance in order to be an A lister. Especially when connected to social media, leader boards prove extremely useful, as they drive competition among friends and acquaintances, raising up the stakes.
Rewards are also extremely important, as they motivate players to keep going. In marketing, rewards may come under the form of access to different levels, status acknowledgement (like the Miles& More cards), real-life perks (discounts, special offers, samples) and so on.
Step 5: Combine gamification marketing with immersive technologies like AR, VR, virtual try on, 3D configuration, RFI
Combining branded games with immersive technologies, such as AR, VR and 3D, as well as adding RFI beacons to the story are excellent ways of taking the experience to the next levels. These technologies also help to make sure that the gamification flow, per se, is uncomplicated enough in order to well understood and retained.
Beauty brand Lancôme, for example, has teamed up with Alibaba Cloud to launch an Augmented Reality game in Hong Kong. They organized an AR scavenger hunt that encouraged shoppers to find beauty products in the store. Winners could indulce with any Lancôme product they desired.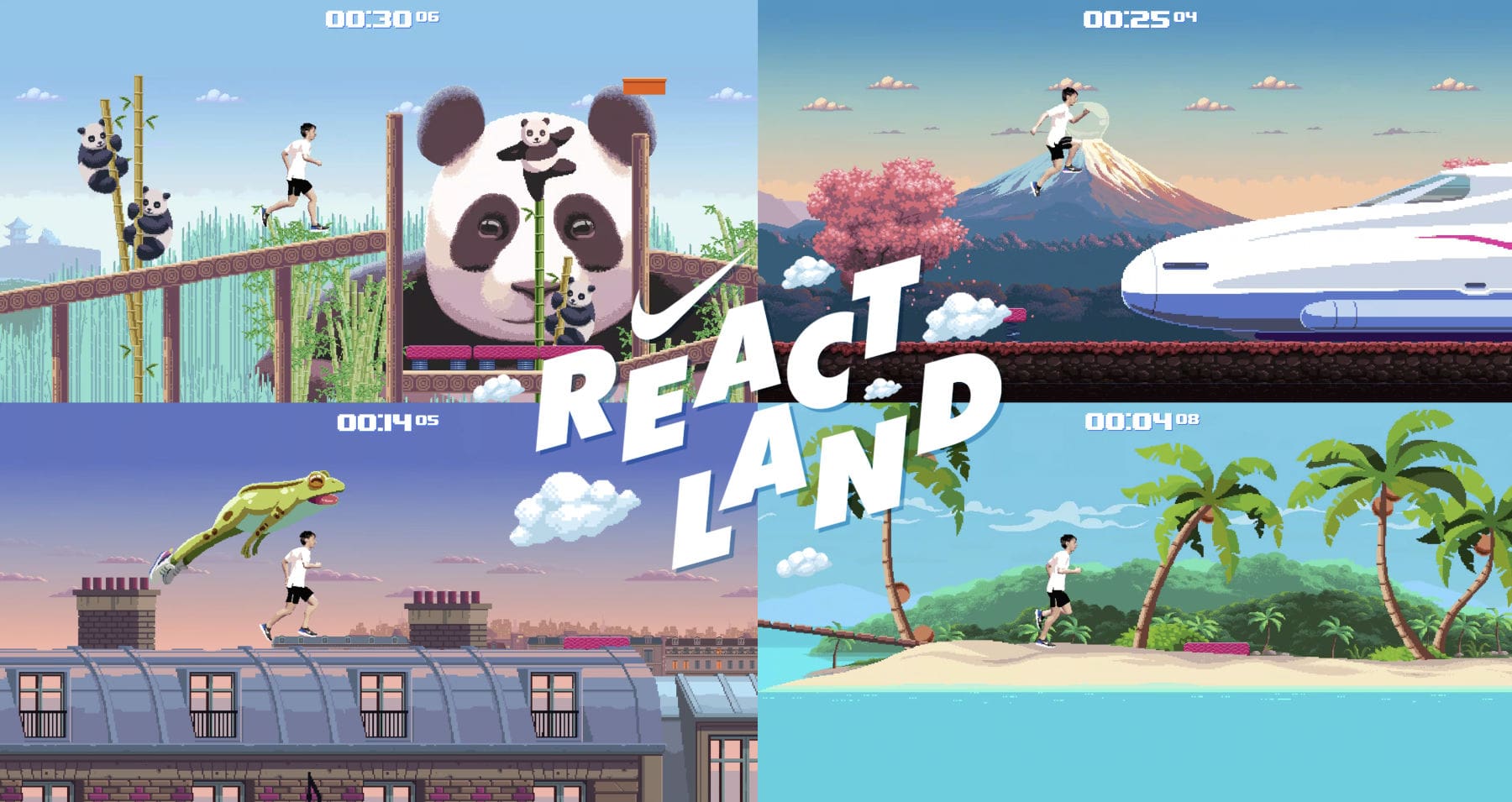 Image source: Wieden + Kennedy.
Nike and advertising agency Wieden + Kennedy Shanghai, for example, produced a Virtual Reality game which enabled consumers to try the brand's Epic React shoes on a treadmill in stores across Asia. Consumers could use configurations to create avatars to use in the Reactland world, while also sharing their experiences on social media.
Contact us: we provide top notch immersive technologies to Gerlain, Kenzo, Baume & Mercier
Hapticmedia has over 15 years of expertise in immersive technologies including 3D, AR, VR, supported and covered by LVMH, Forbes, Les Echos, Le Point, BFMTV. Check here to see our client projects with Gerlain, Kenzo, Baume & Mercier, Baccarat, Edenly or contact us now to see the visible improvement we will bring to you.
Sources
https://jingdaily.com/retail-gamification/
https://jingdaily.com/china-testbed-new-retail-luxury/
https://www.researchgate.net/publication/259841647_Defining_Gamification_-_A_Service_Marketing_Perspective
http://scottnicholson.com/pubs/recipepreprint.pdf
https://www.marketsandmarkets.com/Market-Reports/gamification-market-991.html?gclid=CjwKCAjw8-78BRA0EiwAFUw8LF0-kez08PV5odYA8LSE5HzAhehKJGY3GS9Xq-V3oC9wecRQD7CiIxoCnRwQAvD_BwE
https://www.mordorintelligence.com/industry-reports/gamification-market
https://www.marketingcharts.com/charts/what-messaging-forms-count-as-advertising-per-consumers/attachment/kantarmedia-what-counts-as-advertising-apr2019
https://surveyanyplace.com/gamification-in-marketing/
https://technode.com/2019/09/24/china-moves-to-monetize-its-growing-female-gamer-market/
https://postfunnel.com/press-play-6-smart-tips-improve-retail-gamification-strategy-boost-customer-loyalty/
https://www.enginecreative.co.uk/blog/gamification-marketing-strategy/
https://jingdaily.com/3-tips-from-guerlain-gamification-wechat-campaign/
Featured image: Unsplash.
Contact us
Contact Hapticmedia now to see our successful user cases and the visible improvement we have brought to our clients. You will be amazed.